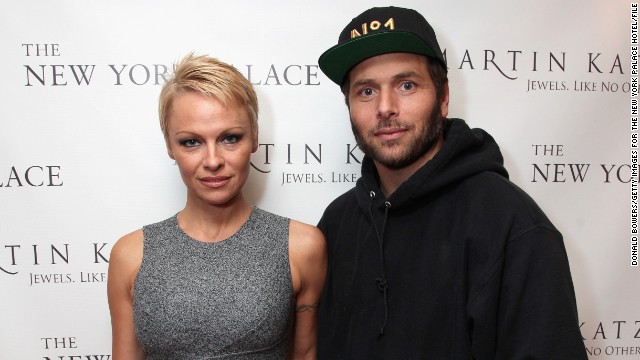 Pamela Anderson and Rick Salomon's second attempt at marriage has fallen short. The couple originally tied the knot in 2007, split up within six months, and then swapped vows again in January 2014. Yet by July, Anderson's rep told CNN that Anderson had filed for a divorce. Here are more surprising celebrity splits:
On July 2, Jewel made a personal announcement: She and her husband Ty Murray have split up. In a lengthy blog post, the folk singer/songwriter explained that she and her husband of six years have decided to get a divorce, choosing to "release each other" with love so that they "may take on our new form: dear friends and devoted co-parents of our beloved son Kase."
After five years of romance, Rick Fox and Eliza Dushku have parted ways. It seems it was distance that came between the former basketball star and the "Buffy the Vampire Slayer" actress -- Dushku told The Boston Globe that "Rick's an LA guy and I'm a Boston girl." As a result, she's moved back to Beantown and plans to eventually enroll in college.
Actors Idina Menzel and Taye Diggs surprisingly decided to separate after 10 years of marriage, a rep for the couple confirmed to People magazine in December 2013. The couple's son, Walker, was born in 2009.
Melanie Griffith and Antonio Banderas "have thoughtfully and consensually" brought an end to their 20-year marriage. The two actors released a statement announcing their breakup on June 6 after reports indicated Griffith had filed for a divorce.
On June 6, the rumors about Jennifer Lopez and Casper Smart turned out to be true. A source close to Lopez tells CNN the couple have ended their romance. Lopez, 44, and Smart, 27, began dating in 2011, and they appeared to be a good match despite their age difference. Yet a source close to the singer told People that "the relationship had just run its course."
Actors Evan Rachel Wood and Jamie Bell have separated after nearly two years of marriage. The couple, who welcomed a son in July, said in a statement that they plan to remain close friends.
Sofia Vergara recently announced via her WhoSay account that her engagement to producer Nick Loeb is off. The "Modern Family" star blamed the breakup on their busy schedules.
One of Hollywood's enduring love stories has been put on ice. Actress Paula Patton and her husband, Robin Thicke, mutually decided to separate in February. The couple have one child together, Julian Fuego.
Sherri Shepherd's husband, Lamar "Sal" Sally, has reportedly filed for divorce from "The View" co-host after three years of marriage. The two are said to have been awaiting the birth of a child via a surrogate this summer, and Sally is also reportedly seeking custody.
Just as soon as we got used to the idea of Prince Harry being off the market, the British royal is single once again. CNN reported in April that Harry broke up with Cressida Bonas, his girlfriend of two years.
After 20 years of marriage, Cuba Gooding Jr. and his wife, Sara Kapfer, are splitting up. The actor's wife filed for legal separation on April 21. According to TMZ, the pair were high school sweethearts who went on to have three children together.
Rapper Big Sean and "Glee" actress Naya Rivera called off their engagement in April, six months after announcing their plans to wed. It's unclear what happened; not too long ago, Rivera was gushing about what a great husband and father the Detroit artist was going to be. And yet Big Sean's rep told E! News in a statement: "Sean wishes Naya nothing but the best and it is still his hope that they can continue to work through their issues privately."
On the April 4 episode of Katie Couric's talk show, "Katie," singer Richard Marx discussed being "back on the market" after a 25-year marriage to Cynthia Rhodes. According to Us Weekly, the couple separated in July and are in the process of getting a divorce.
"It is with hearts full of sadness that we have decided to separate," Gwyneth Paltrow and Chris Martin wrote on Paltrow's site Goop in a March 25 post titled "Conscious Uncoupling." The A-list pair, who have been married for 10 years, reportedly took a "breakup moon" in the Bahamas following their surprising announcement.
The "Big World" of TLC stars Matt and Amy Roloff has been split in half. The couple, who've been together for 26 years and came to fame on the reality series "Little People, Big World," announced in March that they're embarking on a trial separation. "Matt remains living on the farm in our guesthouse and we work together everyday on the farm, on our business endeavors and most importantly, raising our amazing children," the couple said in a statement.
According to TMZ, Khloe Kardashian filed for divorce from Lamar Odom in December. The couple met, got engaged and married within a month in 2009, and they were the subject of the E! reality series "Khloe & Lamar."
After a six-year relationship, Miranda Kerr and Orlando Bloom announced in October that they had decided to formally separate. The couple, who share a son, said in a statement that they remain amicable.
After 22 years of marriage -- and several months of swirling rumors -- Kris and Bruce Jenner officially separated in October. "We will always have much love and respect for each other. Even though we are separated, we will always remain best friends and, as always, our family will remain our No. 1 priority," they told E! , the network that airs "Keeping Up With the Kardashians."
After months of speculation, Liam Hemsworth's rep confirmed in September that he and Miley Cyrus had ended their engagement. The couple first met on the set of 2010's "The Last Song" and have been off and on since then.
Movie veteran Clint Eastwood and his wife of 17 years, Dina, separated over the summer of 2013, according to People. They have one daughter together.
George Clooney and Stacy Keibler were going strong -- and looking hot on the red carpet -- for two years. But in July, their photogenic romance came to an end.
"Vampire Diaries" stars Nina Dobrev and Ian Somerhalder had a relationship that sizzled on and off the small screen. But the two shocked fans when anonymous sources confirmed to People in May 2013 that the co-stars are no longer a couple. Somerhalder and Dobrev had dated for "several years," and their reported breakup came without warning.
Jane Seymour and James Keach announced the end of their 20-year union in April 2013. The couple are the parents of teen twin sons.
Julianne Hough and Ryan Seacrest decided to take a break in March 2013 after more than two years together, People reported. The duo's busy schedules were to blame, but they plan to stay friends, sources told the magazine.
In September 2012, Will Arnett and Amy Poehler separated after nine years of marriage. They have two sons.
Tom Cruise and Katie Holmes "amicably settled" their divorce in July 2012, just two weeks after Holmes filed for it, an attorney said. Holmes and Cruise, who were married for five years, have one daughter.
Former California Gov. Arnold Schwarzenegger and Maria Shriver separated in May 2011 after 25 years of marriage. The public has since learned of Schwarzenegger's affair with the family's housekeeper that resulted in the birth of his fifth child.
After almost seven years together, Kate Winslet and director Sam Mendes went their separate ways in March 2010. The couple said that the split was mutual and that they would continue raising their children together.
Tom Cruise and Nicole Kidman collaborated on four films together, including the controversial "Eyes Wide Shut," during their 11-year marriage. The couple split in 2001.
Susan Sarandon and Tim Robbins split in 2009 after 23 years together. The pair, who met on the set of "Bull Durham," have two sons but never married.
Mia Farrow appeared in several of Woody Allen's films before the couple went their separate ways in 1992. The pair reportedly split after Farrow found out about Allen's sexual relationship with one of her adopted daughters, whom Allen married in 1997.
MTV "Newlyweds" Jessica Simpson and Nick Lachey split in 2005 after their three-year marriage.
Reese Witherspoon and Ryan Phillippe were married for seven years before calling it quits in 2006. The pair, who have two children, finalized their divorce in 2008.
Brad Pitt and Jennifer Aniston's seven-year romance came to an end in 2005. Speculation over whether Angelina Jolie had anything to do with the breakup added a juicy angle to the split.
Perhaps Hollywood's happiest divorced couple, Bruce Willis and Demi Moore, split in 1998 after a 10-year relationship. They have three daughters.