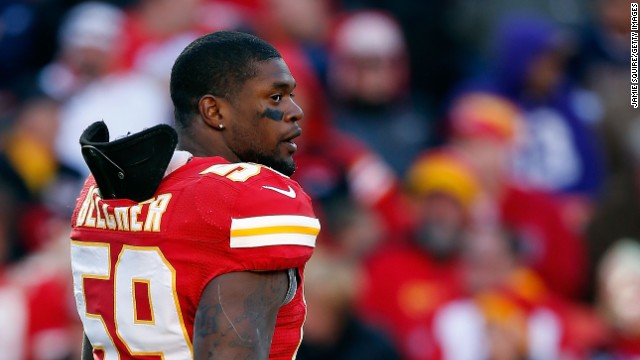 Kansas City Chiefs linebacker Jovan Belcher shot and killed his girlfriend before killing himself two years ago. Pathology reports show he likely had chronic traumatic encephalopathy, or CTE, doctors say. Scientists believe repeated head trauma can cause CTE, a progressive degenerative disease of the brain. Symptoms include depression, aggression, and disorientation, but so far scientists can only definitively diagnose it after death. Here are a few of the former athletes who have been diagnosed with CTE.
Hall of Famer Mike Webster was the first former NFL player to be diagnosed with CTE. After his retirement, Webster suffered from amnesia, dementia, depression, and bone and muscle pain.
killed in 2004
in a car crash after a 40-mile high-speed chase with police in New York.
The death of 36-year-old Pittsburgh Steelers offensive lineman Justin Strzelczyk put the link between playing football and CTE in the national spotlight. Strzelczyk was
Evidence of CTE was found in the brain of football player Lew Carpenter after his death in 2010 at the age of 78.
Pro Football Hall of Famer Louis Creekmur, who played for the Detroit Lions from 1950 to 1959, suffered decades of cognitive decline before his death.
Linebacker John Grimsley of the Houston Oilers died of an accidental gunshot wound to the chest. Analysis of his brain tissue confirmed damage to the neurofibrillary tangles that had begun to affect his behavior and memory.
He died after falling from the bed of a moving pickup
during a fight with his fiancée, ending a life plagued by behavioral problems. His young age prompted concern over how quickly athletes start to suffer from CTE.
Chris Henry played five seasons for the the Cincinnati Bengals before dying at the age of 26.
Offensive lineman Terry Long of the Pittsburgh Steelers commited suicide by drinking antifreeze. Although the antifreeze caused swelling of the brain, football-related brain injuries were a contributing factor to his death.
Pro Football Hall of Famer John Mackey suffered from dementia for years before dying at the age of 69.
Ollie Matson played 14 NFL seasons starting in the 1950s and suffered from dementia until his death in 2011.
Andre Waters spent most of his 12 seasons with the Philadelphia Eagles before his suicide at age 44.
Tom McHale of the Tampa Bay Buccaneers, right, died in 2008
took his own life
in 2012 at the age of 43. The question of CTE came up immediately after his death; scientists at the National Institutes of Health confirmed the diagnosis in January 2013.
Junior Seau
Wrestler Chris Benoit was found dead at his suburban Atlanta home along with his wife, Nancy, and son in an apparent murder-suicide. Later testing found that the damage to his brain was similar to that of an elderly Alzheimer's patient.
Reggie Fleming, who played for six NHL teams, mainly in the 1960s, was the first hockey player to be diagnosed with CTE.
Hockey player Bob Probert was found to have CTE after suffering from heart failure at the age of 45.
Ryan Freel
became the first MLB player to be diagnosed with CTE nearly a year after he committed suicide at age 36.
Athletes and CTE
Athletes and CTE
Athletes and CTE
Athletes and CTE
Athletes and CTE
Athletes and CTE
Athletes and CTE
Athletes and CTE
Athletes and CTE
Athletes and CTE
Athletes and CTE
Athletes and CTE
Athletes and CTE
Athletes and CTE
Athletes and CTE
Athletes and CTE
Athletes and CTE
STORY HIGHLIGHTS
Poll respondents say bullying, murder case doesn't affect their view of NFL
But a majority say something should be done about violence, bullying
About half think something should be done regarding football injuries
(CNN) -- Football fans appear to have a love-hate relationship with the NFL, according to a new CNN/ORC poll.
On one hand, most appear unmoved in their views of the National Football League after controversies like alleged bullying between Miami Dolphins players and the murder case involving former New England Patriots tight end Aaron Hernandez.
Some 75% percent of respondents said claims of racist and violent communications between suspended Dolphins guard Richie Incognito and teammate Jonathan Martin had no effect on their view of the NFL overall. About the same number -- 78% -- said Hernandez's murder case did not shake their views of the league.
But about three out of four respondents said that overarching issues of violent behavior and bullying among players are serious enough that something should be done about them.
The poll results underscore the complicated way fans may try to reconcile the entertainment value of the NFL with violence in professional football.
No issue captures that dichotomy more than concussions.
Issues surrounding brain damage, and other potential long-term cognitive and emotional consequences of repetitive brain trauma, are now practically synonymous with the NFL.
In August, thousands of former football players and their families reached a settlement with the league in a lawsuit that put the issue under the microscope.
The deal calls for the NFL to pay $765 million to fund medical exams, concussion-related compensation, medical research for retired NFL players and their families, and litigation expenses, according to court documents.
Head impact sensors: On-the-field placebo or danger?
At the heart of the lawsuit was plaintiffs' allegations that the NFL led a deliberate misinformation campaign -- primarily through its Mild Traumatic Brain Injury Committee -- to deny scientific data being presented in the medical community about concussion risks.
More recently, former player Tony Dorsett said he struggles with memory loss and personality changes and was told he shows signs of chronic traumatic encephalopathy, or CTE. The progressive degenerative brain disease has been found in some athletes with a history of repetitive brain trauma.
And former player Brett Favre told a radio talk show that he has had memory lapses.
Perhaps because of that attention, 36% of poll respondents said they view the NFL less favorably based on its handling of the concussion controversy.
Sixty percent say it has no effect on their views.
On the topic of NFL injuries overall: About half of the public believes that something should be done about them, while the other half views them as part of the game.
The same number say they view the NFL less favorably when players inflict intentional injuries on opposing players; 50% view that style of play as part of the game.
The scales tipped dramatically for respondents when it came to youth football players and concussion; 80% of the public considers concussions sustained by middle school and high school players to be a serious problem.
And when asked to weigh two scenarios -- the possibility of having to pay fees for their child to play football, or concussions they could sustain while playing -- 64% said concussions mattered more to them, while only 25% said paying to play was more important.
A poll released last month by HBO Real Sports and the Marist College Institute for Public Opinion showed that one in three Americans said that knowing about the damage concussions can cause would make them less likely to allow their sons to play football.
High schools tackle football concussions
"Historically, youth football has fueled the NFL," said Keith Strudler, director of the Marist College Center for Sports Communication. "Parents' concern about the safety of the game could jeopardize the future of the sport."
A report from the National Academy of Sciences, also released last month, found that high school athletes who play football, lacrosse, soccer and baseball were more likely to experience concussions than college-age players.
Respondents in the CNN/ORC poll included 843 people interviewed by telephone November 18-20. Of those, 51% identified as football fans, and 8% said they were "somewhat fans." Forty-one percent of people polled were not football fans.
The sampling error was plus or minus 3.5 percentage points.