STORY HIGHLIGHTS
At the heart of the unrest is the polarizing figure of Thaksin Shinawatra
His sister is now prime minister, and critics say she's his puppet
A recent move to grant amnesty to Thaksin and others caused anger
Protesters say they won't stop until "Thaksin's regime is wiped out"
Are you in Thailand? Send us your pictures and experiences but please stay safe.
(CNN) -- In order to understand the turbulent world of Thai politics, you have to start with one name: Thaksin Shinawatra.
The former prime minister has dominated the country's political scene for more than a decade despite going into exile after his ouster in a 2006 coup.
Back in 2010, deadly clashes took place between security forces and Thaksin supporters who had occupied central Bangkok. They were demanding his return.
Now, his sister is in power and she recently tried to pass an amnesty law that could have allowed his return. The attempt failed, but it provided fuel for the current protests shaking the capital.
Here's a quick primer to make sense of it all.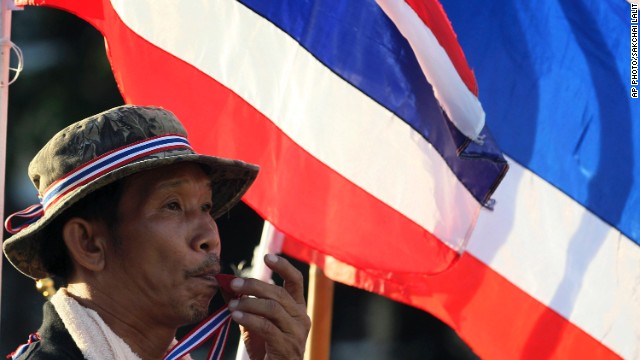 An anti-government protester blows a whistle in front of Thai flags during a rally at Bangkok's Democracy Monument on Friday, one day after the embattled Prime Minister Yingluck Shinawatra survived a no-confidence vote in parliament.
Anti-government protesters occupied the army headquarters on November 29, 2013 in Bangkok, Thailand, despite calls from the country's prime minister for protesters to cease their sustained demonstrations and negotiate an end to the nation's latest crisis.
Opposition protesters in Bangkok say they plan to march towards the headquarters of Prime Minister Yingluck Shinawatra's ruling party on Friday, as they continue their campaign to overthrow her.
Anti-government protesters blow whistles as they rally at the Department Special Investigation in Bangkok on November 27, 2013.
Flag-waving protesters vowing to topple the Thai prime minister took to the streets of Bangkok for a fourth day Wednesday, declaring they would take over "every ministry" of the government.
A Thai riot policeman holds flowers which were offered to him by opposition protesters during a rally at a government complex in Bangkok on November 27, 2013.
Thousands of anti-government protesters occupy the Finance ministry for a third day in a bid to oust the current government of Yingluck Shinawatra on November 27, 2013 in Bangkok, Thailand.
Thailand's mass political protests spread outside the capital on Wednesday as opposition demonstrators stepped up their attempts to overthrow Prime Minister Yingluck Shinawatra's government, plunging the country deeper into crisis.
Anti-government protesters demonstrate outside the Ministry of Interior in a bid to oust the current government of Yingluck Shinawatra November 26, 2013 in Bangkok,Thailand.
Thailand's Prime Minister Yingluck Shinawatra appealed for an end to 'mob rule' on November 26 as she prepared to face a no-confidence debate in parliament.
Thai riot police stand guard in Bangkok on Monday in an escalation of mass street rallies aiming to topple Prime Minister Yingluck Shinawatra's embattled government.
Demonstrators wave national flags during a rally in Bangkok on November 25, 2013.
A Thai opposition protester waves a clapper during a rally at Bangkok's Democracy Monument Sunday.
Tens of thousands of pro- and anti-government demonstrators massed in rival rallies in Bangkok on Sunday, as Thailand grappled with its most potent revival of street politics since bloody protests in 2010.
Anti-government protesters are calling for Thai Prime Minister Yingluck Shinawatra to step down, claiming she is a stooge for her brother, the exiled former prime minister Thaksin Shinawatra.
Thai pro-government 'red shirts' gathered at a football stadium to counter the growing anti-government protests and to show support for Prime Minister Yingluck Shinawatra's crisis-hit administration.
Thai opposition leaders Suthep Thaugsuban, center, and former Prime Minister Abhisit Vejjajiva, left, clinch their fists as they appear on stage during a rally at Democracy Monument in Bangkok Sunday.
Thai pro-government 'red shirts' hold pictures of Thaksin and Yingluck Shinawatra as she gather at Rajamangala Stadium in Bankok Sunday.
Democrat Party leader Abhisit Vejjajiva waves to anti-government protesters Sunday.
Anti-government protesters ripple a giant Thai flag.
A Thai opposition protester holds up a placard mocking exiled former leader, Thaksin Shinawatra. Thaksin has a strong support base among Thailand's rural and working class, but is detested among the elite and middle classes, who accuse him of corruption.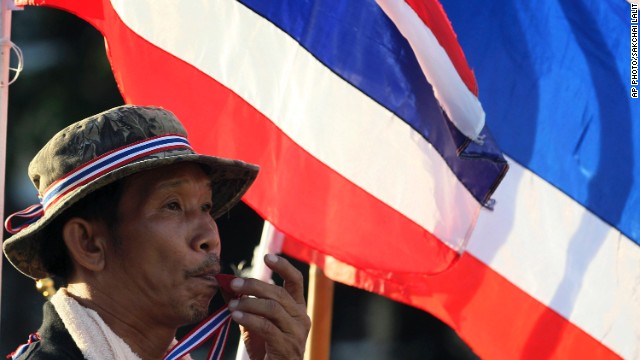 Thai protesters stage huge rallies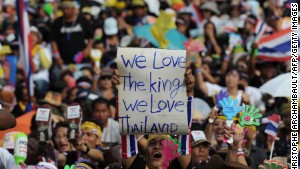 Tensions tighten in Thailand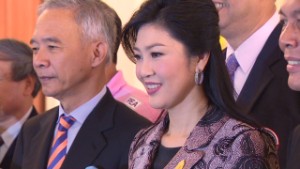 Thailand PM defies critics
1. Who is Thaksin?
He's a deeply polarizing figure -- a billionaire telecommunications mogul who built his political power on policies popular with Thailand's rural villagers. His success ruffled a lot of feathers among the country's established elites, and critics accused him of corruption and autocratic rule. He was prime minister between 2001 and 2006, when the military deposed him in a bloodless coup.
2. What happened in 2010?
Thaksin's ouster spurred the protest movement that developed over the years into the widespread "red shirt" demonstrations that occupied upscale parts of Bangkok in 2010. By that stage, the movement had broadened to represent other issues, including resentment at the military's involvement in politics and economic inequality. The crackdown by security forces on the red shirts resulted in clashes that left around 90 people dead. It has been described as the worst civil violence in Thailand's history, and the country remains severely scarred by the experience.
3. Could the current protests lead to a repeat?
The situation is different this time.
Those protesting are opponents of Thaksin rather than his supporters. His sister, Yingluck Shinawatra, is now prime minister. Her government is under pressure after widespread anger over its recent failed attempt to pass a bill that could have granted amnesty to Thaksin and others.
Although the public has generally moved on from the conflict over the amnesty bill, the opposition Democrat Party is trying to use the issue to bring down Yingluck's government, says Paul Quaglia, director of the Bangkok-based risk assessment firm PQA Associates.
"The government is facing probably a countdown until it will have to dissolve and hold new elections," Quaglia says. "But it doesn't look like it's a replay of 2010 when we're going to see violence in the streets and an extended takeover of central Bangkok."
4. What has Thaksin been up to?
He has been living in exile in a number of different places, most recently Dubai, while continuing to play an active role in Thai politics.
He briefly returned to Thailand in 2008. Later that year, he was convicted by a Thai court of corruption and sentenced in absentia to two years in prison over a controversial land deal. Courts have also frozen billions of dollars of his assets, but he is believed to still have a great deal of money held elsewhere.
He's also stayed heavily involved in Thai politics over the years, communicating with supporters via social media and video messages. With his younger sister in power since 2011, his influence remains strong. Critics say Yingluck is Thaksin's puppet, but she insists she has always been independent.
5. What is happening this week?
After weeks of demonstrations, thousands of protesters have gathered around government buildings in central Bangkok, occupying some of them for varying periods of time. Yingluck has expanded the area in and around Bangkok covered by an internal security law that gives police extra powers to disband protesters. In parliament, the Prime Minister is facing a "no confidence" motion against her. And police have issued an arrest warrant against protest leader, Suthep Thaugsuban.
For most of Bangkok, business as usual despite protests
6. What's at stake for the region?
The demonstrations are bringing instability once again to Thailand, a key regional economy and popular tourist destination. The protests are centered on Bangkok, a vital transportation hub, especially for air travel. So far, the protests are concentrated in specific parts of the city. More than a dozen countries have issued travel warnings for citizens to avoid areas near protests in Bangkok.
7. What do the demonstrators want?
Suthep Thaugsuban, a former deputy prime minister under the previous Democrat-led government, has said the demonstrations "will not stop until Thaksin's regime is wiped out." Such an aim seems ambitious. Yingluck's government was democratically elected and her Pheu Thai party retains support in its core areas. The current protests have echoes of 2008 when demonstrators opposed to a pro-Thaksin government occupied Bangkok's main airport and government offices.
8. Where are the protesters getting their support from?
Opposition to Thaksin and Yingluck is strongest among the urban elites and middle class. That means the capital.
"Bangkok is the ground zero for anti-Thaksin protest movements," Quaglia says. "The rest of the country, other than southern Thailand, is either in his camp or sort of politically neutral." That's why the recent demonstrations have been concentrated in the streets of the capital.
9. What's the government's support base?
Thaksin's traditional support comes from the populous rural areas of north and northeast of Thailand. The government's botched amnesty move may have hurt its standing in those areas, but not fatally.
"Despite the pictures of thousands of people in the street that doesn't necessarily mean the government will go -- or if it does go, that it will lose the next election," Quaglia says.
10. What is likely to happen next?
Questions remain over the ability of Yingluck's government to maintain order in the capital and weather the heavy political pressure in Parliament. Some observers are concerned that government supporters, tens of thousands of whom rallied in Bangkok on Sunday, could clash with opposition demonstrators.
Yingluck has said authorities would "absolutely not use violence" to disperse the demonstrators.
Even if Yingluck survives the "no confidence" motion against her, the situation appears unlikely to calm down soon.
"We're going to see political instability here for some time," Quaglia says.
Read: Thai PM Yingluck Shinawatra faces no-confidence motion
Read: Can Thailand's first female PM Yingluck Shinawatra heal divided nation?
CNN's Kocha Olarn, Tim Hume and Saeed Ahmed contributed to this report.