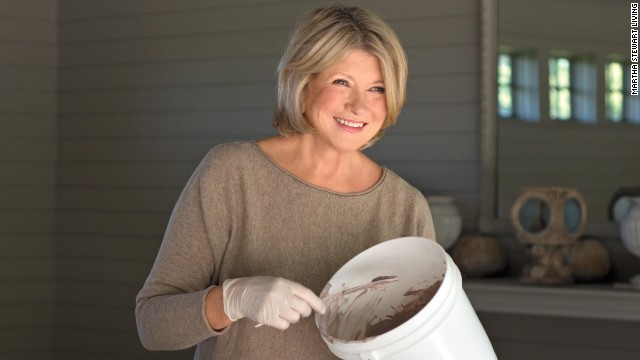 "This fun new crafts project is a beautiful, creative way to bring the harvest season to your family's holiday table," wrote Martha Stewart in the November issue of Martha Stewart Living.
Candle molds yield a collection of perfectly sized place-card holders; I used a miniature serrated hobby saw to make small slits in the turkeys to hold the cards.
A gorgeous clip-art tom turkey turned decal embellishes a decorative plate.
The overall look of the tablescape is casual but inviting, and it is perfect for guests of all ages. The centerpieces are full but unfussy—bunches of Timothy grass, wheat, and foxtail gathered in gold lusterware cups. They alternate with old English carved breadboards, which hold the turkey sculptures, as well as various small stone vessels for salt and pepper. The only linens on the table are the napkins, which were made from beautiful linen yardage from a shop in Wiscasset, Maine.
Mix 2 to 3 tablespoons of dye into water to reach desired color. (We used tan and yellow dye for lighter turkeys and tan, yellow, and brown dyes for darker ones.) Don mask and gloves, then slowly sprinkle permaStone powder (48 ounces of permaStone will make 1 large 2-part turkey and 1 small 1-part turkey) into water and let it absorb; do not stir yet. When powder no longer completely absorbs, stir with a spatula until mixture is the consistency of yogurt. (Add more water sparingly, if needed, until equally mixed.)
Set mold on blocks to stabilize. Slowly pour mixture to fill mold. With your fingers, gently tap mold to remove air bubbles and to settle and level mixture. if you've added too much, swipe away excess with spatula. Let sit for 2 hours. If using a 1-part mold, peel away at part lines and gently remove turkey. if using a 2-part mold, flip flat side down onto work surface. gently ease each turkey half from thicker areas, such as feet and tail.
Sand and connect pieces: For 1-part turkey, sand bottom with sandpaper until smooth and level. For 2-part turkey, sand the flat (back) sides. With dremel drill (optional) or smaller piece of sandpaper or sanding sponge, sand away ridges along the part line.
Once flush, apply a thin coat of construction adhesive to one flat side, press halves together, and secure tightly with rubber bands. Wipe away any excess adhesive with damp paper towels. Let glue dry about an hour. Sand bottom.
Supplies: Corn husks, Bowl of water and paper towels, Straw wreath, T pins, Glue gun, Scissors
Homespun holiday: This wreath is a rustic nod to the harvest season, and it's made with tamale wrappers from the grocery store.
1. Dunk corn husks in water, blot slightly on paper towels, and wrap around wreath, overlapping edges of husks to form a first layer that covers straw entirely. Secure undersides of husks with T pins as you go. 2. To shape radiating husks: Dunk husks in water, blot slightly, and temporarily pin to wreath so they dry naturally in draped, curled, or undulating shapes. Go around the wreath, creating several layers. Let radiating husks dry a few hours. 3. Permanently attach radiating husks a few at a time, using glue gun to position on wreath. Attach in layers, tucking additional husks behind until you reach desired fullness. As you go, use scissors to trim husk lengths and widths.
Supplies: 5-inch pies, in aluminum tins, Medium-weight cotton or linen fabric, Sewing machine and supplies, Twine and waxed paper How-to: 1. Make pies 2. Cut 17 1/2-inch squares from fabric. Press edges under 1/4 inch, then another 1/4 inch. Hem all the way around. (We made these, but store-bought napkins work just as well. 3. Tie a piece of waxed paper around each pie, then center atop a fabric square. Drape opposite corners of square over pie, then tie remaining corners in a square knot.
Give guests a parting gift: a single-serving pie wrapped in a square of cotton. If they're too full from turkey and fixings, they'll still get to enjoy a home-baked dessert
Round out place settings with individual horns of plenty—wood-veneer cones filled with nuts.
Supplies: Ballpoint pen, Paper, Transfer paper, Napkins, Embroidery floss, needle, and hoop
Make a lasting impression: Let napkins double as place cards, with your loved ones' names stitched right in. As your family grows with births and marriages, welcome each new member to the table with one of his or her own.
Supplies: Bread dough, All-purpose flour, Scissors How-to: 1. Punch into center of dough and make a hole, using your fingers to pull dough into a ring shape. 2. Generously dust top of dough with flour. Holding scissors at a 45-degree angle, snip a deep V into top of ring. Repeat every inch or so around ring. 3. Gently lift each snipped portion and splay outward, creating rays. Bake wreath.
A circular loaf mimics the look of the corn-husk wreath—and a clever cutting technique creates radiant sections. When it's time to eat this centerpiece-worthy bread, it easily breaks into perfect portions.
DIY Thanksgiving decor
DIY Thanksgiving decor
DIY Thanksgiving decor
DIY Thanksgiving decor
DIY Thanksgiving decor
DIY Thanksgiving decor
DIY Thanksgiving decor
DIY Thanksgiving decor
DIY Thanksgiving decor
DIY Thanksgiving decor
DIY Thanksgiving decor
DIY Thanksgiving decor
DIY Thanksgiving decor
DIY Thanksgiving decor
DIY Thanksgiving decor
DIY Thanksgiving decor