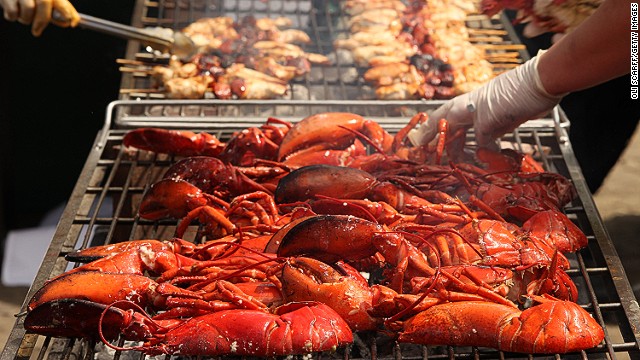 Gorging on local cuisine and desserts is expected of tourists -- and so is walking around all day to burn those calories off.
Back home they gather dust, hidden at the back of the cupboard for fear of being discovered. When traveling, your Now That's What I Call Music 3 mixes become the life of the throwback party.
It's not a question of why, but why not.
Tourists aren't bound by stifling loafers or heels. Your feet can finally be liberated.
OK, it cost you a few hundred bucks to get here, but somehow it feels worth it when you can pick up great meals for $2 and gaudy jewelry for $1.
That book that's been collecting dust on your bedside table can finally be opened. You have all the time for reading while you sit on a flight, lounge on a beach or lay on a grassy hill.
Rain, snow or sun, it's one more opportunity for an interesting photo.
You can't explain it, but that giant blue inflatable whale was just crying out to be bought. Try doing that back home on your lunch break.
A decent foot massage in Southeast Asia can be as cheap as $5 an hour. So it's not weird to have three in one day -- it's economical.
You have no reason to look presentable. The pants may be ugly, but they're comfy and perfect for temple trekking in hot destinations.
Riding an elephant in the chaos of Indian traffic may be nerve wrecking, but it's still better than the subway.
National Geographic may have stunning images and stories of the Kashmiri people at the foothills of the Himalayas. But nothing beats actually stepping out onto one of the the best ski destinations in Asia.
Traveling means finally discovering a happy hour actually at a time when drinking is acceptable.
Balut -- boiled duck embryo -- is one of those local delicacies that's often cringe-inducing. But in the spirit of traveling and curiosity, trying one is obligatory.
It might take 50 shots to capture the perfect moment in the air, but jumping shots are a tourist's right, as is holding up the Tower of Pisa and a fingertip on the Eiffel Tower.
When the spoken language has failed, point. Never has "cooking" been so enjoyable.
Lifelong bonds can sometimes be made at beaches, bars and clubs. Other times, one day of sharing your life story is enough.
While your friends scroll through your jealousy-inducing Facebook photos, a quick postcard is all it takes to keep you out of their bad books.
Nothing hides winter fat like a tan. And who wouldn't want everyday proof you were just on vacation?
Extravagant spending, like this underwater restaurant in the Maldives, is easily justified when you're traveling. It's a one-time deal -- might as well make the most of it.
You can stuff yourself and still stay fit
It's OK to reveal your '80s playlist
It's Friday, every day
You can free your feet
It's invariably cheaper
You suddenly have time to read
Even rain can't dampen your mood
You're not at work
Endless foot massages
It's OK to look like ... a tourist
Beats what your friends are doing back home
You learn through experience
Happy hours are worthwhile
You can try food previously only seen on TV
Silly poses are expected
Pointing is as close as you come to cooking
You can mingle, then escape
Postcards show you care
Tan is better than no tan
Experiences are invaluable