Monty Python reunion show sells out in 43 seconds
updated 12:10 PM EST, Mon November 25, 2013
STORY HIGHLIGHTS
Monty Python reunion show in London on July 1 sells out in 43.5 seconds
More shows announced for July 2-5; tickets priced between £27 ($43) and £90 ($145)
Monty Python team produced 45 TV episodes and five films between 1969 and 1983
London (CNN) -- Tickets for the Monty Python reunion performance went on sale on Monday for as little as £32 ($51), sold out in 43 seconds and promptly resurfaced on the auction site eBay for £750 ($1212). As one of Eric Idle's characters says in the movie, "The Life of Brian:" "We're supposed to haggle!"
After tickets for the show at London's O2 Arena on July 1 sold out, the PR agency for the event announced more shows on July 2-5. The performance will be the five surviving stars' first show on stage together since appearing at the Hollywood Bowl in September 1980.
Tickets are priced from £32 to £106 ($171) including booking fees, with full details announced on the troupe's website montyphythonlive.com. Hours after they went on sale, many tickets were on sale on eBay.
Idle tweeted: "This pretty much took us by surprise, so we are talking about adding more shows."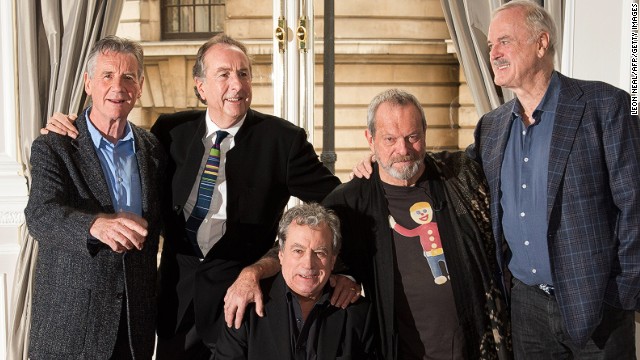 All smiles: From left, Michael Palin, Eric Idle, Terry Jones, Terry Gilliam and John Cleese will be performing at the O2 Arena in London on July 1.
Terry Gilliam, left, will be designing new animations for the show, but John Cleese said the poor state of his hips and knees would prevent him from performing the "Ministry of Silly Walks" sketch.
Eric Idle appears with his fellow Pythons at the Playhouse Theatre in London to announce a comeback concert. "We waited until demand died down" before returning, he joked.
Michael Palin, left, joked that after making eight series of TV travel programs, he'd welcome a Python world tour.
Asked by a Spanish journalist to explain why the Pythons had reformed, Michael Palin said: "No one expected the Spanish Inquisition" -- a reference to one of his sketches.
Cleese, Gilliam and Jones lark about at the news conference.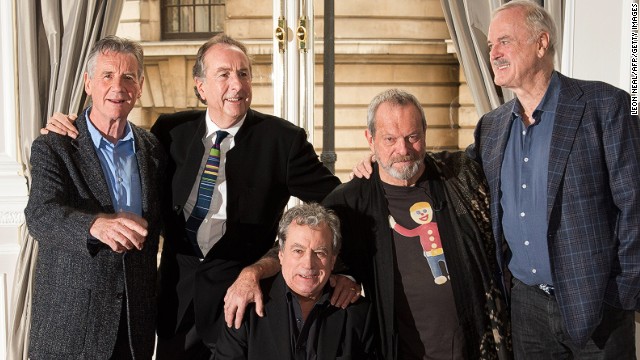 Monty Python stars announce comeback concert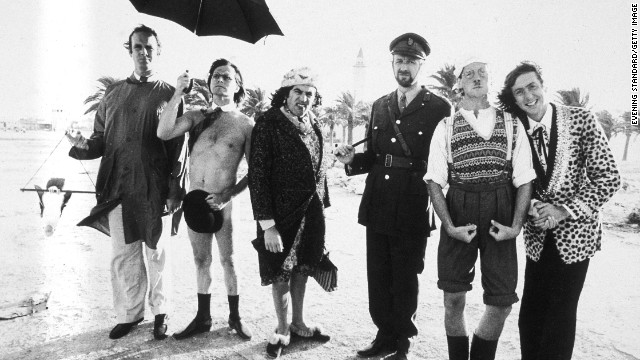 In honor of fans worldwide who were able to enjoy a historic reunion of the surviving Monty Python members, we take a look at what the troupe achieved outside of Python:
John Cleese, now 74, created and starred in the immortal TV show "Fawlty Towers" in the 1970s and co-founded Video Arts, a company that makes training films. Younger viewers may know him best for his roles in the "Shrek" films (as King Harold), a pair of James Bond films (as Q) and the Harry Potter series (as Nearly Headless Nick). His most recent film role was in "Planes."
Terry Gilliam, 73, became a noted film director, best known for "Brazil" (1985), "The Fisher King" (1991) and "Twelve Monkeys" (1995). J.K. Rowling wanted him to direct the first Harry Potter film, but the studio didn't want the famously independent Gilliam. His latest film, "The Zero Theorem," is due for U.S. release this summer.
Terry Jones, 72, has created TV shows about the Middle Ages, an era on which he's an expert. (He's written two books about Geoffrey Chaucer.) He's also written several children's books and was a regular contributor to UK newspapers during the Iraq war, which he opposed. With songwriter Jim Steinman, he's been working on a rock version of "The Nutcracker."
Michael Palin, 71, has probably spent as much time traveling in the past 25 years as he has acting. Among his projects: "Pole to Pole," "Full Circle" and "Michael Palin's New Europe." His most recent venture was "Brazil with Michael Palin," which came out in 2012.
Eric Idle, 71, has probably done the most to maintain the Python tradition. He engaged in "The Greedy Bastard Tour" in 2003, which included performances of Python material, and turned "Monty Python and the Holy Grail" into "Spamalot," which won the Tony for best musical in 2005. He also helped create the Rutles, perhaps the sharpest Beatles parody. And he sang his song "Always Look on the Bright Side of Life" at the 2012 Olympics closing ceremony.
Graham Chapman died in 1989. Before then, he performed material at several colleges and appeared in an Iron Maiden video. Since his death, at least one of his plays, "O Happy Day," has been performed. The Pythons haven't forgotten their colleague: They did a wonderfully uncomfortable routine with Chapman's "ashes" at the Aspen Comedy Festival in 1998, and in 2012, all the Pythons except Idle lent their voices to a film based on Chapman's memoirs.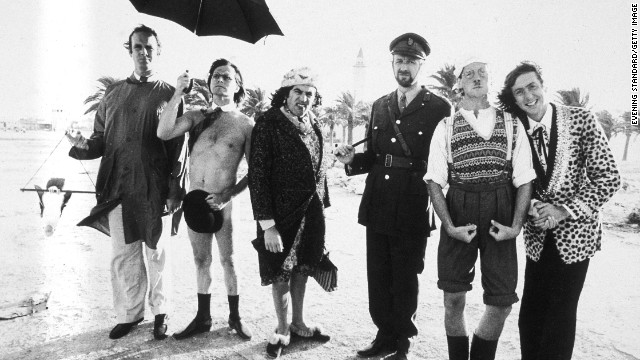 'Monty Python's Flying Circus': Where are they now?
Idle, John Cleese, Michael Palin, Terry Gilliam, Terry Jones and the late Graham Chapman became comedic legends with the creation of Monty Python's Flying Circus in October 1969. They produced 45 TV episodes for the BBC and five films together before going their separate ways in 1983.
The shows mostly consisted of a string of often incoherent sketches, only occasionally with conventional punch lines and loosely tied together by Gilliam's stream of consciousness animations.
Although the TV show ran for only four seasons, it proved a massive cult hit when it was shown in the United States beginning in 1974 -- just as the show was winding up on the other side of the Atlantic.
Cleese said at a news conference on Thursday that the show will have some new material, but many old bits -- some featured in new ways -- that fans will expect, along with "comedy, pathos, music and a tiny bit of ancient sex."
"I remember going to the Royal Albert Hall and seeing Neil Diamond where he got booed in the second half for singing new numbers. People really do want to see the old hits, but we don't want to do them exactly in a predictable way, so it's going to be a mix-up, I think," Cleese added.
Asked what he believes the modern twist will be, Gilliam replied: "The fact that we can actually still walk and stand upright."
While the Python stars said they hoped the new performance will appeal to a new generation of fans, they admitted that money was one of the main factors in their decision to reform.
"I hope it makes us a lot of money. I hope to be able to pay off my mortgage!" Jones said.
READ: Monty Python returns, promising 'comedy, music, ancient sex'
READ: The greatness that is 'Monty Python'
READ: Will Monty Python's humor fly in 2013?