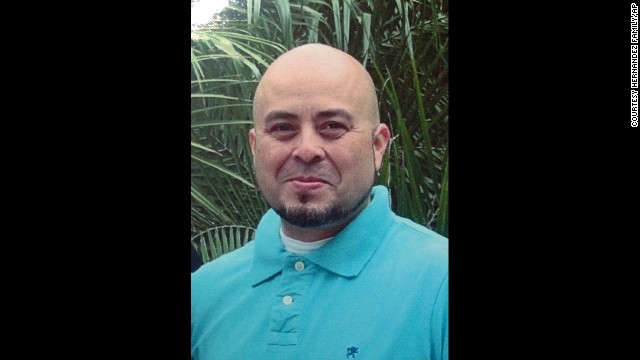 Transportation Security Administration Officer Gerardo Hernandez, 39, was killed in a shooting at Los Angeles International Airport on Friday, November 1. Paul Ciancia, 23, armed with what police say was an assault rifle and carrying materials expressing anti-government sentiment, opened fire at LAX Terminal 3, killing Hernandez before being chased down. Ciancia has been charged with the murder of a federal officer and commission of violence at an international airport.
A passenger embraces a TSA screener at Los Angeles International Airport's Terminal 3 after it was reopened on Saturday, November 2 following a shooting. Four other people are recovering from injuries in the shooting.
TSA Administrator John S. Pistole, left, and Ana Hernandez, wife of slain TSA officer Gerardo Hernandez, prepare for a news conference in Porter Ranch, California on November 2. The slain officer "was a wonderful husband, father, brother, son and friend," his widow said.
Injured traveler Bruce Reith, from Munich, Germany, is helped by two Los Angeles Airport Police officers as he makes his way on crutches to Terminal 3 for departure a day after injuring himself while escaping the shooting.
Workers tear down a temporary partition after Terminal 3 was reopened on November 2, a day after a shooting at LAX.
A Los Angeles Airport Police officer stands in front of Terminal 3 security screeners after law enforcement officials completed their investigation and prepare to reopen the terminal at LAX on November 2.
gunshots were reported
inside the terminal on November 1.
Police officers and emergency response officials meet outside Terminal 3 at Los Angeles International Airport after
Transportation Security Administration employees hug outside Terminal 1.
This photo, from Terminal 3, shows what appears to be a weapon on the ground. Police said a man "pulled an assault rifle out of a bag and began to open fire" Friday, killing one person and injuring others before being shot and taken into custody.
Law enforcement officers gather in Terminal 3 near the scene of the shooting.
Passengers sit on a luggage conveyor belt behind check-in kiosks in Terminal 1.
Police check the area around Terminal 1.
Passengers evacuate the airport after the incident, which airport officials said began about 9:30 a.m. The gunfire and the airport's announcement of the incident provoked chaos among travelers, passengers said.
People hide inside a bathroom stall at the airport after the gunshots were reported.
Thousands of travelers were delayed after the incident closed the airport for hours.
Los Angeles Police Chief Charlie Beck talks with other responders at the airport Friday.
A police officer closes a road at the airport. The area around the airport was jammed with cars Friday morning as police shut down access.
Police officers stand guard atop Terminal 3.
Passengers are directed outside Terminal 2.
A family walks through a tunnel as they leave the airport.
Passengers evacuated from Terminal 1 wait outside the airport.
"People were running and people (were) getting knocked down. There was luggage everywhere," traveler Alex Neumann said. "Mayhem is the best I can describe it."
People wait in a terminal after flights were grounded because of the incident.
Passengers wait on the curb after leaving the airport.
A police officer directs traffic.
The gunfire reports led to a "ground stop" for arriving planes, said police and the Federal Aviation Administration.
A police officer diverts traffic trying to enter the airport.
First responders and emergency vehicles arrive at the airport.
Fatal shooting at Los Angeles airport
Fatal shooting at Los Angeles airport
Fatal shooting at Los Angeles airport
Fatal shooting at Los Angeles airport
Fatal shooting at Los Angeles airport
Fatal shooting at Los Angeles airport
Fatal shooting at Los Angeles airport
Fatal shooting at Los Angeles airport
Fatal shooting at Los Angeles airport
Fatal shooting at Los Angeles airport
Fatal shooting at Los Angeles airport
Fatal shooting at Los Angeles airport
Fatal shooting at Los Angeles airport
Fatal shooting at Los Angeles airport
Fatal shooting at Los Angeles airport
Fatal shooting at Los Angeles airport
Fatal shooting at Los Angeles airport
Fatal shooting at Los Angeles airport
Fatal shooting at Los Angeles airport
Fatal shooting at Los Angeles airport
Fatal shooting at Los Angeles airport
Fatal shooting at Los Angeles airport
Fatal shooting at Los Angeles airport
Fatal shooting at Los Angeles airport
Fatal shooting at Los Angeles airport
Fatal shooting at Los Angeles airport
Fatal shooting at Los Angeles airport
Fatal shooting at Los Angeles airport