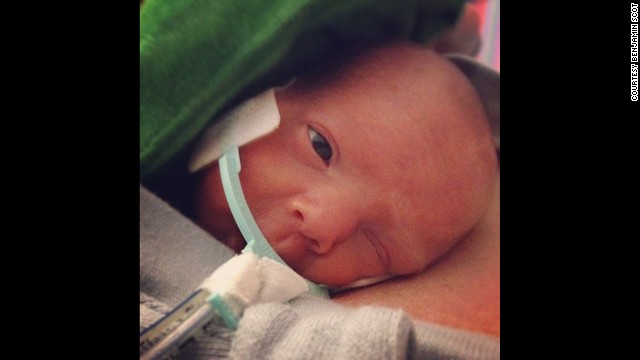 Born 3.5 months early, Ward Miles Miller weighed only 1 pound, 13 ounces.
The Millers couldn't hold Miles for the first four days of his life. Instead, Benjamin Scot Miller holds his son's tiny hand, letting Ward know he isn't alone.
Benjamin and Lyndsey Miller spend time with their son in the NICU at Nationwide Children's Hospital in Columbus, Ohio.
Lyndsey Miller looks adoringly at her son in the NICU while she cradles his tiny head surrounded by tubes and wires.
"One doctor told us straight up the first night that there was a 50-50 chance that he would be normal," said Benjamin Miller, a professional photographer. "We definitely prayed and prayed."
The early birth wasn't Ward's only challenge. At 10 days old, a scan revealed blood in his brain tissue. His father remembers crying and praying the whole way to the hospital that day. "And then you get there and you see him, and he's laying there. He's still the same old self," Benjamin Miller said.
Ward spent the first 107 days of his life in the NICU at Nationwide Children's Hospital.
Lyndsey Miller kisses her son's tiny head.
Once the Millers were able to hold their son, his dad says it was hard to let go. They spent as much time with Ward in the NICU as the hospital allowed.
Ward finally got to go home after spending more than 100 days in the NICU. "Everything was leading up to that day, and to have him there was amazing, " his dad told CNN.
Dad and son take a nap at home.
Today, Ward is 16-months-old and has no major health issues, except for an inflammation in his throat.
"All the doctors who meet him and we say he was 15 weeks early, they just can't believe it," Benjamin Miller said. "He doesn't even look like he was a preemie."
Ward gets a ride on his dad's shoulders.
Benjamin Miller tells CNN that his 16-month-old son is thriving and on track developmentally with his age group.
Ward watches football with his dad from the comfort of their living room.
Ward gives a big gummy smile to the camera. His dad keeps a close eye on his son from behind.
Ward runs around the house in his walker like a normal toddler.
Ward examines himself in the mirror.
Lyndsey Miller gives her son a big kiss in his batman pajamas.
Ward's parents think he's a superhero, so it's only fitting he wears batman pajamas.
Today Ward is a happy and mostly healthy little boy.
A chunky 16-month-old Ward Miles Miller is thriving.
Father chronicles premature baby's first year
Father chronicles premature baby's first year
Father chronicles premature baby's first year
Father chronicles premature baby's first year
Father chronicles premature baby's first year
Father chronicles premature baby's first year
Father chronicles premature baby's first year
Father chronicles premature baby's first year
Father chronicles premature baby's first year
Father chronicles premature baby's first year
Father chronicles premature baby's first year
Father chronicles premature baby's first year
Father chronicles premature baby's first year
Father chronicles premature baby's first year
Father chronicles premature baby's first year
Father chronicles premature baby's first year
Father chronicles premature baby's first year
Father chronicles premature baby's first year
Father chronicles premature baby's first year
Father chronicles premature baby's first year
Father chronicles premature baby's first year
Father chronicles premature baby's first year
Father chronicles premature baby's first year