STORY HIGHLIGHTS
Technology-dependent travelers will have trouble not calling
Opponents of using cell phones will probably join the call too, says an expert
Airline passengers may collectively enforce lower volumes aboard
(CNN) -- You think you won't do it, but you will.
As the Federal Communications Commission considers a proposal to lift its ban on cellular service on U.S. flights, experts say that even those who scoff at the idea of talking on a cell phone aboard a plane will probably have trouble resisting the call of, well, calling.
Disconnecting people who are acclimated to constant communication causes their brains to release stress and anxiety-based neurotransmitters, according to Larry Rosen, a psychology professor at California State University, Dominguez Hills.
Given what psychologists know about anxiety and how it affects behavior, Rosen expects tech-reliant fliers to pounce on the opportunity to make phone calls in flight.
"I don't think most of the avid users will be able to stay away," Rosen said. "I don't think those people are going to care whether they're upsetting anybody."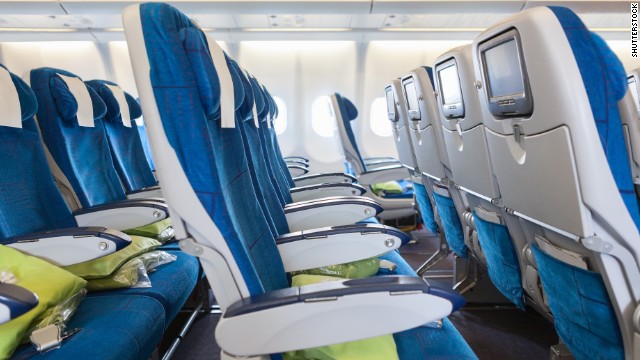 What are the most annoying habits on airplanes? A series of seat recline skirmishes has passengers talking about the aggravations of air travel. Click through the gallery of 20 top irritants.
You folded your suit coat nicely and placed your hat in the allotted overhead space. Too bad Bin Hog just mangled it all while shoving his suitcase, stroller and shopping bags into a space meant for one personal item.
Airplane movies: the opiate of the flying masses. Except when your hyperactive neighbor takes 30 minutes to decide between "Grown Ups 2" or something a little less cerebral. Such behavior earns "passengers who take too long to pick a movie" the number 19 spot on our "most annoying" list.
Coming in at spot 18 -- compulsive leg-shaking. The fidgety leg-shaker isn't all that common, but still annoying when encountered at altitude.
Annoying behavior number 17? Boarding ahead of group number. Most airlines have a system for getting hundreds of passengers aboard in the least amount of time. That's why we schlep on as part of Group A or B or C. Just because you drew the short straw on this one doesn't give you the right to pretend to be dyslexic.
What's more annoying than people rushing to board the plane? Babies crying. Are we really blaming babies for doing what babies do naturally? Sure, as long as they're your kids, and not ours.
"I'd learn some bladder control if I was in the window seat," runs the unspoken complaint. Number 15 on our list -- those who get huffy when you leave your seat.
"Hey, we just landed. ... can you hear me? ... we just landed ... I'm on the runway ... can you hear me now? ... We just landed ... " Annoying behavior number 14: Those who can't bear to wait to deplane before yacking on their cell phones.
We get it -- airlines have cut back on food service, forcing us all to bring our own snacks and meals onboard. But did you really have to clean out the back of your refrigerator? Bringing aboard stinky food isn't just annoying, it's gross too.
Hey, we're trying to read here. Number 12 on the rude behavior list: people who don't know how to use their inside voices on planes.
Coming in at number 11 -- elbow wars. Do you often find yourself elbowing someone else's arm off what should be a shared space? That's armrest hegemony. And it's annoying.
Praise God, the middle seat is empty! Til the guy next to you employs annoying behavior number 10 and lays claim to the no man's land of the middle seat with a book, coat or inflatable neck support. Or long appendage.
Thanks for sharing your globules of diseased saliva. This lonely gentleman may have the only sensible approach to dealing with those who practice annoying behavior number nine -- germ sharing.
Bleep, bloop, blorp. Funny how some of the most irritating things on the planet can be called "games." Even more irritating are people who play them, on a plane, with the sound turned on.
"Sir, is that a ... carry-on?" Annoying behavior number seven: Wielding huge suitcases as carry-ons.
Here we've regressed to the time before the invention of the queue. Don't you just hate people who rush from the back of the plane in an attempt to disembark first?
Another annoying behavior that also falls into the gross category -- cutting fingernails inflight. Toenails are also trimmed at 30,000 feet, but that would have been a really offensive picture.
"Feet nudism" is a common complaint, earning it the number 4 spot on our list. Appalling side note: people who actually go to the bathroom on the airplane in their bare feet.
We've all encountered the toilet hogger. What are they doing in there, you wonder as you hover cross-legged by the door. Certainly not being considerate of other people.
Annoying travel behavior number two: recliners. Aviation engineers, listen up: No one likes the recline button! Time to reinvent the plane seat.
"He kicked someone's seat-back." Airplane Irritant No. 1 -- seat-back kicking -- invites a violent response.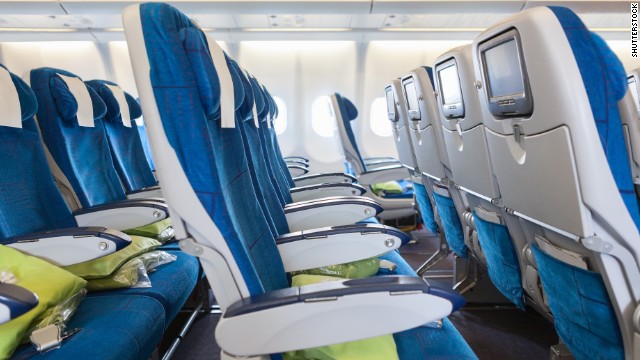 20 rudest things people do on planes
Karen Cerulo, a sociology professor at Rutgers University, agrees. "No matter where you fall on the (love it-hate it) continuum, you're likely to use your cell phone because it's so much a part of everyday culture."
University of Michigan psychology professor David Meyer bought his first iPhone at the beginning of the year and pointed to flights as one of the last places on Earth where someone can escape others talking on their phones.
But if most other people start to use their phones in flight, as he thinks they will, Meyer expects the complainers will, too. Yes, even him.
"I would be extremely willing to forgo my access to using the phone on the plane if that same restriction would be obeyed by everyone else. Once other people are allowed to do it, what the heck?" he said. "I'd rather be talking to someone I know on my own phone than listening to someone else's conversation."
Some experts hope airlines and airline passengers will take a cue from other transportation systems' efforts to accommodate riders seeking silence.
20 most annoying things people do on planes
Psychologist Patricia Wallace hopes the collective agreement that enforces the quiet in quiet cars on Amtrak would help keep the volume down on aircraft.
"On Amtrak's quiet car, that norm (to keep quiet) is so strong, and people will definitely react" when the silence is broken, said Wallace, a senior director at Johns Hopkins University's Center for Talented Youth.
Making calls in flight is still very much up in the air. The FCC plans to consider lifting its ban in a meeting December 12. Even if the agency lifts the ban, the Federal Aviation Administration would have to weigh in on safety, and individual airlines would ultimately set their own policies for voice calls.
Based on years of customer feedback, Delta Air Lines said recently that it would not allow calls in flight. The airline's statement was made before the FCC announced its proposal to end its ban on voice calls, but a Delta spokesman said Friday that the carrier's position hasn't changed. JetBlue and United have also mentioned negative customer feedback as a factor in how they would respond to a lift on the ban.
"If the FCC's new policy does go into effect, we would prioritize making the cabin comfortable and welcoming for all -- for those who want cell service and for those who like peace and quiet," said JetBlue spokeswoman Tamara Young.
Your view: Would allowing cell phone calls on flights open Pandora's chatterbox?
If it's allowed, gabbing at 30,000 feet would probably cost you. The expense of installing the necessary equipment on planes would be passed from cell service providers to users.
Whether or not the ban is lifted, travelers have plenty to say about the idea.
"I don't want to hear people talking on their phone in the middle of my flight," wrote Josh Crews, a project manager in Chicago, in an e-mail.
"When you're on an airplane there is already an uncomfortable tension due to the fact that you're in a compact space with a ton of strangers. Give those strangers a cell phone and suddenly you're hearing about how they can't wait to eat dinner because they're starving and why they think grandma might have indigestion."
Opinion: Phone calls on planes? Please, no!