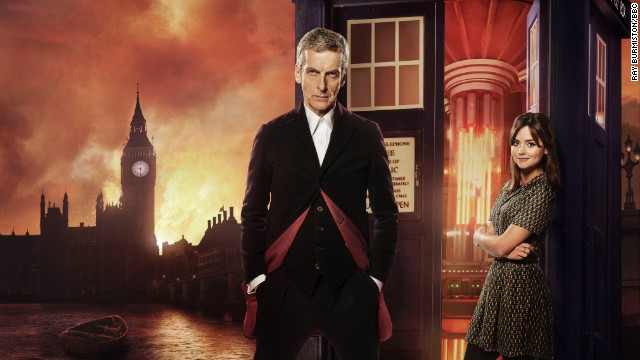 On November 23, 1963, "Doctor Who" was first broadcast on the BBC. Today, it remains a cult favorite among science-fiction fans young and old. Peter Capaldi (pictured with Jenna Coleman) took over as the Twelfth Doctor this season. Click through the gallery to see the men who have played the title character.
The Doctor -- a Time Lord from the planet Gallifrey who traveled through space and time -- was first played by William Hartnell, who took along his granddaughter on his adventures.
Patrick Troughton took over the role in 1966, and it was explained on the show that Time Lords can regenerate into new bodies upon their death. Troughton's Second Doctor was more of an oddball, prone to playing his recorder and fooling enemies into thinking he was a simpleton.
Jon Pertwee's Third Doctor dove headlong into the 1970s. He was the closest to James Bond of any of the Doctors, earthbound and a big fan of traveling in flashy vehicles.
The Fourth Doctor, played by Tom Baker, is a favorite of many fans, having played the character the longest starting in 1974. Baker brought back some of the childlike aspects of the Doctor in a big way, and he gained a robotic dog companion, K-9.
Peter Davison's Fifth Doctor brought the character into the 1980s as a young, well-dressed cricketer, leading a team of companions on his adventures.
The no-nonsense Sixth Doctor, Colin Baker, took over in 1984. Despite his outlandish, colorful costume, he was one of the least approachable-seeming Doctors.
The Seventh Doctor, starting in 1987, ended the original series of "Doctor Who." Sylvester McCoy's take on the character returned him to the quirky mannerisms of the Second and Fourth Doctors, though this one was more of a schemer.
Up until recently, the Eighth Doctor's adventures on screen lasted all of one TV movie, a failed attempt to resurrect the series on Fox. Paul McGann returned on a "Webisode" just last week, explaining what became of his character when he regenerated.
The show was rebooted in 2005, and Christopher Eccleston's Ninth Doctor was the first one many new fans saw. Wearing a leather jacket, this Doctor was stripped down to his bare essentials.
After Eccleston's departure at the end of the first new season, David Tennant brought back some of the quirkiness with his Tenth Doctor, a trenchcoat-wearing adventurer with a great sense of humor. He was recently voted fans' favorite Doctor by readers of the UK's Radio Times.
Matt Smith brought a youthful appearance to the Eleventh Doctor starting in 2010. His penchant for wearing bow ties and fezzes and dancing like a "drunken giraffe" plays against the fact that he is determined to save the day, and his companions, no matter what.
'Doctor Who' through the years
William Hartnell
Patrick Troughton
Jon Pertwee
Tom Baker
Peter Davison
Colin Baker
Sylvester McCoy
Paul McGann
Christopher Eccleston
David Tennant
Matt Smith
STORY HIGHLIGHTS
Producer Marcus Wilson has worked on "Doctor Who" since 2011
Series celebrates 50th anniversary Saturday with special episode
Wilson shares his thoughts on the show's longevity
(CNN) -- On Saturday, "Doctor Who" celebrates its historic 50th anniversary with a simulcast special in 75 countries. But it almost wasn't to be.
In 1989, the show was canceled. A 1996 attempt to reboot it lasted as long as one TV movie. Finally, in 2005, the show was revived, and its fanbase has grown ever since.
News of the 12th Doctor, Peter Capaldi, made worldwide headlines. Fans of the Doctor -- an alien "Time Lord" who travels across space and time -- are no longer relegated to fan sites and "Doctor Who" conventions.
The show is now a high point of each year's San Diego Comic-Con and prominently referenced on shows like "The Big Bang Theory" and "Community." It's also the No. 1 rated show on BBC America and won a prestigious Peabody Award this year.
That's quite an achievement for a show aimed at children that was quietly launched on November 23, 1963.
Marcus Wilson, a producer "Doctor Who" since 2011, spoke to CNN about the show's legacy and what fans can expect for the big 50th anniversary episode, "The Day of the Doctor."
CNN: What do you think it is that has helped the show last 50 years, continuing to grow its fan base?
Marcus Wilson: It's a very simple premise, yet it has endless flexibility: A man travels through time and space, fighting for good against evil wherever he goes. It's accessible, uplifting and endlessly entertaining because it engages the viewer's imagination and credits them with intelligence. It can regenerate itself (even its leading man) to keep the show modern and in tune with its audience.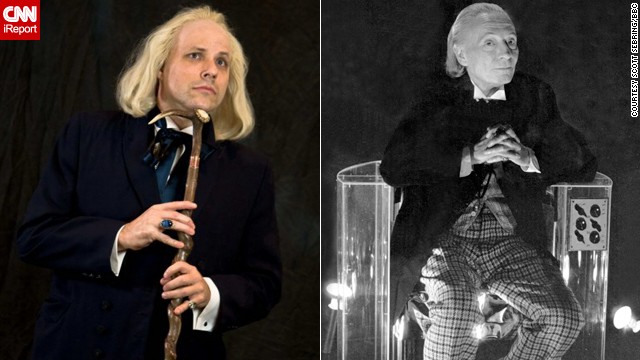 For 50 years, "Doctor Who" has thrilled TV viewers with the science fiction exploits of one alien with two hearts and (thus far) a dozen different faces. Fans have been dressing up as -- cosplaying -- their favorite Doctors for decades. Here, Scott Sebring, left, portrays William Hartnell's First Doctor.
Mikhail Lynn cosplays as multiple doctors, including the recorder-playing Second Doctor, who was portrayed by Patrick Troughton. He holds a special place in the St. Louis resident's heart: "Confident in his abilities and downright cocky at times, he never took himself too seriously. When faced with danger, the mercurial Doctor would play up the image of a hapless bumbler to throw off his enemies only to reveal a darker, sometimes ruthless side that was both a cunning strategist and fiercely loyal to his companions."
Jared Claxon's favorite Doctor is the third, played by Jon Pertwee. " I watched reruns of Three on PBS when I was a wee lad," said the market researcher from Lake Helen, Florida. He was cosplaying the Third Doctor when he met his now fiancee.
Bob Mitsch of Pasadena, California, can often be seen at fan conventions portraying the Fourth Doctor. Tom Baker is quite popular, having played the Doctor longer than anyone. "He'll always be the one, the only and the definitive to me despite discovering and appreciating other Doctors over the years."
Matthew Brewer of Fairburn, Georgia, portrays the Fourth Doctor.
Nathaniel Strong, here cosplaying Peter Davison's Fifth Doctor, said his life has not been the same since discovering "Doctor Who" a few years ago. The lesson he takes away from it is, "Even if you think little of yourself you can make a world of a difference."
Mikhail Lynn plays the Fifth Doctor.
Trey Tackett didn't just dress like the colorful Sixth Doctor, he got to meet the man himself, Colin Baker, back in May. "There was something about the Sixth Doctor that just appealed to me," said the Roanoke, Virginia, sales clerk. "He was brash, blunt and honest."
"Erdaniella" got together with some female friends in Budapest, Hungary, last summer to do a photo shoot as all 11 Doctors. She chose Sylvester McCoy's Seventh Doctor. "He is one of my favorites for his gamesmaster way of dealing with things."
Paul McGann's time as the Eighth Doctor lasted only about 90 minutes -- with six minutes tacked on just recently in a webisode -- but it was long enough to make an impact on London resident Owen Rickard.
"Doctor Who" made a triumphant return to TV in 2005 with Christopher Eccleston's Ninth Doctor. Nolan Moon of Orlando often cosplays as this Doctor, and Allison Farrell often dresses like his companion, Rose Tyler.
John Rabon of Easley, South Carolina, cosplays the Ninth Doctor.
David Tennant is a favorite of new "Doctor Who" fans, and Katrina Lynn Panzer has made something of a reputation playing him. He "reminded me of myself. I quickly realized it wasn't just his enthusiasm or his tendency to use furniture in unconventional ways. He also had the anxiety and mood swings I've experienced most of my life."
Ric Mauger of Hawthorn, Australia, as the Tenth Doctor.
The current Doctor, the Eleventh portrayed by Matt Smith, is a favorite of Matthew Brewer. "The one from the new series is the one I actually followed from his beginning: the raggedy, bow-tied, tweedy, floppy-haired, childlike, fish finger and custard loving, fez wearing, very curious ... Eleventh Doctor. Since his start in 2010, I really followed his run down to the letter, I even have three Eleventh sonic screwdrivers."
Mark Tuttle of Escondido, California, as the Eleventh Doctor.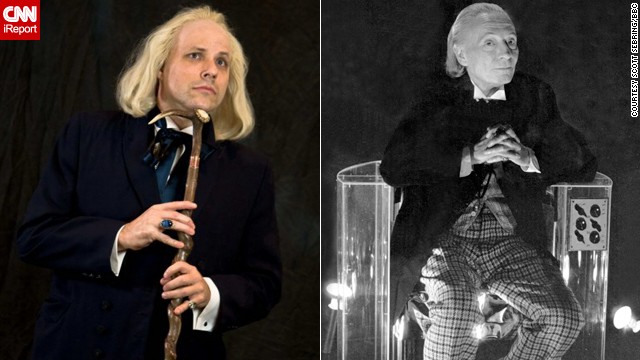 Photos: 50 years of 'Who' fans
CNN: What sets the fandom for "Doctor Who" apart from others?
Wilson: "Doctor Who" fans are the best in the world. They've stayed with the show through thick and thin. They are devoted, smart and not afraid to let us know how they feel! They feel a part of the show, particularly as they kept it alive through all the years it was off air. We're very lucky to have them behind the show.
CNN: How has the fandom evolved over the years?
Wilson: It's a generational thing. Parents who watched the show as kids are now sharing it with their kids. The audience is constantly renewing. The late teenage/early 20s audience seems to be growing as the classic show is being rediscovered on iTunes and box sets, and the brand spreads from the UK across the world.
CNN: How important do you think the "new" series has been in attracting fans?
Wilson: New material always rewards devotion, but we've tried to develop the show and aspire to new ways of telling stories to keep the show evolving. The show changes to keep pace with the modern world. It's very accessible, deliberately so, so hopefully the great stories, higher production values and superb cast have attracted people who had maybe dismissed the classic series.
CNN: What are your fondest memories of "Doctor Who"?
Wilson: As a fan, sitting down on a wintry Saturday night with crumpets to watch Tom Baker's Doctor. As a producer, standing in Central Park shooting, surrounded by a horde of fans. It was quite exciting and humbling at the same time.
CNN: Is there anything in particular that you can promise fans when they see the 50th episode? Any teases of what can they expect?
Wilson: It's both a celebration of the past 50 years of "Doctor Who," and the foundations of the future of the show. The next chapter starts here. It's both a reward for the long-term fan -- questions will be answered! -- and the perfect place for a new viewer to jump on. A tease? A picture is worth a thousand words. ...
CNN: What do you think is the show's greatest contribution to science fiction? To television?
Wilson: I think we've proved you can't keep a good show down!