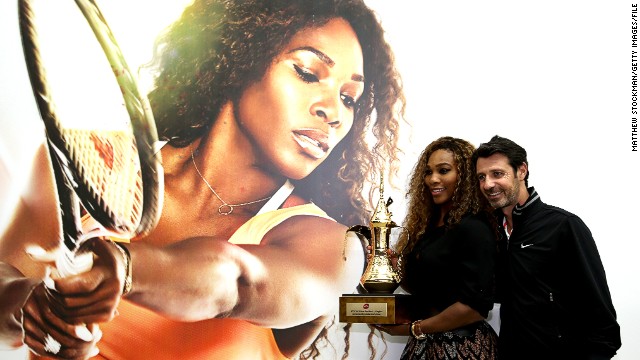 Serena Williams poses with her coach Patrick Mouratoglou after reclaiming the year-end world No. 1 ranking she last held in 2009.
The American enjoyed her best year in 2013, capped with a successful defense of her season-ending WTA Championships crown. She won 11 titles, including the French and U.S. Open trophies, and finished the year with 78 wins and just four defeats.
Serena became the oldest WTA Championships winner by beating Li Na in the Istanbul final and amassed $12.3 million over the season. She became the first player to win 11 titles in a year since Martina Hingis bagged 12 in 1997.
It marked a sensation return to form for Serena, who had tumbled to 175 in the world after a couple of injury-blighted seasons. After surviving a life-threatening blood clot, and coming back from a serious foot injury, she began a long journey to get back to the top of the rankings.
One of the lowest moments of Serena's career came with a first round defeat to unseeded opponent Virginie Razzano at the French Open in 2012. It led many to wonder whether she could recapture the glorious heights of yesteryear.
While still in Paris, Serena sought out coach Patrick Mouratoglou for help with her game. The results were immediate, Williams going on to win Wimbledon, two Olympic gold medals, the U.S. Open and the WTA Championships.
Mouratoglou, with whom Serena has been romantically linked, helped Serena win 16 titles in 16 months, with a record of 95 victories and five defeats. He told CNN of that meeting in Paris: "What surprised me at that point was the motivation she had. She really was prepared to do anything to come back to the top."
Twelve months on from that shock defeat in the first round, Serena banished her demons by winning her second French Open title, and her first since 2002, after beating defending champion Maria Sharapova.
Despite a fourth round exit to Sabine Lisicki at Wimbledon, Serena's dominance was restored in New York as she took the U.S. Open title.
Williams is now just one grand slam title behind the 18 won by Chris Evert and Martina Navratilova.
Despite having her most successful year, Mouratoglou thinks Serena can improve yet further. "If she plays her type of game with more efficiency, like being maybe even more aggressive, adding some volleys, she can give another level, which is maybe a bit frightening, but I think she can."
Serena's golden year
Best season
Roast Turkey
Injury woes
Pain in Paris
New coach
Mour to follow
Clay court champion
Fairytale of New York
Eyes on the prize
Record-breaking 2014?
STORY HIGHLIGHTS
Serena Williams tells CNN 2013 season was make or break for her career
World No. 1 decided to pack her schedule and had her most successful year
Williams won the French Open, U.S. Open and season finale WTA Championships
Serena hoping to draw level with Chris Evert and Martina Navratilova on 18 slams
(CNN) -- "It could have been the secret to my success or the secret to my demise," a wistful Serena Williams says of her 2013 season.
The irresistible force in women's tennis is talking about her record-breaking year, one in which she vowed to play more than she ever had done previously.
It was a decision that paid huge dividends.
Not only did her victories at the French Open and U.S. Open take her grand slam tally to 17, she also successfully defended her season-ending WTA Championships crown.
She claimed 11 titles in 2013 -- the best return in the women's game for 16 years -- adding $12.3 million in prize money to what has become a very healthy bank balance over the years.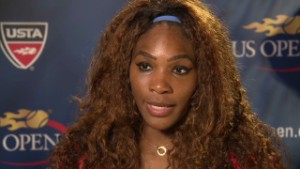 Serena Williams' toughest challenge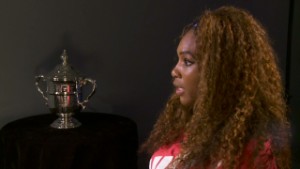 Serena Williams talks post U.S. Open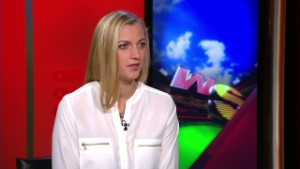 Petra Kvitová interview
Far from slowing down, Williams has a new spring in her step at the age of 32.
Her 17 major titles mean she is just one behind Chris Evert and Martina Navratilova and within sight of Steffi Graf, out in front on 22 grand slam titles in the post-1968 Open era.
"It is getting exciting," Williams told CNN. "I have four grand slams next year to try and at least catch up with Martina and Chrissy so it will be really exciting.
"Hopefully I can do it but really being here 17 is fun, obviously I want more and I never want to stop until I reach my goals.
"I'm excited about just looking forward to the possibilities of next year.
"I started with 15 and this year I'm starting with 17 (next year) so hopefully I can win a couple -- one, two or three, who knows? Any would be good for me."
Serena's career has been transformed since she teamed up with coach Patrick Moratoglou after a demoralizing first round defeat at the 2012 French Open.
Having tumbled to 175 in the world after a series of injury-hit seasons, he helped Serena roar back to the top of the game; if and when Serena breaks 18, his pride will be immeasurable too.
"Martina and Chris, they are legends, so to have Serena part of this small group means a lot," Frenchman Moratoglou said.
It could have been the secret to my success or the secret to my demise
Serena Williams on her 2013 season
"It means a lot to her too that she's only one grand slam away to reach them and then maybe to overtake them it's an option that you can really think about it.
"There will be a lot of emotion when she'll be close to winning the next grand slam and sitting next to those great champions, but she can make it.
"Steffi is a bit far away still. I think it's too early to speak about Steffi -- she has 22 -- so (Serena) has to win five more and six more to overtake Steffi so that's a long way.
"I think it's important not to look at the mountain when you want to climb it, just the next step."
Moratoglou is from the school of thought that a defeat, however painful, can provide an important reality check and provoke an elite athlete into a drive to ensure it isn't repeated.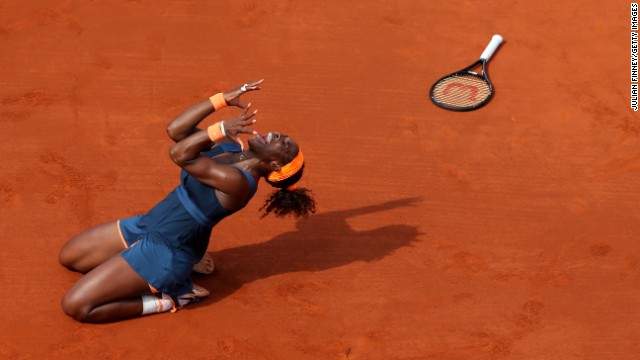 Serena Williams of the United States celebrates match point against Maria Sharapova of Russia during their women's singles final match of the French Open at Roland Garros in Paris on Saturday, June 8. Williams won 6-4, 6-4.
Williams celebrates with the Coupe Suzanne Lenglen trophy following her victory.
Sharapova serves to Williams.
Williams plays a forehand against Sharapova.
Sharapova serves to Williams.
Sharapova serves against Williams.
Williams returns a shot to Sharapova.
Sharapova returns to Williams.
Sharapova serves to Williams.
Williams reacts after a point against Sharapova during their match.
Williams returns a shot to Sharapova.
Tennis fans watch the big screen outside Court Suzanne Lenglen in Paris before the match between Williams and Sharapova.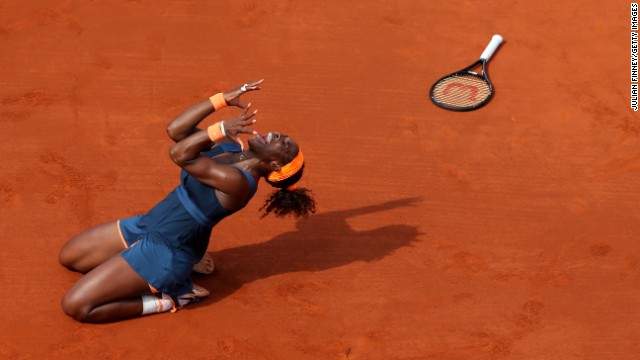 Photos: The French Open: Women's singles final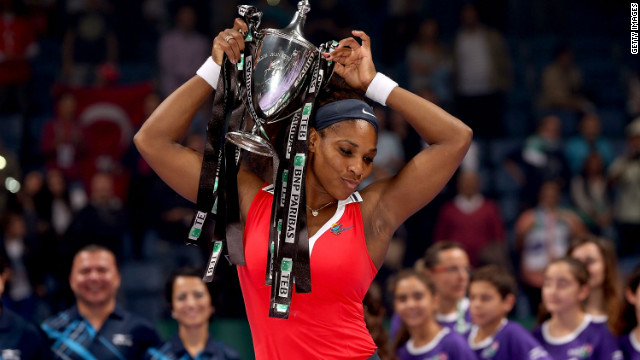 Serena Williams ended a dominant second half of 2012 by winning the season-ending WTA Championships in Istanbul. It marked the end of a dramatic change in fortunes for the 31-year-old.
After nearly a year out with a foot injury and a life-threatening blood clot on her lung, Serena returned to the Tour in June 2011, at Eastbourne. Things didn't go exactly to plan upon her return.
After a disappointing start to 2012, the nadir of Serena's season came with a first round French Open exit at the hands of world No. 111 Virginie Razzano. She told CNN she didn't leave her house for two days after her surprise defeat.
But Serena stormed back to form at Wimbledon where she secured her fifth singles title at the All England Club and 15th grand slam crown. She overcame a mini meltdown after losing the second set in the final when she thought to herself: "I'm never going to win another grand slam."
Serena's London experience got even better a few hours after her singles win as she and Venus took the ladies doubles crown -- their fifth Wimbledon doubles title.
It is Serena's power and predatory nature on court that can help to give her the edge over her opponents. Outwardly she projects an image of steel but she admits she does get nervous and apprehensive. "I'm a good actress," she says.
Serena didn't look back after her doubles triumph at Wimbledon, taking the singles gold at the Olympics back on the famous Centre Court.
Unsurprisingly, Serena and Venus went on to claim gold in the doubles too. They confirmed to CNN they will defend their title at the Olympics in Rio in 2016.
Serena went on to win the final grand slam of the season at the U.S. Open, beating world No. 1 Victoria Azarenka in the final at Flushing Meadows. It underlined what supreme form she was in.
As soon as the tennis season finished Serena and Venus visited Africa, to promote an initiative that recognizes women of all ages who have broken the mould in their respective fields.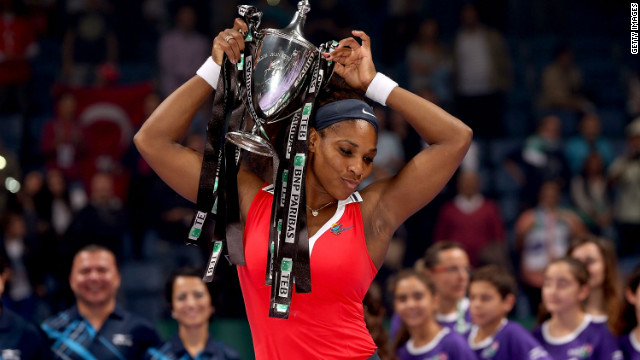 French farce to golden glory
That pivotal reverse to Virginie Razzano at the French Open last year spurred Williams on to a spike in form and another shock grand slam exit -- to Sabine Lisicki at Wimbledon this year -- acted as a similar catalyst.
"It was definitely motivating -- I definitely learnt a lot from that match," Williams explains of her defeat to the German in round four.
"It wasn't good that I lost but it was good that I was able to learn from that loss and I was able to do better and I won some matches because of that loss so I guess it helped me out."
And though Serena is quick to pay tribute to her team from agent to coach, hitting partner to physio, she also revealed that she still leans on the support of her mum, who was with her during her triumphant WTA Championships campaign, and dad to help her game.
She said: "I called my dad every match at the U.S. Open from the third round on, he really helped me in that tournament, and he really helped me behind the scenes to win some matches.
"I was really happy to have the support and have his help and so yeah I definitely rely on my dad and my dad for a lot of coaching."
Read: WADA chief rejects Djokovic criticism