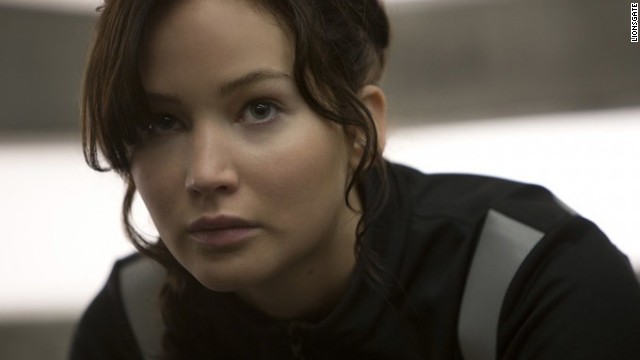 Weapon of Choice:
Bow and arrow
Shining Moment:
Um, all of them -- Katniss is amazing. But really, when her wedding dress catches fire and transforms into a Mockingjay, she is literally the symbol of the game-changing rebellion.
Special Skill: He's very strong -- especially for his size -- and his cake decorating skills have helped him camouflage himself in the arena. Shining Moment: Peeta mans up and tells Katniss he's not OK with their relationship only being for cameras, and he makes his own attempts to keep her from harm in the Quarter Quell.
Special Skill: Manipulation Shining Moment: As Katniss and Peeta's mentor, Haymitch makes his way out of his usual drunken haze to repay his rebellious tributes with a rebellion in the districts he's allied with during the Quarter Quell.
Weapon of Choice: Trident Shining Moment: Finnick and Katniss share a nice, quiet scene amid the madness of the arena, but he shines more literally in his barely-there gold ensemble.
Weapon of Choice: Axe Shining Moment: Thought to be untrustworthy, Johanna becomes an asset and ally to Katniss, even saving her life.
Special Skill: Great with wiring and electronics Shining Moment: He stands up to Caesar Flickerman, asking him tough questions about the legality of the Quell before the victors are sent back into the arena.
Special Skill: She's a misunderstood genius. Shining Moment: Wiress figures out the arena's big twist in the Quarter Quell -- she just can't quite communicate what it is effectively.
Special Skill: Mags can make fish hooks out of anything, which comes in handy with all the water in the 75th arena. Shining Moment: The oldest victor in the game, Mags makes the ultimate sacrifice to save the others.
Weapon of Choice: Knife Shining Moment: Cashmere is one of the career tributes, bred for the Games, along with her brother Gloss, and she is a great antagonist for Katniss.
Special Skill: Throwing knives Shining Moment: Being Cashmere's career tribute brother, Gloss is something of a villain, but he provides a great reason for Katniss to truly shine.
Weapon of Choice: Spear Shining Moment: A career tribute and two-time volunteer for the games, Brutus is involved in one of the bloodier, more intense scenes of the movie.
Weapon of Choice: Sharp, razor-like gold teeth Shining Moment: A career tribute with a terrifying skill -- she ripped a competitor's throat out in her first games -- Enobaria proves very hard to kill.
Special Skill: He can track and kill just about anything. Shining Moment: It's not really so shining, but it is quite memorable -- Gale's role will grow stronger in "Mockingjay," but for now, he serves as the Capitol whipping boy.
Special Skill: Punctuality; positive reinforcement Shining Moment: "Chins up, smiles on!" Effie is nothing if not concerned with appearances, but it's the cracks in her veneer in "Fire" that make the character truly shine.
Special Skill: Making a serious splash Shining Moment: After becoming so close with his style inspiration, Katniss, Cinna makes the ultimate sacrifice to keep her safe from President Snow.
Special Skill: Coaxing memorable moments out of his Hunger Games tribute interview subjects. Shining Moment: Caesar really does deserve a spinoff. He steals every scene he's in, but his biggest scene isn't about his lavender hair or gleaming white smile; it's about Katniss Everdeen.
Weapon of Choice: Poison Shining Moment: The rage Snow feels when Cinna and Katniss outdo him -- turning his decree to have her appear on TV in her wedding dress into another spectacle to ignite the rebellion -- is just a hint of the evil to come in "Mockingjay."
Special Skill: Deception Shining Moment: Is Heavensbee really evil? The new head Gamemaker, whom President Snow charged with bringing down Katniss Everdeen once and for all, has one of the more intriguing story arcs in "Fire."
Katniss Everdeen (Jennifer Lawrence)
Peeta Mellark (Josh Hutcherson)
Haymitch Abernathy (Woody Harrelson)
Finnick Odair (Sam Claflin)
Johanna Mason (Jenna Malone)
Beetee Latier (Jeffrey Wright)
Wiress (Amanda Plummer)
Mags (Lynn Cohen)
Cashmere (Stephanie Leigh Schlund)
Gloss (Alan Ritchson)
Brutus (Bruno Gunn)
Enobaria (Meta Golding)
Gale (Liam Hemsworth)
Effie Trinket (Elizabeth Banks)
Cinna (Lenny Kravitz)
Caesar Flickerman (Stanley Tucci)
President Snow (Donald Sutherland)
Plutarch Heavensbee (Philip Seymour Hoffman)
STORY HIGHLIGHTS
"Catching Fire" finds heroine Katniss back in the Hunger Games arena
The movie further explores the love triangle between Katniss, Peeta and Gale
The film is darker and sexier than the first
(CNN) -- If you've read Suzanne Collins' "Hunger Games" trilogy, then the odds are ever in your favor when it comes to cocktail party conversations about Katniss, the Mockingjay and the Quarter Quell.
If you haven't, then that was all gibberish ... but it doesn't have to be.
As "Catching Fire," the second movie in the series, comes to theaters November 22 we've got all the information you need to dazzle friends with your talk of Effie Trinket and Caesar Flickerman in our "HG 101" -- as well as some insider facts about the movie that'll make even the most hardcore fans feel a little more informed before heading into the arena.
Happy "Hunger Games"!
The games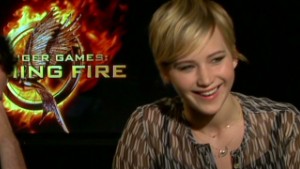 'Hunger Games' star cries at Whole Foods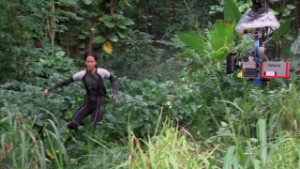 London's premiere of 'The Hunger Games'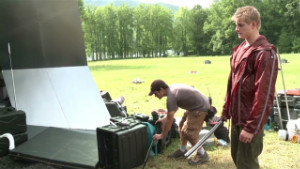 Behind the scenes on 'Hunger Games' set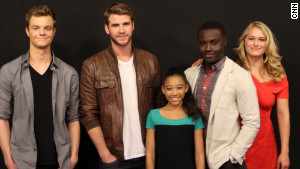 'Hunger Games' actors reveal fave foods
HG 101: Every year in post-apocalyptic Panem, two tributes, aka children, from each district are selected in a public reaping to compete in the win-or-die Hunger Games. But every 25 years, there's a Quarter Quell, where a dark twist makes the games even more treacherous. As punishment to heroine Katniss Everdeen (Jennifer Lawrence) -- who not only outwitted the Hunger Games, but also ensured her partner Peeta Mellark (Josh Hutcherson) survived too (unprecedented!) -- the Quarter Quell finds them back in the arena, competing against other past winners.
As if that weren't enough, there's also a love triangle, family drama, a score to settle, several districts to save and an uprising that can't be quieted. With evil monkeys and even more evil victors from previous games to battle, it's a lot for one movie to tackle, but the tributes in "Catching Fire" are more fully-formed characters, and they help set the story apart and keep the conflict interesting.
Expert tip: These games are getting darker and sexier. Yes, the very premise of kids fighting to the death for the public's amusement ensures that there's a dark thread throughout the entire story, but the look and feel of "Fire" is darker as well, with new director Francis Lawrence amping up the action and suspense. And while costume designer Trish Summerville didn't allow tributes to be nearly nude as in the books, she did pull some form-fitting designer duds for them to wear. The fandom is growing up, and the movies are following suit.
The big question: With several big names joining the cast, are there any new standouts? Sam Claflin shines as cocky tribute Finnick Odair, and Jenna Malone makes an equally splashy (and equally clothing-free) entrance as Johanna, who's good with an axe, but takes a bit to warm up to. Both have great moments with Katniss.
'Hunger Games' theme park? We have some ideas
The love triangle
HG 101: So there's this girl Katniss and she's a total badass, and she's basically best buds with the male version of her, Gale (Liam Hemsworth), but she gets sent off to the Hunger Games with Peeta, saves his life a million times and now all the viewers want them to be an item. So they sort of are. Besides fighting for basic survival, the Quarter Quell gives them more time together to explore their relationship, for real and for the cameras. The love triangle is what grounds the entire series in reality, and it ain't over until it's over, so don't expect anything to be decided halfway through the series' four-movie run.
Expert take: Peeta might not be such a bad option for Katniss after all! Fans of the books were outraged that -- spoiler alert! -- Katniss ended up with Peeta after so clearly having a stronger connection with Gale. Peeta always seemed like too much of a damsel in distress for our Katniss, but in "Catching Fire," Peeta is stronger and more independent -- and he can swim, so thankfully you won't have to see a near-drowning when they enter the water-filled arena. We wish he'd get a skill a little more exciting than painting his body with mud to be camouflaged, but we'll take any improvement on the character we can get.
The big question: What about Gale? While Gale is once again on the sidelines for most of the movie, he does have a particularly haunting scene in "Catching Fire" that stays somewhat true to the book. The big difference? This time the changes leave the door open for Gale to really make his presence (and his intentions with Katniss) known in the two-part "Mockingjay" final installments. They've got Hemsworth -- they're going to use him!
A brief history of young adult literature
The Capitol
HG 101: While the tributes from the districts must compete to take their next breath, residents of the Capitol are the 1%. Their excess knows no bounds, but they're still human. While they felt like caricatures in the first movie, "Catching Fire" reveals some chinks in the otherwise bedazzled armor, all thanks to Katniss and her act of rebellion that's now sparked a revolution.
Expert tip: Yes, Cinna (Lenny Kravitz) is still the most stylish tribute sympathizer, but Effie Trinket is more lovable than ever. In "The Hunger Games," Effie (Elizabeth Banks) epitomized everything the Capitol stood for: fashion, material things, excess and an obliviousness to the real issues in the districts around them. But as the stakes of the games are raised, so are Effie's concerns, and seeing cracks in her very colorful façade helps make her more than a one-note character. We saw glimpses of her conscience in the books but, onscreen, Banks takes her from unemotional escort to compassionate cog in the wheel.
The big question: Who's the new big bad? After the execution of "Hunger Games" gamemaker Seneca Crane (Wes Bentley), who ignored orders and let both Katniss and Peeta win, Plutarch Heavensbee (Philip Seymour Hoffman) steps in -- and he's not going to make the same weak mistakes as his predecessor. With direct orders from President Snow (Donald Sutherland) to make sure Katniss doesn't survive the 75th Games, he becomes the scariest new villain in the Capitol and the biggest potential threat. The role feels tailor-made for Hoffman.
With the Panem rebellion in full swing, and Katniss as their poster child, there's more to prove in this 75th Hunger Games than ever before. Alliances will be tested and monkey mutts and Jabberjays will terrorize the returning victors, all while the clock is ticking to save their families, their districts and themselves.
Jennifer Lawrence was Josh Hutcherson's first