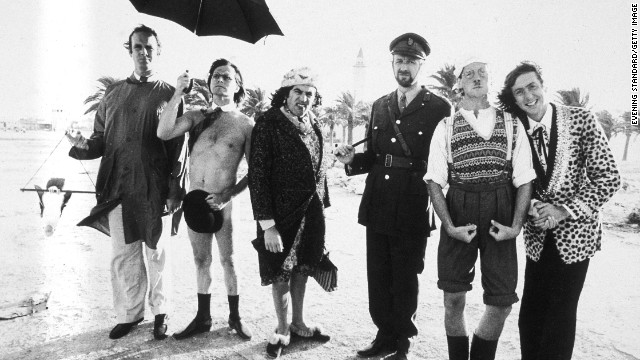 In honor of fans worldwide who were able to enjoy a historic reunion of the surviving Monty Python members
,
we take a look at what the troupe achieved outside of Python:
John Cleese, now 74, created and starred in the immortal TV show "Fawlty Towers" in the 1970s and co-founded Video Arts, a company that makes training films. Younger viewers may know him best for his roles in the "Shrek" films (as King Harold), a pair of James Bond films (as Q) and the Harry Potter series (as Nearly Headless Nick). His most recent film role was in "Planes."
Terry Gilliam, 73, became a noted film director, best known for "Brazil" (1985), "The Fisher King" (1991) and "Twelve Monkeys" (1995). J.K. Rowling wanted him to direct the first Harry Potter film, but the studio didn't want the famously independent Gilliam. His latest film, "The Zero Theorem," is due for U.S. release this summer.
which he opposed
. With songwriter Jim Steinman, he's been working on a rock version of "The Nutcracker."
Terry Jones, 72, has created TV shows about the Middle Ages, an era on which he's an expert. (He's written two books about Geoffrey Chaucer.) He's also written several children's books and was a regular contributor to UK newspapers during the Iraq war,
Michael Palin, 71, has probably spent as much time traveling in the past 25 years as he has acting. Among his projects: "Pole to Pole," "Full Circle" and "Michael Palin's New Europe." His most recent venture was "Brazil with Michael Palin," which came out in 2012.
Eric Idle, 71, has probably done the most to maintain the Python tradition. He engaged in "The Greedy Bastard Tour" in 2003, which included performances of Python material, and turned "Monty Python and the Holy Grail" into "Spamalot," which won the Tony for best musical in 2005. He also helped create the Rutles, perhaps the sharpest Beatles parody. And he sang his song "Always Look on the Bright Side of Life" at the 2012 Olympics closing ceremony.
Graham Chapman died in 1989. Before then, he performed material at several colleges and appeared in an Iron Maiden video. Since his death, at least one of his plays, "O Happy Day," has been performed. The Pythons haven't forgotten their colleague: They did a wonderfully uncomfortable routine with Chapman's "ashes" at the Aspen Comedy Festival in 1998, and in 2012, all the Pythons except Idle lent their voices to a film based on Chapman's memoirs.
'Monty Python': Where are they now?
'Monty Python': Where are they now?
'Monty Python': Where are they now?
'Monty Python': Where are they now?
'Monty Python': Where are they now?
'Monty Python': Where are they now?
'Monty Python': Where are they now?