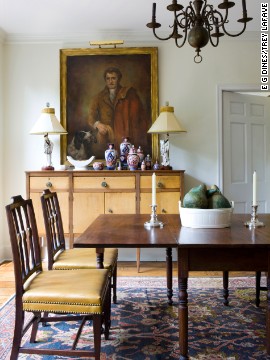 Trey LaFave's Atlanta dining room offers guests collections and elegant antiques to look at and enjoy during long dinners.
LaFave's great-grandmother's silver bowl sits on the sugar cabinet in his dining room.
LaFave says the dining room is the best room in the house to fill with antiques.
William Christie's dining room, featured in the October 2013 issue of House Beautiful, takes the traditional aspects of a dining room back to the great halls of ancient castles.
This dining room, which will be featured in the December 2013 issue of House Beautiful, was decorated by Garrow Kedigian as a music room and dining room. Multipurpose dining rooms are a recent trend, according to editor Shax Riegler.
personalized her dining room
with touches of green, monogrammed pillows and hunting dog artwork.
Artist and interior decorator Shannon Berrey
This dining room, decorated by Nicolette Horn and featured in the October 2013 issue of House Beautiful, includes very traditional but very dramatic furniture and fixtures.
E-designer
Jana Bek decorated this dining room with glossy black furniture that contrasts with the bright, floral-inspired chandelier.
Interior decorator and
"
The Yellow Cape Cod
" blogger and stylist Sarah Macklem used dark colors and reflective surfaces in her dining room, which doubles as a home office.
This dining room, decorated by Markham Roberts and featured in the November 2013 issue of House Beautiful, has traditional style and bold color.
Clark's current dining room is an example of the library-dining room which is a popular option for modern dining rooms. She updates her blog from the table and can watch her children play in the house at the same time.
House Beautiful editor Shax Riegler says red is the most popular color for a dining room. Here, Rob Southern's dining room, featured in the October 2013 issue of House Beautiful, has traditional red walls done in a luxurious wallpaper.
Laurie Jones, a decorator and blogger, incorporates dramatic contrast in her dining room. She uses small touches, like centerpieces, to
update the room as the seasons change
.
This dining room by Phoebe and Jim Howard, featured in the November 2013 issue of House Beautiful, sets modern-style furniture against moody wood walls.
Open House: Dining rooms
Open House: Dining rooms
Open House: Dining rooms
Open House: Dining rooms
Open House: Dining rooms
Open House: Dining rooms
Open House: Dining rooms
Open House: Dining rooms
Open House: Dining rooms
Open House: Dining rooms
Open House: Dining rooms
Open House: Dining rooms
Open House: Dining rooms
Open House: Dining rooms
Open House: Dining rooms
STORY HIGHLIGHTS
Dining room decor is steeped in tradition and social expectation
Reflective surfaces in the room allow for softer light sources
Antiques, family heirlooms can find a natural home in the dining room
(CNN) -- The dining room has had a difficult few decades. TV dinners and tray tables long ago brought dinner into the den. Then family lives began to revolve less around dinner than mobile phones, long work hours and extracurricular activities.
"I think there has been a (recent) change in the role of the dining room that hasn't been seen since the invention of the television," said interior designer and classical architect Trey LaFave.
Still, everybody seems to want a dining room -- even if just for big meals like Thanksgiving dinner.
"Let's face it," LaFave said, "you still need a place to eat when the preacher stops by and you have to let people know that you were raised right!"
Don't miss out on the conversation we're having at CNN Living.
Follow us on Twitter
and
Facebook
for the latest stories and tell us what's influencing your life.
So, you're forgiven if you look up from your stove on Thanksgiving morning and realize you haven't decorated the place where you'll dine. It's a room filled with history that reflects hundreds of years of food and family traditions -- even if they've changed over time -- and that can serve as your inspiration for how it looks.
A taste of tradition
Before the 18th century, there were no dining rooms as we know them, said Shax Riegler, the executive editor of House Beautiful magazine. Most people didn't have separate rooms for dining, and the ultrawealthy were more like to have a grand hall to enjoy meals. Typically, servants set wooden boards on trestles to serve as tables, which were removed as people finished eating, said Riegler, who taught a course at the Rhode Island School of Design about the history of dining.
As houses changed in the 1800s and later, rooms were assigned specific roles, he said. In the dining room, families showed off their wealth and good manners. The practice of eating a meal became more casual after World War II, Riegler said.
The kinds of dining rooms featured in House Beautiful today often do double duty, he said. Trendy dining rooms double as libraries these days, he said, "even in houses where the house is big enough to have a room that doesn't really do anything else."
For some people, decorating and furnishing the dining room can inspire more frustration than creativity.
"It's this dread people have of doing things right. Those old fears of 'Am I doing this properly?' and 'Would Emily Post approve?'" Riegler said.
LaFave, who grew up in Georgia, knows the pressure of social expectation.
"In the South it is said that there are certain pieces that you must have in your dining room: a sideboard, a huntboard and a sugar chest," LaFave said.
Instead of a point of stress, he thinks of his dining room as a place to remember those who came before. LaFave used only antiques in the dining room of his historic Atlanta home, including his family's sugar chest. Inside the lid, there's a list typed by his grandmother, Earline, of everyone who owned the chest dating back to 1790.
"I think the dining room is the perfect place for fine family antiques, because they are seen but they don't get used as much -- and therefore can be well preserved, yet well appreciated," LaFave said.
Heirlooms can also come in the form of a plate or fork, Riegler said.
"People remember their grandmother or great-grandmother every year because they use (inherited) china," he said. "That really makes them feel connected to their family's heritage. If you have those kinds of antiques and heirlooms, it's wonderful."
Just don't be afraid to use them, he said. Fine bone china, silver cutlery and crystal glasses may have to be washed by hand, but they are designed to be used.
Decorating the dining room
But what if you just want to spruce up your dining room before the big meal? There are some quick additions and fixes you can make to give the space some character.
Dining rooms are generally used at night, LaFave said, so make sure to test decor choices then. Windowpanes, mirrors, crystal glasses, polished wood, fine china and silver tableware all reflect light, which you can use to your advantage.
The soft light of a chandelier or candles will be multiplied by the reflective surfaces often found in dining rooms, so dark colors can easily be used on the walls. But decorating a dining room is also about creating a backdrop for great food, great wine and great company, LaFave said.
"There should be many eclectic objects or collections that will catch your eye at different times throughout the evening," he said. "Maybe the objects themselves become part of the dinner conversation. Think about what focal points will welcome your guests as they enter to sit down for dinner. Think about what they are seeing when they are actually seated at the table throughout dinner."
Think also, Riegler said, about the centerpiece you put on the table. Flowers shouldn't block the view of your guests when they are seated. Make floral arrangements short or very tall, so that people can see past them. Riegler also recommends beautiful serving dishes for meals served family-style.
"This is a room about indulgence," said Riegler, who recently published "Dishes," a colorful guide to dinner plates.
If you live in an apartment or a space that doesn't have a separate dining room, that doesn't mean you need to decorate it differently, LaFave said. The same rules apply, but remember that in small spaces everything must have more than one use.
"In my New York apartment, I have a round English Regency leather-top table with beautiful Greek Key embossing that I use as center table with all of my books stacked around and on top of it," LaFave said. "If I want to have a small dinner party, four rented chairs, a crisp white linen table cloth to the ground, some candlelight, china that I have had since I was a child -- and poof -- dinner is served!"