Wroclaw 'Instagramers' showcase city's most famous sites
updated 8:29 AM EST, Wed November 20, 2013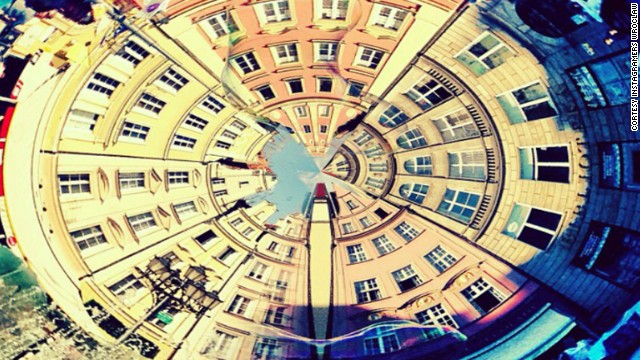 A series of photos from Wroclaw's Market Square are stitched together to create an alternative perspective of the Polish city. Wroclaw Instagramers specialize in snapping enticing, thought provoking shots of their home town.
In this Instagram snap the stylish fountains of Wroclaw's Market Square bask in the soft glow of the morning sun.
An ornamental gnome clings to a lamppost. Wroclaw is famed for the tiny statues that can be found dotted across the city, often in unusual locations.
A close-up shot of the Pod Gyfami building in Wroclaw which dates back to the 14th century.
A smiling street performer takes a break and chats on her phone near Wroclaw's Market Square. Artists and dancers are a regular feature in and around central Wroclaw.
Colorful dies puff out above the crowds celebrating the Festiwal Kolorow (Festival of Colors) in Wroclaw earlier this year. The event marked the Hindu festival of Holi.
Wroclaw's Sky Tower rises high above the city and can be seen for miles around. Here, a group member captures the building as the sun sets in the distance.
Not quite gnomes but an equally unlikely urban site, "The Passage" is a striking public art installation by the artist Jerzy Kalina that shows a series of ghost-like figures rising out of the sidewalk in downtown Wroclaw.
Modeled on a medieval castle, this striking water tower is only a short tram ride south of central Wroclaw and makes for a fantastic photo opportunity on a clear day -- as evidenced by this handy snap.
A neon sign on the roof of a building as captured by the Instagramers Wroclaw collective.
This statue, located outside one of Wroclaw's many catholic churches, is a more conventional ode to the art of sculpture -- no dwarfves or monuments rising from the pavement here.
Love Padlocks on the Tumski Bridge in Wroclaw, Poland. Lovers come to the bridge and attach padlocks with their names written on them then throw the key into the Odra River. CNN's Wojciech Treszczynski joined in the Instagram spirit and captured this tradition while on assignment for CNN International's "On the Road" series.
An alternative perspective
Market Square Fountain
Ornamental gnome
Pod Gryfami
Stilted performance
Festiwal Kolorow
Sky Tower
The Passage
Wroclaw's water tower
Lit up in neon
Where angels play
Love Bridge
STORY HIGHLIGHTS
Instagramers Wroclaw are a collective of street photographers
They document their city using traditional cameras and smartphones
The results are a stunning selection of images that reveal a different side of the Polish
CNN's On the Road series brings you a greater insight into the customs and culture of Poland. On TV and online CNN explores the places, the people and the passions unique to this eastern European nation. Watch the episodes during the week of November 18 and the special half-hour show on November 23 & 24.
(CNN) -- In this creative age of camera phones and photo apps, what better way to learn about a city from afar than through the lenses of its eagle-eyed street photographers?
As part of CNN's On the Road Poland special, we asked Instagramers Wroclaw (a collective of photography enthusiasts with a passion for documenting their city) to show us what life is like in their home town.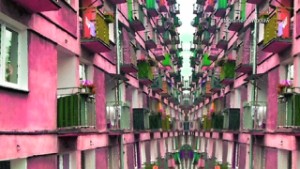 Capturing Poland's postcard beauty
The group, which has been together since April 2013, meet regularly and aim to capture the best of Wroclaw, offering insights for those who may be seeking to visit or even just learn a little more about the picturesque city in Poland's southwest.
"We want to show (Wroclaw) from a different perspective," explained group member Marcin Walencik. "We want to show the city as it is. Real, no fakes."
See also: Polish street art goes large
From the enormous Sky Tower to the city's enchanting central square, and from the famous "Love Bridge" to the quirky gnome statuettes scattered playfully in squares and walkways around town, you can see the group's stunning results in the gallery above (and on their Instagram feed).
Instagramers Wroclaw consists of Tomasz Jakub Sysło, Malina Mituniewicz, Marek Maziarz, Marcin Walencik, Grzegorz Rajter and Joanna Witek, said group member Marcin Walencik.