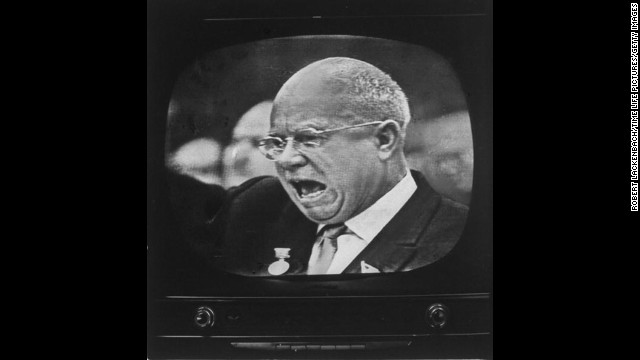 Soviet Premier Nikita S. Khrushchev speaks to the East German Communist Party Congress on January 14, 1963. His public statements in Berlin indicated the USSR did not immediately plan a full-scale revival of its efforts to force the Western occupation powers out of the former German capital. 1963 was a seminal year, not only because of the
assassination of U.S. President John F. Kennedy,
but advances in technology, entertainment and evolving political relationships also kept the world on its toes.
Crowds gather for the first viewing of the Boeing 727 jet airliner in Seattle in December 1962. The aircraft's first flight would take place on February 9, 1963.
The American poet Sylvia Plath is shown in 1961. She took her own life on February 11, 1963.
Patsy Cline performs at Nashville's Grand Ole Opry in this undated photo. The country music star and three others were killed on March 5, 1963, in the crash of a Piper Comanche near Camden, Tennessee.
A line of handcuffed prisoners, the last convicts held at Alcatraz prison, walk through a cell block as they are transferred to other prisons from Alcatraz Island on San Francisco Bay, California, on March 21, 1963. Alcatraz, known as "The Rock," was a federal penitentiary for 29 years and a prison for more than a century.
The Beatles released their first album, "Please Please Me," in the United Kingdom on March 22, 1963. A 7-inch copy of the single, seen here, was signed on both sides by the Fab Four and sold in 2011 for more than £9,000.
British film director Alfred Hitchcock poses with a seagull and a raven in a promotional still for his film "The Birds." The film was released on March 28, 1963.
The long-running soap opera "General Hospital" debuts on ABC television on April 1, 1963. It is cited in the Guinness Book of World Records as the longest-running American soap opera currently in production.
Josip Broz Tito is proclaimed president for life in the constitution of the newly named Socialist Federal Republic of Yugoslavia on April 7, 1963.
David Bruce, the American ambassador to Britain, takes leave of Sir Winston Churchill at Hyde Park Gate, London, on April 10, 1963, after presenting the former British prime minister with a proclamation naming him the first honorary citizen of the United States, a title given to him the day before on April 9, 1963.
On April 10, 1963, 129 men lost their lives when the nuclear-powered submarine USS Thresher sank during deep-dive testing off Cape Cod. The sub is seen here during its launch in 1960. The sinking is the deadliest submarine disaster in U.S. history and delivered a blow to national pride during the Cold War, becoming the impetus for safety improvements.
Buddy "Nature Boy" Rogers became the first WWWF Champion on April 29, 1963.
Sean Connery and Ursula Andress appear in a scene from the film "James Bond: Dr. No." The film premiered in the United States on May 8,1963, as the first James Bond film.
The late Pope John XXIII's body is borne across St. Peter's Square on June 4, 1963, to St. Peter's Basilica from the papal apartment in the Apostolic Palace. He died the day before from a malignant stomach tumor.
The former British War Minister John Profumo returns to London after 14 days of absence on June 18, 1963. He resigned as British state secretary for war on June 5, after admitting he had lied in denying any "impropriety" with 21-year-old Christine Keeler. Profumo simultaneously resigned his seat in the House of Commons.
President John F. Kennedy broadcast a historic civil rights address on June 11, 1963, in which he promised a Civil Rights Bill, and asked for "the kind of equality of treatment that we would want for ourselves."
Thich Quang Duc, a Buddhist monk, burned himself to death on a Saigon street June 11, 1963, to protest alleged persecution of Buddhists by the South Vietnamese government.
Elizabeth Taylor and Richard Burton appear in a publicity still for the film "Cleopatra," which premiered on June 12, 1963. The historical drama, directed by Joseph L. Mankiewicz, starred Taylor as Cleopatra, and Burton as Mark Antony.
The June 28, 1963, LIFE cover of the child and widow of murdered civil rights activist Medgar Evers at his funeral. Evers was assassinated in his home in Jackson, Mississippi, on June 12, 1963.
Soviet cosmonaut Valentina Tereshkova, the first woman in space, returns to Earth on June 19, 1963.
American President John F. Kennedy speaks to a massive crowd in Berlin on June 26, 1963.
Detectives inspecting the Royal Mail train from which more than £2.5 million was stolen. The Great Train Robbery took place in Buckinghamshire on August 8,1963, when the train from Glasgow to London was halted by a gang.
The Rev. Martin Luther King Jr. gives his "I Have a Dream" speech to a crowd on the National Mall in Washington during the March on Washington for Jobs & Freedom, also known as the Freedom March, on August 28, 1963.
United States representative Charles Stelle, left, and his Soviet counterpart, Seymon Tsarapkin, meet on June 20, 1963, in Geneva, to sign the Memorandum of Understanding Regarding the Establishment of a Direct Communications Line, an agreement to set up a hot line between the two superpowers. The "red phone" between Washington and Moscow was declared operational August 30, 1963.
Walter Cronkite sits behind the news desk on the set of the "CBS Evening News with Walter Cronkite," New York in August 1963. Cronkite became the anchor of American network television's first nightly half-hour news program on September 2, 1963.
A coffin is loaded into a hearse at a funeral for victims of the 16th Street Baptist Church bombing. The Birmingham Church Bombing, also known as "Bloody Sunday," took place on September 15, 1963.
The Lamborghini 350GTV with the body by Franco Scaglione is launched at the Lamborghini Factory, Sant'Agata, Italy, in October 1963. Among the onlookers, with white hair and light-colored jacket, is Piero Taruffi, winner of the last Mille Miglia in 1957.
On November 2, 1963, the American-aided leader of South Vietnam's anti-communist, Roman Catholic regime, President Ngo Dinh Diem was arrested and assassinated.
The first push-button telephone was introduced on February 28, 1963. It was made available to AT&T customers on November 18, 1963. The phone has extension buttons at the bottom for office use.
U.S. President John F. Kennedy and his wife, Jackie, ride in an open-top limousine just minutes before Kennedy was assassinated at Dealey Plaza in Dallas on November 22, 1963.
The first episode of the BBC television series "Doctor Who" was broadcast in the United Kingdom on November 23, 1963.
Pierre Mazeaud, Gerard Gery, and Philippe Laffon watch as a new island, Surtsey, is formed from volcanic eruptions off the coast of Iceland on December 2, 1963.
CBS used instant replay for the first time during the Army-Navy game from Municipal Stadium in Philadelphia on December 7, 1963.
On December 20, 1963, the wall that separated the city of Berlin for 2½ years was opened for the first time at Christmas as the result of an agreement between the two mayors.
In the year 1963
In the year 1963
In the year 1963
In the year 1963
In the year 1963
In the year 1963
In the year 1963
In the year 1963
In the year 1963
In the year 1963
In the year 1963
In the year 1963
In the year 1963
In the year 1963
In the year 1963
In the year 1963
In the year 1963
In the year 1963
In the year 1963
In the year 1963
In the year 1963
In the year 1963
In the year 1963
In the year 1963
In the year 1963
In the year 1963
In the year 1963
In the year 1963
In the year 1963
In the year 1963
In the year 1963
In the year 1963
In the year 1963
In the year 1963