Highlights of #CNNParents chat on teens and social media
updated 4:31 PM EST, Fri November 22, 2013
Editor's note: Kelly Wallace is CNN's digital correspondent and editor-at-large covering family, career and life. She is a mom of two. Read her other columns and follow her reports at CNN Parents and on Twitter.
(CNN) -- Ask any parent one of the topics they spend the most time thinking about, worrying about, OK, obsessing about, and they are very likely to say social media.
I, for one, am already freaking out about the issue, and my kids, ages 6 and 7, are still too young to participate.
What conversations do parents have with their kids about social media? Do they talk about the risks? How do they monitor what their kids are doing?
We focus so much on the negative, but are there positive aspects to kids spending so much of their time on social media networks?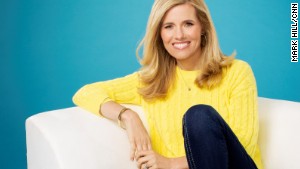 Kelly Wallace
Those were just some of the topics we covered during a lively #CNNParents Twitter chat on teens and social media that actually trended nationally for some time.

Part of complete coverage on

Get the latest kid-related buzz, confessions from imperfect parents and the download on the digital life of families here at CNN Parents.
updated 8:22 PM EST, Wed March 5, 2014

An 18 year old New Jersey high school senior accuses her parents of tossing her out and refusing to pay for private high school and college education.
updated 11:06 AM EST, Wed March 5, 2014

President Obama talked openly about a candid conversation with at-risk kids in Chicago, and many of us parents took notice.
updated 8:20 AM EST, Tue March 4, 2014

Many of Hollywood's hottest award contenders brought Mom along to share in their Oscar glory.
updated 9:49 AM EST, Mon February 24, 2014

From Blue Ivy and Suri to North and Matilda, these celebrity kiddos have totally inherited their mothers' style smarts.
updated 11:32 PM EST, Thu February 27, 2014

So many parents dread the teenage years -- the eye rolling, door slamming and lack of conversation. But there are ways to get a teen to open up.
updated 11:30 PM EST, Thu February 27, 2014

Ask parents of teens if their children are more stressed than they were at the same age, and they'll usually tell you, "Absolutely."

We want you to tell it like it is: Let's share the mess-ups, the chaos and the truth -- good, bad and ugly -- about all stages of child rearing.