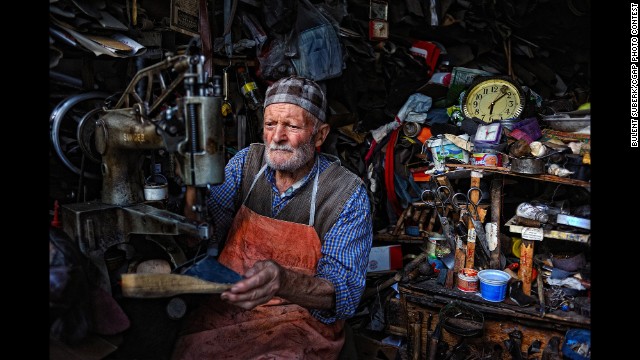 This 84-year-old Turkish man manages a shoe repair shop that affords him a decent income.
In Bangladesh, private brick enterprises are creating many new job opportunities for poor people.
This Indian man received a loan that allowed him to buy and trade camels at the Pushkar Fair in Rajasthan, India.
This Bangladeshi man's primary source of income is fishing.
This Bangladeshi woman unloads cargo ships, earning 1 coin for every load. Every day she has to earn between 120-140 coins to earn a living.
This man comes from a long line of Turkish potters. A microloan enabled him to sustain his family's business.
This Vietnamese man is one of the only carpenters in his village. Because of that, demand for his services is high and he makes a steady living.
These men are preparing to sell oranges at the São Joaquim Market in Salvador, Brazil.
This Cooperative in Paraguay is helping farmers improve their production of lemon verbena and lemongrass.
Bangladeshi boat man tries to make his way from water hyacinth on Buriganga River in Dhaka, Bangladesh,.
A group of Vietnamese women cross the sand dunes to the beach to go fishing.
A vendor sorts duck eggs that have been fertilized or are developing duck embryos to be cooked. The eggs are then used in popular foods that are sold as street food.
In Vietnam, a woman transports potatoes to sell at a local market. This is the Grand Prize winner.
Women's involvement in cycle making and other industries is increasingly important in helping the Bangladeshi economy.
This Vietnamese woman got financial assistance from her government and was able to establish a small craft workshop.
This Vietnamese man tends to his fishing nets in the morning and sells his catch at the local markets in the afternoon.
Microfinance entrepreneurs
Microfinance entrepreneurs
Microfinance entrepreneurs
Microfinance entrepreneurs
Microfinance entrepreneurs
Microfinance entrepreneurs
Microfinance entrepreneurs
Microfinance entrepreneurs
Microfinance entrepreneurs
Microfinance entrepreneurs
Microfinance entrepreneurs
Microfinance entrepreneurs
Microfinance entrepreneurs
Microfinance entrepreneurs
Microfinance entrepreneurs
Microfinance entrepreneurs