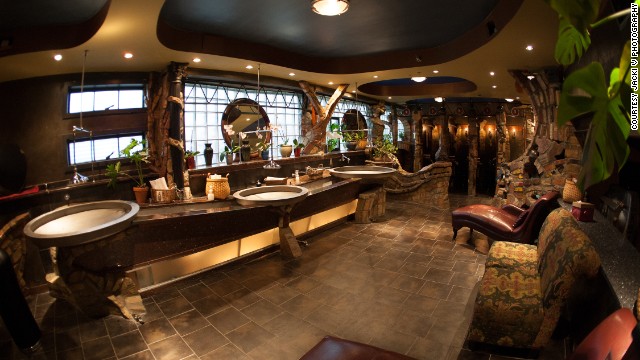 The Varsity Theater in Minneapolis beat out the competition to take top honors in the 2013 Cintas' America's Best Restroom Contest.
The Varsity, formerly a vaudeville house, now hosts music acts and rents out space for weddings and other private parties. The women's side of the bathroom has four times as many stalls as the men's side. The handwashing and lounge areas are co-ed.
After trying a tasty ice cream treat at Sloan's, head to its see-through bathrooms for a respite. When you lock the door, the glass clouds up and no one can see you. We promise.
Some 17 million passengers pass through Tampa's airport each year, and the 20 restrooms in the main terminal needed to be renovated to stand up to constant usage. Environmental concerns were addressed with high-end hand dryers, low-water usage equipment and LED lighting. And there's even art.
Never mind the touchless faucets. Check out the retro-style arcade game graphics designed into the tile work of the floors and walls at this classic arcade's bathroom. The arcade features 60 classic video games and 27 pinball machines.
This Mission District shop sells vintage clothing and antique furniture, but its lovely bathroom also attracts people. Just don't stay too long. Other people are waiting to use it.
This upscale shopping mall features two family lounges with private nursing areas, multiple diaper changing stations and bottle warmers. There are even stalls with standard and pint-size toilets together, so smaller children don't have to go alone.
The ladies' lounge features an Art Deco staircase, marble vanity and a bathroom attendant. Each private stall includes a toilet, vanity, porcelain sink and Salvatore Ferragamo products.
Sulphur Springs has two public bathrooms that also function as art. We are told that users of the facility can see out but no one can see in. Really.
Part of these bathrooms' inspiration comes from Monica Bonvicini's "Don't Miss A Sec" art piece on display outside a Swiss art museum in 2004. The structure was part of the overall exhibit but construction workers began using the glass bathroom, inspiring this "functional art" project.
The John Michael Kohler Arts Center, which is known for exhibitions featuring art made from pottery, iron, enamel and brass, includes its bathrooms in its artistic vision. Admission is free to the museum in Sheboygan, Wisconsin, so check out its six artist-inspired restrooms. John Michael Kohler was a mayor of Sheboygan and founded the Kohler plumbing supplies company.
The ladies' room at the Alex Madonna Gold Rush Steak House has native stone walls, marble countertops, carved wood stall doors with pink leather and a ceiling chandelier.
Varsity Theater takes top honors
Varsity Theater, Minneapolis, Minnesota
Sloan's Ice Cream, West Palm Beach, Florida
Tampa International Airport, Florida
Ground Kontrol Classic Arcade, Portland, Oregon
Viracocha, San Francisco
Westfield Garden State Plaza, Paramus, New Jersey
Waldorf Astoria New York
Public Glass Bathrooms, Sulphur Springs, Texas
Public Glass Bathrooms, Sulphur Springs, Texas
John Michael Kohler Arts Center, Wisconsin
Alex Madonna,San Luis Obispo, California