STORY HIGHLIGHTS
"'Do you smoke crack?' No I don't. Have I? Yeah, OK," Ford tells CNN
Embattled Toronto mayor says "rich and elitist" opponents are attacking him
City Council members have voted to strip him of powers and urged him to take leave
"The people love you," one woman tells Ford
Toronto (CNN) -- Toronto Mayor Rob Ford would have admitted to smoking crack cocaine long before his eventual admission, he says. It's just that no one asked him the right question.
After more than five months of denials, Ford admitted that he had indeed smoked crack in a "drunken stupor" about a year ago. The admission came amid a drug investigation that has led to charges against a friend and occasional driver, though not so far against Ford himself.
In a weekend interview with CNN, the leader of Canada's largest city repeated his insistence that he would remain in office and let voters decide his fate next year.
And he defended his earlier denials, saying he never lied to reporters who asked about his drug use.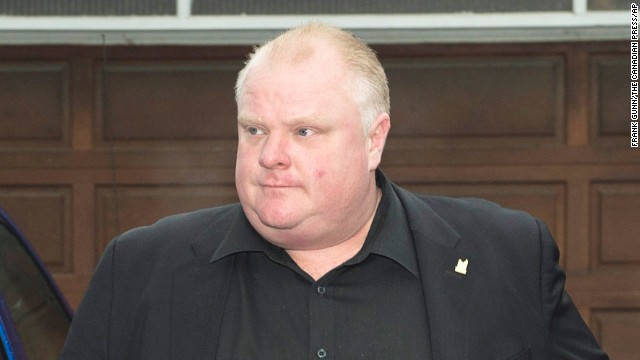 Embattled Toronto Mayor Rob Ford said Wednesday, April 30, that he is taking a break from his re-election campaign and his mayoral duties to seek help for alcohol abuse. The announcement came hours after a local newspaper reported on a new video that allegedly shows Ford smoking crack cocaine on Saturday, April 27. Ford's fall from grace started in May 2013, when a cell phone video taken months earlier appeared to show him smoking crack.
In the video purportedly filmed April 27, the Toronto Globe and Mail reported that Ford is seen smoking what a drug dealer described as crack from a copper-colored pipe. Two Globe and Mail reporters viewed the video, and the publication said it was shot in what appears to be Ford's sister's basement. The paper said the substance in the pipe could not be confirmed.
Ford accidentally knocks down Councilor Pam McConnell, in green, as he runs toward hecklers at City Hall in Toronto on Monday, November 18. That month, the city council stripped him of most of his power as mayor.
Ford reacts to city council members on Thursday, November 14, after former aides told police they had concerns about Ford's drug use and drunken driving.
Ford displays a milk mustache as he takes part in voting with city council members November 14 in Toronto.
Hundreds gather in Toronto's Nathan Phillips Square on Wednesday, November 13, to call for Ford to resign.
Ford responds to Councilor Denzil Minnan-Wong's motion for him to step down, refusing to take a leave on November 13.
Ford addresses the media at Toronto's City Hall on Tuesday, November 5, as he acknowledges that he smoked crack "probably a year ago," when he was in a "drunken stupor." But he refused to resign despite immense pressure.
Ford denies using crack during a news conference at City Hall in May 2013. On his right is Deputy Mayor Doug Holyday and on his left is his brother Councilor Doug Ford. Allegations that the mayor had been caught on video smoking crack surfaced in news reports in May. Ford initially insisted the video didn't exist.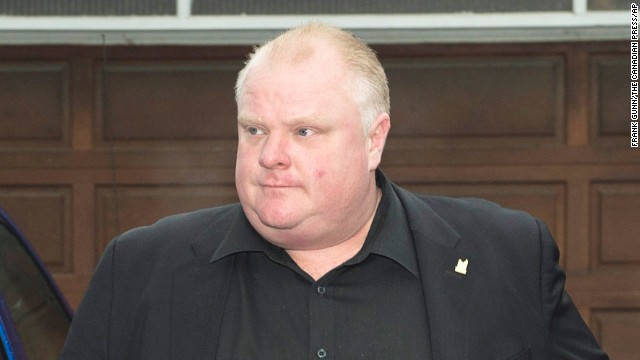 Photos: Toronto Mayor Rob Ford controversy
"If someone would have said, came up to me and said, 'Have you ever smoked crack? Have you ever smoked weed? I would have said, 'Yeah, I have,' " Ford said. "But when you come and accuse me of being a crack addict and say, 'Do you smoke crack?' No I don't. Have I? Yeah, OK. Have I drank, have I acted like an idiot when I drank? Yeah, I did."
Ford said he's not a drug addict. He said his conduct was "absolutely wrong," but added, "I am moving on."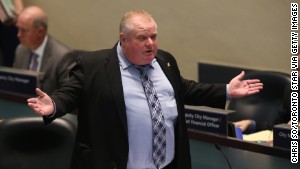 Mayor Ford: 'I'm the best father around'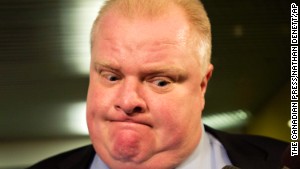 Toronto mayor showdown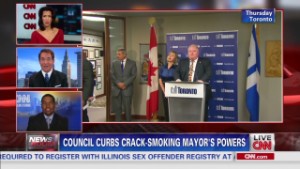 Toronto strips some power from mayor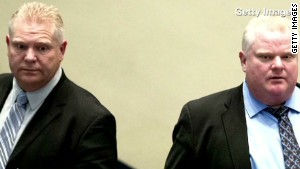 Mayor's brother: He may need time off
A man of contrasts, Ford leads his 'nation' in controversy
Speaking at a weekend toy drive in the blue-collar City Council district that his brother Doug now represents, Ford said he was "sick and tired of all the allegations and all this bulls--t."
"Sorry, kids -- I shouldn't have sworn in front of the kids," he said. "But after a while, I know what I'm doing is right. I'm serving people. I'm saving taxpayers money. And you know what, I made mistakes, I drank too much, I smoked some crack sometime. What can I say? I made a mistake, I'm human."
The Toronto Star has reported that Ford was asked "countless times" whether he had used drugs while mayor, without an answer. Ford accused the newspaper of mounting a vendetta against him on behalf of his "rich and elitist" political opponents.
Ford was elected to a four-year term in 2010 and has touted tax cuts and streamlined government under his administration. But while he's often characterized as conservative, Doug Ford said his brother is "a huge, massive social liberal" who loves U.S. President Barack Obama.
Reporter's notebook: In the heart of Ford nation with embattled mayor
Rob Ford added, "My specialty is taking care of people that have been totally ignored their whole life, and I'm not going to stop doing it."
Since his November 5 admission, documents released by a court have outlined more allegations of drug use, drunkenness and alleged verbal and physical abuse of aides. In the course of answering those allegations on Thursday, he denied a female staffer's allegation that he sought to perform oral sex with graphic language of his own, stunning reporters and leading to another apology.
On Wednesday, Toronto's City Council called for him to take a leave of absence. On Friday, the council voted to strip him of his ability to govern in an emergency and to appoint and dismiss committee chairs. Monday, members are expected to take up a measure that would delegate duties not assigned by statute to the mayor, effectively stripping Ford of most of his responsibilities.
But in the northwestern neigborhood of Rexdale, a diverse community in the heart of the "Ford Nation," the mayor and his brother were met with cheers by the knot of well-wishers who joined him at the toy drive.
"The people love you," one woman told him.
Ford apologizes for lewd remark, gets TV show