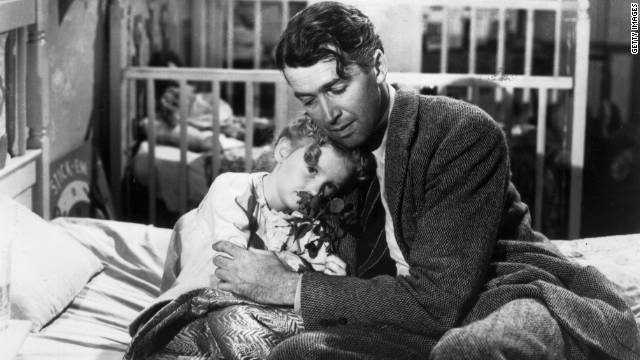 You'd think some movies would be sequel-proof, but you'd be wrong. Recently, a Hollywood production company announced plans
to make a sequel to the classic "It's a Wonderful Life."
That got us thinking. What could be the sequels to other classic movies? Warning: We made these all up, but they very well could be in the works.
"South by Southeast": In this followup to the Alfred Hitchcock classic "North by Northwest," Roger Thornhill (Cary Grant in the 1959 original) returns to his old life as a New York advertising executive, this time with Eve Kendall in tow. But he's not free from that evil spy ring yet. In fact, could his mother be involved? She was always a little suspicious ...
"The Post-Graduate"
: Sure, "The Graduate" author Charles Webb
wrote a sequel to his novel
,
Buck Henry pitched one
in 1991's "The Player," and 2005's "Rumor Has It ..." danced around the idea -- but why stop there? In this version, Benjamin Braddock's grandson struggles to make a name in the plastics industry and gets involved with an older environmentalist -- who turns out to be a former lover of his (cheating) grandfather. Some kind of hilarity ensues.
"To Revive a Mockingbird": Maycomb, Alabama, 80 years after "To Kill a Mockingbird." A descendant of Tom Robinson is now mayor, and he plans on marrying a Ewell. This event dredges up all kinds of bad blood. Scout Finch, now the town eminence, remembers.
"The Raisins of Annoyance": In this follow-up to "The Grapes of Wrath," the Joads have become prosperous California farmers. Trouble arrives when the state wants to put a high-speed rail line through their vineyards and their immigrant workers agitate for higher pay. Jane Fonda heads the cast.
"A Causeway Named Pontchartrain": These days, New Orleans' population has spread north of the lake to the St. Tammany Parish suburbs. It's there that the Kowalski descendants plan to build a new subdivision, until they find out the land is occupied by a deserted asylum that used to house a certain Blanche DuBois. The horror! The screaming! The politics!
"Murder on the Virgin SpaceShipTwo": Six passengers. Two pilots. One dead. Whodunit? In this modern twist on "Murder on the Orient Express," detective Hercule Poirot -- updated for the 21st century -- must find out before the ship returns to Earth and gravity ruins all the evidence. Added benefit: With "Two" already in the title, audiences will know it's a sequel.
"Rosemary's Teenager": The devil's little boy is growing up, and what a hellion he is -- which makes him no different from any of his 16-year-old friends. When Armageddon comes to New York, bring your own booze.
"Lobbyist Kane": The great Charles Foster Kane's fortune was left in ruins at the end of "Citizen Kane." But his descendant, Alexander Norton Kane, knows where the money is: in Washington. With his K Street firm, Rosebud Associates, he wheedles his way into the top echelons of the U.S. government, playing the Beltway media like an orchestra. Nothing can stop him, not even his wicked past -- or can it?
"Some Like It Hotter": "Nobody's perfect," said Osgood Fielding III to Jerry (Jack Lemmon's character) at the end of "Some Like It Hot." Well, just wait until they move to a state that hasn't passed gay marriage!
"Forrest Gump II: Forrest Gumpier": Haley Joel Osment, who played Forrest Jr. in the original "Forrest Gump," returns in this sequel, which happens to place him at the intersection of every major event of the past 20 years, no matter how improbable. Thanks to his father's Apple stock, he can afford it.
"Bonnie and Clyde Have a Baby": What, you think the bank robbers died at the end of 1967's "Bonnie and Clyde"? Not in this version. Instead, the two faked their deaths, got married and had a child. But it's now the 1950s, and despite boom times, the pair is having trouble holding jobs. Hmm, maybe they've bred a new gang member?
"Everybody Returns to Rick's"
: World War II is over, and "Casablanca's" Rick Blaine -- fresh from his work with the Free French -- is a hero. An equally triumphant Ilsa and Victor Laszlo return to Casablanca. Now what does the trio do with their love triangle? (Incidentally, there have been many
other attempts to answer this question
.)
"Harry Potter and the Mid-Life Crisis": Life isn't easy when you're the most famous wizard of them all, the Boy Who Lived, vanquisher of Voldemort. But what happens when you turn 40 and realize all the things you haven't done? In this sequel, a balding Harry dumps Ginny Weasley, buys a Porsche and sets out to see what might have been.
"Tootsie Tootsie": With "Return to Love Canal" a surprise hit, Michael Dorsey finds himself in demand as a producer. He becomes a cigar-chewing, foulmouthed monster in a macho, male-dominated business until he meets his match in David Joyce, a brash, diminutive venture capitalist who has a secret of his own. Or, should we say, "her" own?
"The Mother-in-Law of Frankenstein": When a monster finds true love, three's a crowd, especially when his honey's mummy provides daily shocks. Perhaps there's an operation for that, though, and he knows just the scientist ...
Sequels we'd like to see
Sequels we'd like to see
Sequels we'd like to see
Sequels we'd like to see
Sequels we'd like to see
Sequels we'd like to see
Sequels we'd like to see
Sequels we'd like to see
Sequels we'd like to see
Sequels we'd like to see
Sequels we'd like to see
Sequels we'd like to see
Sequels we'd like to see
Sequels we'd like to see
Sequels we'd like to see
Sequels we'd like to see