STORY HIGHLIGHTS
Since 1976, Dave Perry has been researching John F. Kennedy's killing
Top conspiracy theories include the CIA, the mob and then-Vice President Lyndon Johnson
Event in Pittsburgh drew Oliver Stone and hundreds of conspiracy theorists
Perry can't debunk a CIA conspiracy theory; many CIA JFK documents still classified
Editor's note: How well do you know the '60s? Take our quiz and find out.
(CNN) -- During the half century since President John F. Kennedy was assassinated, you may have heard about a few conspiracy theories.
Decades of investigations, hearings, documents, records, books and interviews have failed to satisfy conspiracy theorists with a definitive answer to The Question: Did Lee Harvey Oswald act alone when he shot the President?
At one time or another, doubters of the lone gunman theory "have accused 42 groups, 82 assassins and 214 people of being involved in the assassination," said author Vincent Bugliosi.
That's a lot of paranoia.
So, when reporters, producers, or amateur historians are looking to check out the latest JFK conspiracy theory, they call Dave Perry. "People think I'm an anti-conspiracy guy," Perry said recently at his Dallas-area home.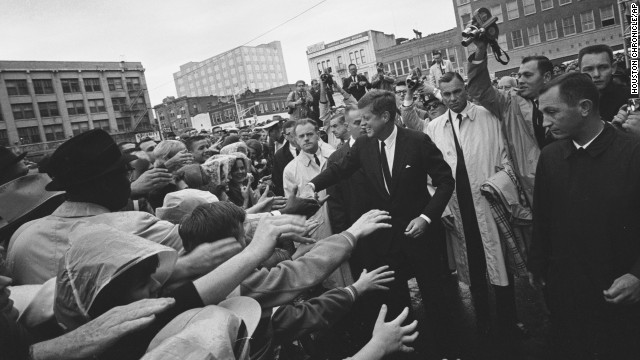 President John F. Kennedy greets supporters during his visit to Fort Worth, Texas, on Friday, November 22, 1963. This year marks 51 years since his assassination in Dallas, an event that jarred the nation and fueled a multitude of conspiracy theories about whether Kennedy was killed by a single gunman acting alone in the Texas School Book Depository. Here are some images from that fateful day as it unfolded.
First lady Jacqueline Kennedy at a breakfast held by the Chamber of Commerce in Fort Worth with Vice President Lyndon B. Johnson, left, and Kennedy.
The Kennedys arrive at Love Field in Dallas on a trip to advance the upcoming 1964 campaign.
About 11:45 a.m., Texas Gov. John B. Connally Jr., waving to the crowd, and the Kennedys depart Love Field for a 10-mile tour of Dallas. The President asked about the weather earlier in the day and opted not to have a top on the limousine.
The Kennedys and Connallys leave Love Field with Secret Service Agent Bill Greer driving the presidential limousine. The motorcade is on the way to the Trade Mart, where Kennedy is to speak at a sold-out luncheon.
Crowds line the street as Kennedy's motorcade heads toward downtown Dallas. A group of White House staffers follows the motorcade in a bus several vehicles behind the presidential limousine.
Dallas Police Officer Bobby Hargis, background, is one of four motorcycle officers assigned to Kennedy's car, which reaches Houston Street shortly before 12:30 p.m. "I thought, 'Well, we've got it made now,' " Hargis said. "And then bam! It happens."
Kennedy is seen approximately one minute before he is shot.
Seen through the limousine's windshield as it proceeds along Elm Street past the Texas School Book Depository, Kennedy appears to raise his hand toward his head after being shot. The first lady holds Kennedy's forearm in an effort to aid him.
Kennedy slumps against his wife as the bullet strikes him in the head. Connally, who is wounded in the attack, begins to turn around just to the left of Jackie Kennedy.
Kennedy slumps in the back seat of the car and his wife leans over to him as Secret Service Agent Clinton Hill rides on the back of the car.
The limousine carrying the mortally wounded President races toward the hospital seconds after three shots are fired. Two bullets hit Kennedy and one hit Connally. Hill rides on the back of the car as the wives cover their stricken husbands.
The limousine speeds along Elm Street toward the Stemmons Freeway overpass moments after shots are fired at Dealey Plaza.
Photographers are seen running shortly after the shooting.
Hurchel Jacks, Vice President Johnson's driver in the motorcade, listens with others to news accounts on the car radio outside the Parkland Hospital emergency entrance. After the shots were fired, Jacks had rerouted the vice president's car to safety. The ABC radio network broadcast the first nationwide news bulletin reporting that shots have been fired at the Kennedy motorcade.
Before 1 p.m., Dr. Tom Shires, with Parkland public relations director Steve Landregan, rear, describes the President's wounds to the press. Four doctors worked on the stricken Kennedy in the emergency room.
American broadcast journalist and anchorman Walter Cronkite removes his glasses and prepares to announce Kennedy's death. CBS broadcast the first nationwide TV news bulletin reporting on the shooting.
A photographer captures a New Yorker's expression of shock upon hearing the news. At 1 p.m. the 46-year-old President of the United States is declared dead, becoming the fourth U.S. president killed in office.
After 2 p.m., Jacqueline Kennedy leaves Parkland Hospital with her slain husband's body. She would ride in the back with the bronze casket. "I had a feeling that if somebody had literally fired a pistol in front of her face that she would just have blinked," said Dallas Police Officer James Jennings, who helped put the casket in the hearse.
The hearse carrying Kennedy's body pulls away from Parkland Hospital en route to the airport.
Lee Harvey Oswald, a 24-year-old ex-Marine, is arrested in the back of a movie theater where he fled after shooting Dallas Police Patrolman J.D. Tippit. That incident occurred approximately 45 minutes after the assassination.
Vice President Lyndon Johnson takes the oath of office to become the 36th president of the United States. He is sworn in by U.S. Federal Judge Sarah T. Hughes, left, with Jacqueline Kennedy by his side on Air Force One.
The casket containing the body of President Kennedy is moved to a Navy ambulance from the presidential plane. Jacqueline Kennedy and Attorney General Robert Kennedy stand behind on the elevator.
Jacqueline and Robert Kennedy get into the Navy ambulance with the president's body at Andrews Air Force Base, just outside Washington. The body of the president is taken to Bethesda Naval Hospital for an immediate autopsy.
Police mug shot of Lee Harvey Oswald. He is arraigned in the slaying of Officer Tippit on November 22 and/or the murder of the president the next day. As Oswald is being transferred from the Dallas city jail to the county jail, nightclub owner Jack Ruby shoots and kills him, an event captured live on TV. Ruby is arrested immediately.
A man holds up a copy of the New York World-Telegram featuring the news of the assassination. Major television and radio networks devote continuous news coverage to the events of the day, canceling all entertainment and all commercials. Many theaters, stores and businesses, including stock exchanges and government offices, are closed.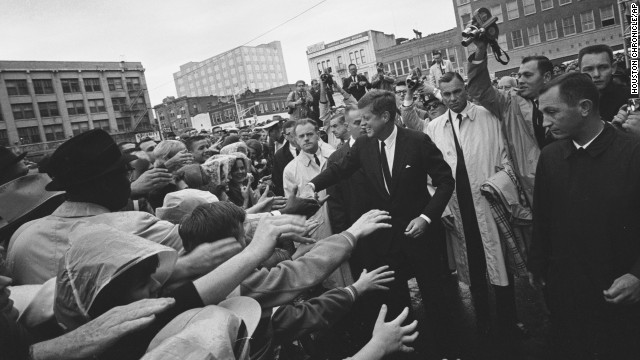 John F. Kennedy: The day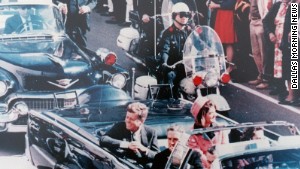 Dallas: 50 years after JFK shooting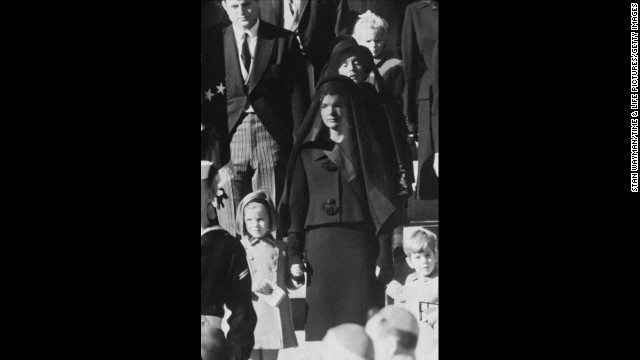 On November 22, 1963, President John F. Kennedy was assassinated while in a presidential motorcade in Dallas. Pictured, Kennedy's widow, Jacqueline Kennedy, children, Caroline and John, and mother, Rose Kennedy, behind, wait outside St. Matthew's Cathedral for the procession to the cemetery during his funeral on November 25.
On November 22, 1963, President John F. Kennedy was assassinated while in a presidential motorcade in Dallas. Pictured, Kennedy's widow, Jacqueline Kennedy, children, Caroline and John, and mother, Rose Kennedy, behind, wait outside St. Matthew's Cathedral for the procession to the cemetery during his funeral on November 25.
Kennedy's flag-draped casket lies in state in Washington.
John F. Kennedy's flag-draped casket lies in state in Washington.
A horse-drawn caisson bears the body of President John F. Kennedy into Arlington National Cemetery.
John F. Kennedy's widow, Jacqueline Kennedy, and brother Robert Kennedy attend his funeral at Arlington National Cemetery. See the complete gallery of photos at LIFE.com.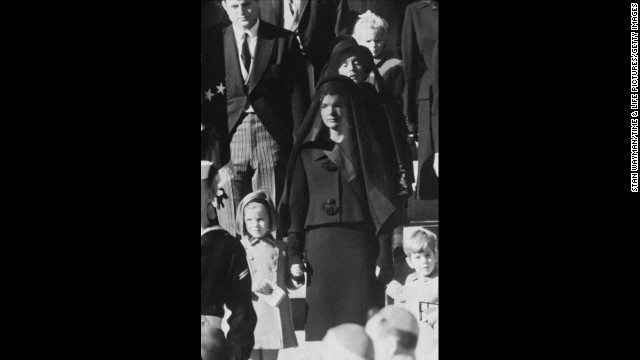 Photos: John F. Kennedy's funeral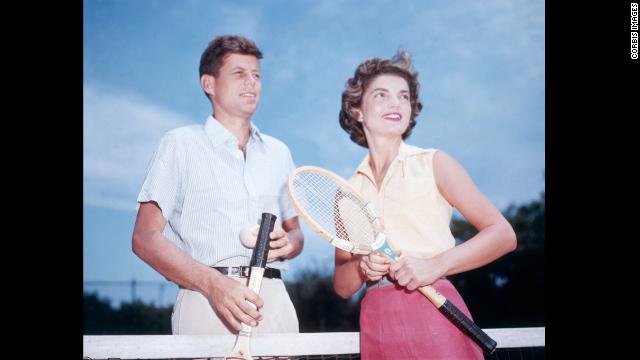 John Fitzgerald Kennedy and his fiancée, Jacqueline Lee Bouvier, playing tennis in 1953. They were history's power couple, a dashing Democrat and an elegant wife. They were both from influential families and became superstars before he entered the White House. Take a look back at the couple that embodied the image of a perfect family.
John Kennedy and Jacqueline Bouvier met in 1951 and after a brief engagement, they married in Rhode Island in the century-old church of St. Mary's on September 12, 1953.
John F. Kennedy and Jacqueline Kennedy at the U.S. Capitol on May 6, 1954.
The couple strolling in the Georgetown area of Washington on May 8, 1954.
Jackie looking over John's shoulder as he reads the May 7 issue of the Christian Science Monitor on May 9, 1954, Mother's Day.
The Kennedy's cuddle daughter Caroline while relaxing on a bed at home on March 25, 1958.
John and Jackie at Eleanor Roosevelt's 75th birthday celebration in 1959.
The then-senator engages in his favorite pastime of sailing at Hyannisport, Massachusetts, with Jackie in July 1960.
Shortly after his acceptance of the Democratic Party nomination for president, Kennedy and his wife smile and wave from the back of an open-top car in Massachusetts in July 1960.
Jacqueline greets her husband in 1960.
Jackie watches her husband during a presidential debate in September 1960.
Kennedy lends an ear to his wife as they sit together at a table during cocktail hour before dining at a society gala at the Walford Astoria Hotel in 1960.
Kennedy, campaigning for president, listens to the whispers of his wife in 1960.
Jackie shares a moment with her husband before he became president, in January 20, 1961, in the rotunda of the Capitol. She became the youngest first lady in nearly 80 years.
President Kennedy and Jackie greet guests at a party for Nobel Prize winners at the White House on April 29, 1961.
The Kennedys stand at attention during the playing of the national anthem at the start of a reception during their state visit to Mexico City on June 30, 1962.
John and Jackie at Union Station after the departure of King Hassan of Morocco on March 27, 1963.
President Kennedy, John F. Kennedy Jr., Jackie and Caroline with puppies Blackie and White Tips, and family dogs Shannon, Clipper, Wolfie and Charlie on August 14, 1963.
Jackie stands with her two children and her brothers-in law Ted Kennedy and Robert Kennedy at the funeral of her husband on November 26, 1963.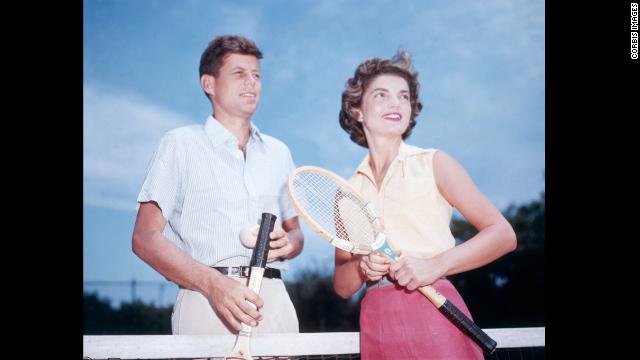 John and Jackie: A love story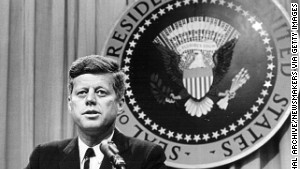 Kerry reignites JFK conspiracy theories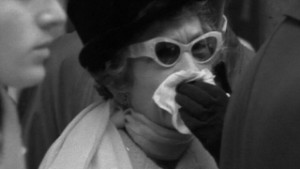 "President Kennedy has died"
But there's one theory that he's not ruling out. We'll get to that in a minute.
Kennedy assassination conspiracy theorists, Perry said, come in all degrees of interest and levels of obsession. They may believe that the government was behind the 9/11 attacks or that the moon landings were fake. Those folks comprise the "off the wall" crowd. The others, he says, read the books, watch the documentaries and come to less extreme conclusions.
Related: Secretary Kerry thinks JFK assassin had help
Ahead of last November's 50th anniversary of the assassination, a flood of books about the tragedy were re-released, along with the publication of new books examining various conspiracies. The king of Kennedy conspiracy films, Oliver Stone's "JFK," has also was re-released on disc.
Related: Why Oliver Stone thinks it was a conspiracy
Conspiracy theorists have been gathering to compare notes at special symposiums, like one last year at Pittsburgh's Duquesne University. The event, which included Stone as a panelist, seemed more like a revival meeting at a Sunday house of worship than an academic conference, according to a reporter who was there. "Replace 'Amen' for 'That's right!' and it would have basically been a church," recalled Rebecca Nuttall.
Nuttall said the crowd ranged from those who believed the government was involved in some kind of cover-up, to extremists who appeared to think "everything the government tells you is a lie."
She said many still blame the media for failing to uncover the truth.
And Perry, a 70-year-old retired former insurance claims adjuster from Massachusetts, has been digging through JFK assassination records since 1976 to address those skeptics.
Doubters ask him to check out the odd stories that pop up: Somebody claimed to be the Grassy Knoll shooter. Nope, he wasn't. Perry says he located and verified the authenticity of Oswald's long-lost wedding ring.
"I don't do the sexy stuff," Perry said. "I don't come out and say, 'I know who the Grassy Knoll assassin is!' I'm the guy that goes into the county records building and looks up deed records. Most people don't get too wound up over that."
Related: Still paranoid after all these years
Over the years he's come to know several people who found themselves embroiled in the investigation, including ex-Dallas detective Jim Leavelle and Oswald's co-worker Buell Frazier.
Perry guesses he spends a "couple hundred hours" each October and November doing research and consulting. After all that, you can imagine he's heard a lot of theories.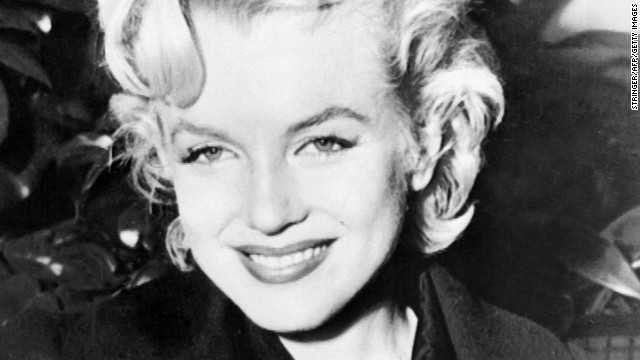 President John F. Kennedy's alleged sexual encounters with numerous women have been widely discussed and documented, though none have been acknowledged by the Kennedy family, and many of the women themselves have not commented. Here are some of the women rumored to have had a relationship with JFK, though CNN cannot independently verify whether the affairs took place.
Blaze Starr: The celebrated stripper told People Magazine in 1989 that she had a brief dalliance with Kennedy before he became president.
Marilyn Monroe: The celebrated star is widely rumored to have had an affair with Kennedy. In the book "The Dark Side of Camelot" by investigative reporter Seymour Hersh, Monroe is one of several women named as Kennedy mistresses.
Marlene Dietrich: The star's daughter, Maria Riva, published a book in 1993 saying that her mother had a quick tryst with Kennedy in the White House, as well as a long-term relationship with the president's father, Joe.
Pamela Turnure: Turnure is rumored to have had a relationship with JFK while she was working in the White House as first lady Jacqueline Kennedy's secretary. The alleged affair was mentioned in the book "The Kennedy Half-Century" by Larry J. Sabato, and a Forbes magazine article by the same author.
Judith Exner: In an interview for a 1997 Vanity Fair article, Exner said she ended a two-year affair with Kennedy in early 1963. She also claimed she aborted his child around the same time. Exner was also known to have had links with the Mafia.
Mimi Alford: In her 2012 book "Once Upon a Secret: My Affair with President John F. Kennedy and Its Aftermath," the former White House intern detailed her alleged 18-month sexual affair with the president.
Priscilla Wear: An alleged Kennedy affair with the White House secretary nicknamed "Fiddle" has been widely reported in books by Larry Sabato, Seymour Hersh and others.
Jill Cowen: Another White House secretary, this one nicknamed "Faddle," is also widely reported to have had trysts with the president.
Gunilla Von Post: In her memoir, "Love, Jack," the Swedish socialite chronicled what she said was a six-year relationship with Kennedy beginning in 1953.
Mary Pinchot Meyer: The book "A Very Private Woman" by Nina Burleigh chronicled Meyer's alleged affair with JFK and her mysterious death. Meyer, who'd previously been married to a CIA agent, was shot dead one year after the president's assassination, fueling speculation that she was killed as part of a cover-up.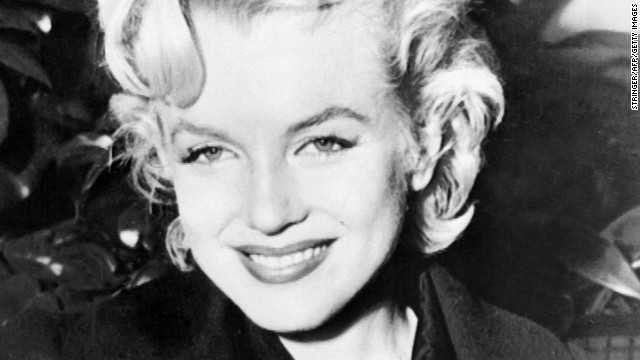 Photos: JFK's alleged affairs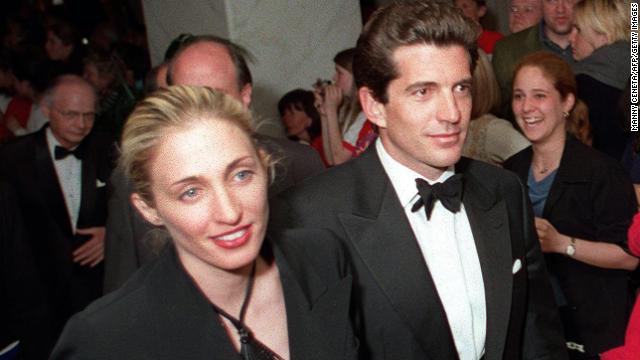 Fifteen years ago, on July 16, 1999, John F. Kennedy Jr. and his wife, Carolyn Bessette-Kennedy, died in a plane crash off the coast of Martha's Vineyard in Massachusetts. Her sister was also aboard the plane. The tragedies the Kennedy family has faced have become part of American history. Click through to see other moments of tribulation for the family.
A Connecticut judge last year ordered a new trial for Kennedy cousin Michael Skakel, who was sentenced to 20 years to life in prison in 2002 for the 1975 killing of his teenage neighbor, Martha Moxley. Skakel is the nephew of Ethel Skakel Kennedy, the widow of the late Sen. Robert F. Kennedy. He has been fighting for years to overturn his conviction.
Mary Kennedy, right, from whom Robert F. Kennedy Jr. filed for divorce in 2010, was found dead on May 16, 2012. A medical examiner said she died of asphyxiation due to hanging. She was 52.
Members of the Kennedy family attend U.S. Sen. Ted Kennedy's funeral in August 2009. Two years later, his daughter, Kara Kennedy, died of a heart attack after her daily workout. She is shown being embraced by her daughter, Grace, at right.
Michael Kennedy, one of RFK's 11 children, died in a skiing accident in Aspen, Colorado, in 1997. The father of three had suffered an onslaught of negative publicity over an alleged affair with a family babysitter. No charges were filed.
David Kennedy, another son of RFK, died in 1984 of a drug overdose in a hotel after being ousted from the family vacation home in Palm Beach.
Joe Kennedy, the eldest son of RFK, was involved in a 1973 car accident that left a female passenger paralyzed for life. He later served as a Massachusetts congressman and considered a bid for governor but decided against it, citing family troubles.
Sen. Ted Kennedy drove a car off a bridge on Massachusetts' Chappaquiddick Island after a party in 1969. Aide Mary Jo Kopechne died in the accident. He is shown wearing a neck brace at her funeral. Controversy over the incident effectively ended his presidential aspirations.
While campaigning for the Democratic Party's presidential nomination, Sen. Robert F. Kennedy was assassinated in June 1968.
In 1964, Ted Kennedy suffered a broken back when his private plane crashed in Southampton, Massachusetts. Indiana Sen. Birch Bayh also survived the crash, but the pilot and one of Kennedy's aides were killed.
President John F. Kennedy was assassinated during a motorcade in Dallas on November 22, 1963. He was 46.
At just 28, Kathleen Kennedy died in a plane crash in 1948. She had married William John Robert Cavendish, the Marquess of Hartington, who was killed in World War II.
Joseph P. Kennedy Jr., the eldest son of Joseph and Rose Kennedy, died at 29 in a plane crash during World War II.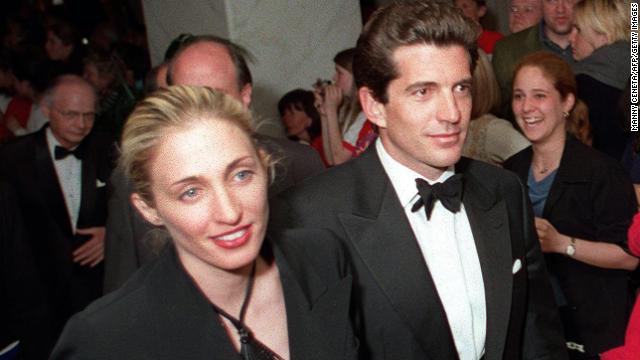 Photos: Kennedy family woes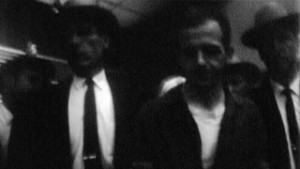 Lee Harvey Oswald speaks to the press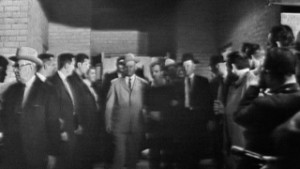 Lee Harvey Oswald shot by Jack Ruby
The School Book Depository where Oswald shot Kennedy is now the Sixth Floor Museum, featuring exhibits surrounding the tragedy. "The conspiracy theories are still around because people don't know what to believe," said museum curator Gary Mack, who admits he's "not satisfied with the official story."
If Oswald didn't act alone, who was behind the shooting in Dallas's Dealey Plaza on November 22, 1963? Some conspiracy theorists believe "the oil people" may have organized a hit on the President; others suspect "people who didn't like the way Kennedy handled civil rights."
Perry shared five conspiracy theories he believes rank among the most popular:
1. "LBJ had it done"
Perry has shot this one down. "It's based primarily on statements made by Madeleine Brown," who Perry described as a "crackpot." Brown -- who died in 2002 -- claimed to have had an affair with Johnson. She also claimed that LBJ had attended a party with ex-Vice President Richard Nixon, FBI Director J. Edgar Hoover and others the night before the attack. According to Perry, Brown said LBJ whispered into her ear, "After tomorrow, those Kennedys will never embarrass me again. That's no threat. That's a promise."
"That's absolutely not true," said Perry, who said his research proved LBJ couldn't have been at the alleged party that night, debunking Brown's story.
"A lot of Texans didn't like Johnson -- they thought he was a crook -- so as a result, they started creating this fiction after the assassination where he wanted Kennedy out so he could be president," Perry said. "But we've found no evidence, and we know that all the stuff that Madeleine Brown said was contrived."
2. The "military industrial complex" did it
Nope, that doesn't wash either, said Perry. "The claim is that Kennedy was going to pull (American) troops out of Vietnam (and that) the military wanted to pour more people into Vietnam. That's technically not correct. He talked about trying to resolve the situation, but he never made a claim that he was going to pull out of there."
3. "The mob" did it
Sorry, said Perry, no veracity to that. "There's at least three different groups that they claim independently did this: There's the Chicago mob, the Miami mob, and the New Orleans mob. But it's all hearsay."
4. "Oswald acted alone as part of an unknown conspiracy"
It's possible there were individuals who helped Oswald, but who weren't part of any larger group or perhaps unaware of what he was planning. "Remember John Wilkes Booth shot Lincoln and four were hung, including the first woman ever to be hung (by the federal government,) Mary Surratt," he said.
5. "The CIA did it"
This is the conspiracy theory that interests Perry the most. "The problem is, of all of them, this is one I can't debunk," he laughs.
"Supposedly Kennedy was fed up with the shenanigans that the CIA was pulling," Perry said. "He found out the CIA was trying to kill (Cuban leader Fidel) Castro, which is a fact. So the argument is that the CIA felt that Kennedy was going to disband them. And as a result of that, they were the ones that ordered the killing of Kennedy."
Perry points out that a former head of the CIA, Allen Dulles, was a member of the Warren Commission, the special Johnson-appointed panel tasked with the official investigation of the assassination. The commission determined that Oswald acted alone.
Oswald was a supporter of Soviet-backed Cuba.
"We know Oswald was in the Russian embassy in Mexico City," Perry said. "We even know who he talked to. But we don't know what was said. Then a few weeks later, he shoots Kennedy."
"It may have been something that they overheard involving him and the Russians. Or, maybe the CIA had Oswald on the payroll. He might have been a double agent."
Is it possible that Russians ordered Oswald to do it?
Not likely, said Perry. The Russians would never have ordered Oswald to kill Kennedy because of his well-known links to Russia and his pro-Cuban sympathies. Russia's leaders knew they would have been the first suspects if they'd engineered an assassination by Oswald. It would have been an act of war, which could have triggered a nuclear attack.
"We need to know what happened in Mexico City," Perry said.
The answer, he said, may be contained in still-classified CIA documents. The U.S. National Archives currently holds a number of unreleased CIA documents related to the assassination. Those papers are scheduled to be made public in 2017 as part of the 1992 Kennedy Assassination Records Collection Act.
"CIA has followed the provisions of the JFK Assassination Records Collection Act, and the National Archives has all of the agency's documents and files on the Kennedy assassination," said CIA spokesman Edward Price. "The classified information contained in the files remains subject to the declassification provisions of the Act."
So, either we already know the truth, Oswald acted alone, or -- worst-case scenario -- we may never know the whole truth, prompting one more question surrounding the killing of JFK: Would America be OK with that?
Five things you might not know about JFK's assassination
JFK assassination a collective memory for American children
CNN's Ed Lavandera and Jason Morris contributed to this report.