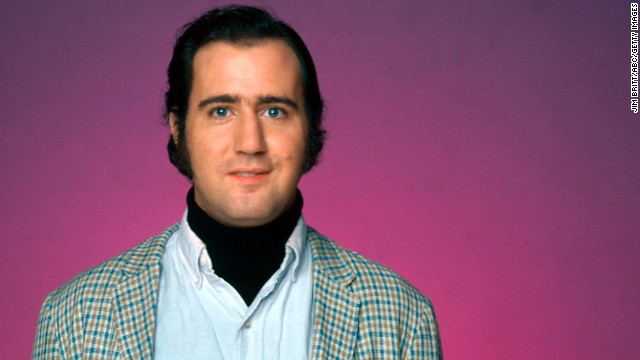 Andy Kaufman, the comedian who wasn't a comedian, as Latka Gravas on ABC's television show, "Taxi," one of his best-known roles, in 1978. Kaufman's death in 1984 has fueled many conspiracy theories to the effect that the actor faked it. Take a look back at his life cut short.
John Denver, left, Kaufman as "Foreign Man," and Dick Van Dyke during one of Kaufman's many "unscheduled" appearance on Van Dyke and Company in 1976. He became a favorite during the sketches.
Andy Kaufman onstage in 1977, wearing a "I love grandma" sweater after doing one of his trademark Elvis impersonations.
Anne Murray, clockwise from upper left, Kaufman as Santa, Tom T. Hall, June Carter Cash and Johnny Cash appear on the "Johnny Cash Christmas Special" on CBS in 1979.
Kaufman with Danny DeVito during the episode "Latka the Playboy" on "Taxi," which aired on May 21, 1981. DeVito in 1999 produced a film about his co-star's life, titled "Man on the Moon," and starring Jim Carrey as Kaufman.
During the Janurary 30, 1982, episode of "Saturday Night Live," Kaufman performs an Elvis Presley impersonation. Kaufman had a lifelong fascination with the King.
Kaufman had to go to a hospital for X-rays on his neck after getting a "pile driver" from professional wrestler Jerry Lawler during a match in Memphis on April 5, 1982. Like most of Kaufman's antics, his wrestling career was all a put-on, lending credence to rumors that his death itself was a hoax. "I would like nothing better than to know that Andy was still alive and been with us all this time," Lawler told CNN. "But like anybody else, I really don't know any more than what I've heard."
Andy Warhol, left, with Caitlin Clarke, Debbie Harry and Kaufman, who appeared together in the Broadway show "Teaneck Tansi: The Venus Flytrap" at the Nederlander Theatre in New York. The show ran for only one night, on April 20, 1983.
Andy Kaufman: Tank you veddy much
Andy Kaufman: Tank you veddy much
Andy Kaufman: Tank you veddy much
Andy Kaufman: Tank you veddy much
Andy Kaufman: Tank you veddy much
Andy Kaufman: Tank you veddy much
Andy Kaufman: Tank you veddy much
Andy Kaufman: Tank you veddy much
STORY HIGHLIGHTS
Internet buzzed this week after reports that Andy Kaufman might be alive
Kaufman's brother ultimately said he felt he was victim of hoax
People want to believe because "it would be the longest joke ever told"
(CNN) -- It was vintage Andy Kaufman: New rumors that he might be alive.
This time, his younger brother gave it credence. Never mind that Michael Kaufman said he was with his brother when he died in 1984. Three decades later, he was now reading from a mysterious letter purportedly written by Andy in 1999 and standing onstage with a woman who presented herself as the comedian's 24-year-old daughter.
The announcement just happened to be made at a New York comedy club during the annual Andy Kaufman Awards show.
We lapped it up. Because we sooooo wanted to believe it was true: The comedic genius would finally make his grand return. An aging Tony Clifton. A triumphant Latka Gravas. A limping Inter-Gender Wrestling Champion of the World.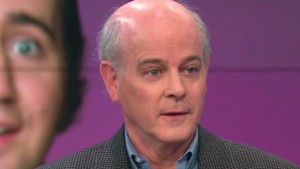 Andy Kaufman death a hoax?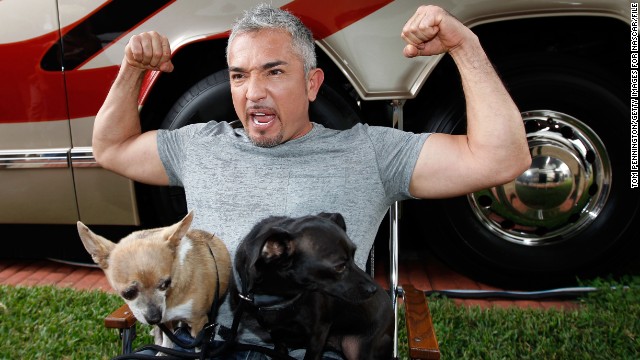 No one's safe when it comes to Internet death hoaxes, and that includes popular dog trainer Cesar Milan. After erroneous reports that Milan had passed away erupted in early December, he posted a rebuttal on Instagram, assuring his fans that he was " safe, happy and healthy."
In early December, the Internet was briefly tricked into believing that rocker Axl Rose had passed away at 52. The reports were false, and Rose responded to the death hoax with good humor: "If I'm dead, do I still have to pay taxes?" he asked on Twitter.
There was a rampant rumor in November that Robert Plant had turned down an $800 million contract that would've led to Led Zeppelin's reformation and a reunion tour. The only problem? It wasn't true. Plant's publicist called it "rubbish," and Richard Branson, who was said to have been financing the effort, also called the report "completely untrue."
For some reason, in early November, word spread on the Internet that "Home Alone's" Macaulay Culkin had died. The actor and the musician took the gossip in stride, debunking the rumors with proof of his existence before poking fun at them with some "Weekend at Bernie's"-style photos.
On September 3, many on the Web were swindled into believing that actress Betty White had passed away. Thanks to a headline from the satirical outlet Empire News that read "Actress Betty White, 92, Dyes Peacefully In Her Los Angeles Home," some assumed that the star had "died." Thankfully, White is alive and well.
Musician Scott Weiland was surprised to learn via media reports that he was in jail. It turned out to be an imposter.
No need to start mourning. A recent report that "Orange is the New Black" was canceled is not true, E! assured the world. The buzz apparently started after a humor site posted that Netflix CEO Reed Hastings said: "A woman's place is in the home, in the kitchen, taking care of children. A woman in jail? How does anyone watch this show in the first place?"
Kanye West clearly thinks very highly of himself. It was reported that he said he was "the next Nelson Mandela," but it just wasn't true.
Paris Hilton was offended when the world believed she had tweeted mixing up Mandela and the Rev. Martin Luther King Jr. after Mandela's death. She tweeted: "Whoever made that stupid fake tweet lacks respect to the loss the world is mourning right now. Same goes for all the blogs who ran with it."
For those who believe Andy Kaufman faked his death in 1984, the latest reports could have been seen as a glimmer of hope. But it now appears to be just an homage to the eccentric comedian.
Seems like every day social media kills another celebrity. Recording artist Raz-B was said to be in a coma after being hit by a bottle in China. His rep denies that his camp started the rumor.
Remember when the White Stripes, Meg White and Jack White, were claiming to be siblings? Turns out they were actually married. The two divorced in 1999, and the band broke up for good in 2011.
Singer Lauryn Hill may be strong in some of her opinions (she reportedly prefers to be called "Ms. Hill") but there appears to be no truth to the story that she told MTV she would rather her children starve than have white people buy her music.
Marilyn Manson is way out there, but he did not have a rib removed so that he could more easily ... pleasure himself.
Singer Billy Idol may sorta have the hairline for it, but he did not portray Eddie Munster on the television series "The Munsters." That was actor Butch Patrick.
That Richard Gere gerbil story just refuses to die. And that's all we are going to say about that one.
Call it a hoax or an urban legend, but the kid who played "Mikey" in the Life cereal commercial back in 1971 did not die from consuming Pop Rocks candy and soda. A now-adult John Gilchrist told Newsday in 2012 that he still enjoys the cereal.
Author James Frey found success when he appeared on "The Oprah Winfrey Show" to talk about his book "A Million Little Pieces." He also found scrutiny and shame when it was revealed that his memoir about struggling with addiction wasn't entirely true.
Before 2006, novelist J.T. LeRoy was thought to be a young male truck-stop prostitute who chronicled his treacherous tales in critically acclaimed novels. But the persona was later revealed to be the invention of writer Laura Albert. In person, LeRoy was played by Savannah Knoop, who made appearances disguised as a man. Here LeRoy attends the 2005 premiere of "his" movie, "The Heart Is Deceitful Above All Things," in Rome.
Fred Rogers, aka Mr. Rogers from the kids show "Mister Rogers' Neighborhood," was neither a Marine sniper nor a Navy SEAL with confirmed kills in Vietnam. We aren't even sure how this one got started.
Lady Gaga does sport some flamboyant outfits, but we assure you that she is a woman and not a man dressed as a woman, as some have claimed. Nor was she born a man and had a sex change.
Jamie Lee Curtis is not a hermaphrodite. We repeat: She is not a hermaphrodite!
This one caused such an issue that Oprah Winfrey felt compelled to invite Tommy Hilfiger on her show to prove she never kicked him off it. Every few years the story pops up that the designer was asked to leave Winfrey's show after he said he didn't want African-Americans and Asians wearing his clothes. So not true.
Sorry porn aficionados: A young Barbra Streisand, seen here in 1966, did not appear in a stag film. As The Village Voice pointed out in 2003, it was just an adult film actress with a pronounced nose.
Star Jones let the world believe she relied on diet and exercise when she started shedding weight in 2003. She finally came clean in 2008, revealing she had gastric bypass surgery to lose more than 160 pounds. OK, this one might be more of a fib than a hoax, but plenty of people took the deception very personally -- including her former "The View" boss Barbara Walters.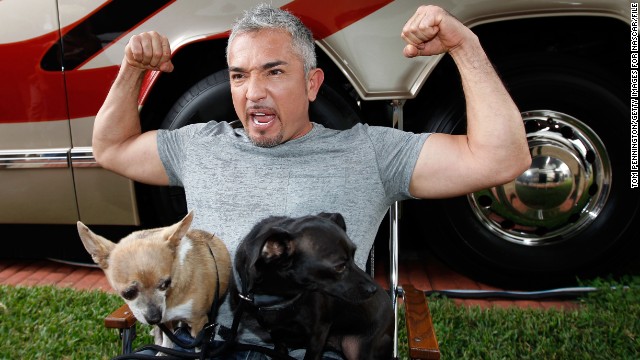 Photos: Celebrity hoaxes
Anything to keep the hope alive.
Then, Michael Kaufman hit us with the next line: He believes he's the victim of a hoax.
Kaufman has already been immortalized in the R.E.M. song "Man on the Moon" and in the Jim Carrey movie by the same name. His wrestling antics with Jerry "The King" Lawler are forever etched into American lore from Kaufman's infamous expletive-laced tirade on "Late Night with David Letterman."
This week's news got us wondering why Kaufman still fascinates. Here are five reasons, in a reverse-order fashion he would appreciate:
5. The Ultimate Internet Troll
Kaufman was Sacha Baron Cohen's Borat two decades before "Borat" hit the big screen. He was "Jackass" and "Punk'd" rolled into one.
Kaufman was the Internet troll before the Internet was created.
"He was like that annoying house fly who won't leave you alone," says Bob Thompson, a professor of pop culture at Syracuse University. "He was the opposite of a super villain. It's not like he could freeze the world or burn the world up. He could just irritate the daylights out of the world."
4. The Big Rematch
Let's face it: How much fun would it be to see Kaufman step into the ring with Lawler one more time?
The Great Ruse: The comedic genius who rocked wrestling
Maybe an Aging-Loser-Leave-Town match. Even Lawler pines for that moment. As the rumors swirled this week of Kaufman being alive, Lawler challenged Kaufman to hop back into the ring. "We would have to have a rematch," Lawler told CNN. "We could rekindle the feud with no problem."
3. Milk and Cookies
He once took an entire audience out for milk and cookies after a show. Enough said.
2. Love Him, Hate Him
If you're 40 or older, you likely have some memory of Kaufman. On the sitcom "Taxi." On "Saturday Night Live." From Letterman. From comedy clubs. From wrestling.
For that generation, Americans will always remember Kaufman -- as a comedic genius, as a befuddling buffoon, as a bulging-eyed maniac.
"What Andy Kaufman was doing was so new and so groundbreaking," says Syracuse's Thompson. "The idea that you would derive humor out of stupidity and absolute nothingness, I think, was really fascinating."
"He was doing a critique of the out-of-control American celebrity back when most people didn't even realize it was out of control."
1. The Longest Joke Ever
Kaufman always talked about faking his death -- and doing so would be keeping within character, playing a joke long past the point of annoyance. The nation loves practical jokes, and clinging to the possibility that Kaufman is still alive lets us feel like we're still playing along.
"Andy Kaufman was often about doing an awful lot of stuff and enduring an awful lot of hatred and scorn before the punch line ever arrived, if it ever did," Thompson says.
Think about it: The setup comes in 1984 and the punch line gets delivered nearly 30 years later.
"You so want it to be true because it would be one of the greatest things to ever happen in the history of comedy," he says. "It would be the longest joke ever told."