Remains found in desert are California couple missing since 2010, police say
updated 12:35 PM EST, Sun November 17, 2013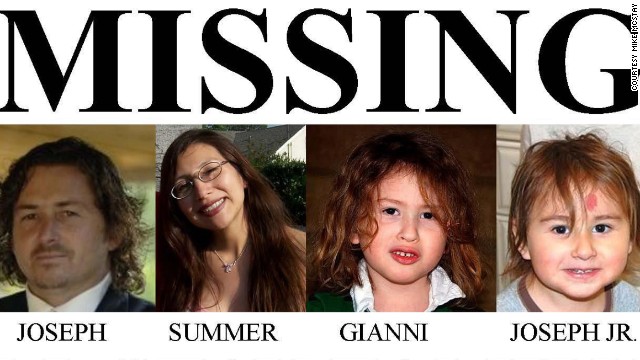 Joseph McStay; his wife, Summer; and their two children, Gianni and Joseph Jr., disappeared from their home in suburban San Diego on February 4, 2010.
Joseph McStay, pictured with Gianni, owned a custom water-feature business and was scheduled to have a lunch meeting around noon on the day he disappeared.
The McStays were looking forward to Joseph Jr.'s birthday party that weekend.
Gianni was 4 when his family vanished.
Joseph Jr. was 3 years old.
Initial evidence pointed investigators south. The family's car was found near the Mexican border, and surveillance video showed what appeared to be a family of four crossing on foot into Mexico on February 8.
In November 2013, the McStays were found slain in the Mojave Desert -- their bodies buried in shallow graves. From the beginning, the case has baffled investigators, but they aren't giving up.
Who killed the McStay family?
Who killed the McStay family?
Who killed the McStay family?
Who killed the McStay family?
Who killed the McStay family?
Who killed the McStay family?
Who killed the McStay family?
STORY HIGHLIGHTS
NEW: The couple, who disappeared with their small sons, were killed, authorities say
NEW: Remains were identified through dental records
Two other sets of remains also found might be couple's sons, authorities say
Joseph and Summer McStay and their sons vanished in 2010
(CNN) -- The search is over for a California family who disappeared under mystifying circumstances three years ago.
Authorities confirmed the identity of two of four sets of remains found Monday in the California desert near Victorville as those of Joseph McStay and his wife Summer, San Bernardino County Sheriff John McMahon said Friday.
They were identified through dental records, he said. Two other remains found nearby are believed to be those of their sons Joseph and Gianni, McMahon said.
He said positive identification will be done through DNA testing.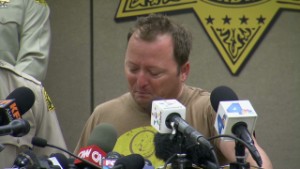 McStay relative: We will find the killer
The four were killed, McMahon said. No suspects have been identified and the sheriff did not elaborate on how they died.
Some family members became emotional during Friday afternoon's news conference.
"It gives us courage to know they are together, and they're in a better place," said Joseph's younger brother Mike McStay, choking back tears. "It's been a tough road."
A motorcyclist reported finding possible skeletal remains Monday in an area not far from Interstate 15 near Victorville, according to the Sheriff's Department.
Police found two shallow grave sites, with two sets of remains in each grave, McMahon said.
February 4, 2010 was the last day anyone saw the family or heard from them. When police entered their Southern California house more than 10 days later, they found eggs on the kitchen counter and bowls of popcorn in the living room. Their two dogs were also in the home. But not a single trace of the McStays.
The McStays lived in Fallbrook, about 18 miles from the Pacific Coast and some 50 miles north of San Diego.
The family's locked and abandoned Isuzu Trooper was located February 8, 2010, in San Ysidro, California, just two blocks from the border. Surveillance video taken that night shows a family fitting the description of the McStays walking into Mexico. But from there the trail goes cold.
The sheriff said his office said it will look at this crime from the beginning, and will work with the FBI to find the suspects.
Although investigators said someone had been researching travel to Mexico on the family's home computer, the McStays' sudden disappearance and the fact that their credit cards and bank accounts went unused raised suspicions.
When they disappeared three years ago, Joseph was 40, his wife, Summer, was 43, and their children were 4 and 3 years old.
"I've been in this business for over 35 years, but I've never seen anything like this," Lt. Dennis Brugos of the San Diego Sheriff's Department told CNN shortly after the disappearance.