Michael Phelps: Is the 'Baltimore Bullet' set for a return?
updated 12:36 PM EST, Fri November 15, 2013
STORY HIGHLIGHTS
Michael Phelps refuses to rule out a swimming comeback
The American is the most decorated Olympian of all time
Phelps has been tested twice by U.S. anti-doping officials since July 1
Under FINA rules, Phelps would be eligible to compete again in March 2014
(CNN) -- Is the greatest Olympian of all time making a comeback?
American swimmer Michael Phelps, winner of a record 22 medals at the Games --18 of which were gold -- fueled speculation that he could stage a comeback by undergoing two drug tests over the past five months.
Phelps, who seemingly brought the curtain down on his glittering career at the end of London 2012, has been tested twice by the United States Anti-Doping Agency (USADA) since July 1.
By entering USADA's testing program, the 28-year-old is eligible to compete from March 2014 onwards.
Swimming's global governing body FINA requires that athletes who intend to return to competition after announcing their retirement should be tested "at least nine months before he or she expects to return to competition."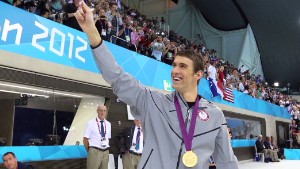 Phelps rejects swimming comeback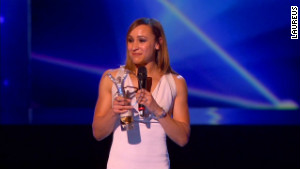 Athletes shine at Laureus Awards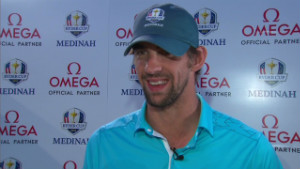 Who makes Michael Phelps giddy?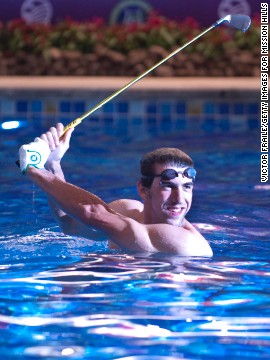 Michael Phelps, seen here at a promotional event in China in 2010, has been learning to play golf since his retirement from swimming.
Phelps, who won a record 18 gold medals in Olympic competition, has been working with the former coach of golf superstar Tiger Woods (right).
Hank Haney helped Woods to win six major championships in six years before they split in 2010.
Haney has been tutoring Phelps as part of his TV show The Haney Project.
"It's a game that I enjoy and a game that's exciting," Phelps told CNN. "I definitely want to get a lot better. I'm getting better, but not as good as I want to be."
"When I'm on the road I'm out there a lot, because it's hard to play in Baltimore right now," he said. "When the weather starts getting good it's probably going to be three or four times a week."
Phelps embarked on his golfing challenge following the London 2012 Olympics. He was a guest speaker at the opening ceremony for the 39th Ryder Cup at Medinah in September, where the U.S. suffered a dramatic last-day defeat against Europe in golf's premier teams event.
Phelps poses with Paralympic running champion Oscar Pistorius after they both lose their ball during the Alfred Dunhill Links Championship pro-am at Kingsbarns in Scotland in October 2012.
Haney, meanwhile, is no longer coaching tour pros. His focus is on his International Junior Golf Academy, public clinics and corporate work.
Haney, who has also worked with former basketball star Charles Barkley (pictured) on his TV show, says Phelps faces a tough challenge to become a top golfer.
Babe Didrikson Zaharias is the most successful athlete to have taken up golf after other sporting careers. She was a double Olympic gold medalist in track and field in 1932 and also played softball and basketball before becoming one of the most famous golfers in the world. Didrikson won her 10th and final major a month after cancer surgery and was still a leading player when she died aged just 45.
Another American, Ellsworth Vines, was the world's top-ranked men's tennis player on several occasions during the 1930s but had less success when he turned to golf. He did, however, win two state tournaments in the U.S.
Pioneering tennis player Althea Gibson followed in the footsteps of boxer Joe Louis when she became the first black woman to play on the LPGA Tour in the U.S. in 1964. Louis was the first black man to play on the PGA Tour 12 years earlier. Gibson won 11 grand slam singles and doubles titles on the court, but her best finish as a golf pro was a tie for second at an LPGA event in Ohio in 1970.
Rick Rhoden was a top-level baseball pitcher for 15 years before turning to golf when he retired in 1989. He has had three top-10 finishes on the U.S. Champions Tour and is a leading money winner on the celebrity circuit. Another MLB star, Sammy Byrd, won six PGA Tour events between 1942-46 and is the only man to have played in both the World Series and the Masters.
Three-time Super Bowl winner Jerry Rice (pictured) played on the second-tier U.S. Nationwide Tour in 2010, but missed the cut in his only appearance. The most successful NFL player in golf is John Brodie, who competed in the U.S. Open in 1959 and 1981, and won one title on the Senior PGA Tour in 1991.
Former tennis star Andy Roddick played in February's Pebble Beach National Pro-Am. "In tennis, on my worst day I still knew what I was doing. Here, probably half the people in the stands could hit a ball better than I could," said Roddick, a six-handicapper.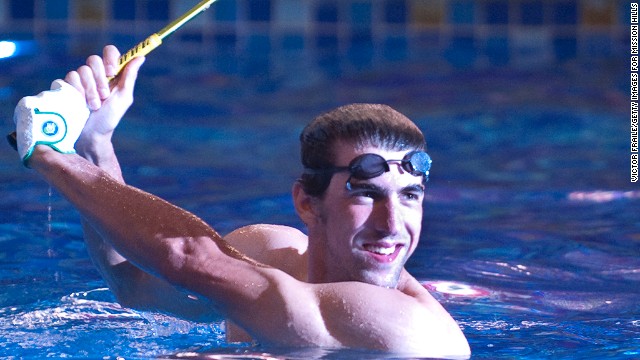 Michael Phelps' golfing ambitions
Rumors of a possible return for the "Baltimore Bullet" are sure to excite swimming fans, with Phelps himself refusing to rule out a comeback.
"Nothing is set in stone," Phelps told the Associated Press (AP). "If I decide to keep going and swim again, then I'll compete.
"If I don't, I guess I'll re-retire. Just don't compare me to Brett Favre," he added, referring to the famed NFL quarterback who made a string of comebacks.
Read: Phelps takes to the golf course
According to the AP article, Phelps is training with his former team at the North Baltimore Aquatic Club and has shed 15 pounds.
Coach Bob Bowman insisted that his return to the pool does not mean he will be lining up at the Rio Olympics in 2016.
"It's premature to say that," Bowman told USA Today. "What we're doing is kind of letting him have his options.
"He came back this fall and started to do some training with the group, mainly just to get in shape. He just felt like he was not fit. He wasn't.
"He's occasionally been training. He's picked it up a little more. We were just thinking about it, and I said, 'You know, you're getting in pretty good shape, maybe you want to swim in a meet?' He said, 'Well, maybe at some point.' "
If Phelps was to return to action in March, his first major international meet wouldn't be the Olympics but the 2015 World Championships in the Russian city of Kazan.
Phelps has claimed 33 World Championship medals dating back to 2001, including 26 golds.