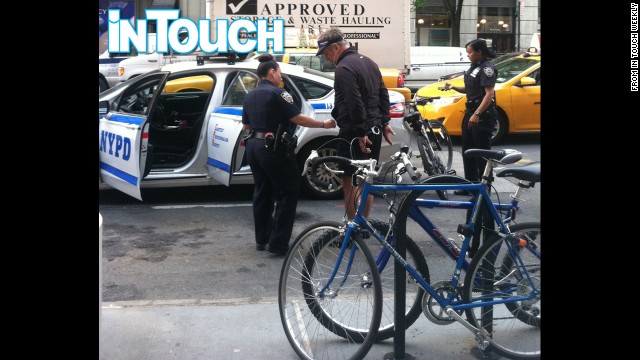 Alec Baldwin is taken into custody by New York police after allegedly riding his bike the wrong way on Fifth Avenue on Tuesday, May 13. It's not the first time the "30 Rock" star has found his personal matters aired in public.
Baldwin and his daughter model Ireland Baldwin appear to have a close relationship now. But in 2007, a voicemail was leaked of the actor yelling at the then-11-year-old and calling her a "rude, thoughtless little pig."
In 2011, the actor was booted from an American Airlines flight for refusing to turn off his cell phone after the doors had closed. He complained via Twitter that it was all about his playing the online game Words with Friends.
after clashing with Baldwin.
LaBeouf told late night host David Letterman that the two
"had tension as men."
In April 2013, the actor had a dust-up related to Shia LeBeouf, who was reportedly fired from a Broadway production of "Orphans"
once again took to Twitter
to slam a reporter who claimed that Baldwin's wife, Hilaria, was tweeting during the funeral of "The Sopranos" star James Gandolfini.
In June 2013, Baldwin
testified against Genevieve Sabourin
, who was accused of stalking the actor. She claimed the pair had a relationship.
In October 2013, Baldwin
Alec Baldwin's public battles
Alec Baldwin's public battles
Alec Baldwin's public battles
Alec Baldwin's public battles
Alec Baldwin's public battles
Alec Baldwin's public battles
Alec Baldwin's public battles
Alec Baldwin's public battles
STORY HIGHLIGHTS
Alec Baldwin yelled a slur at a photographer
GLAAD tweeted about it
Baldwin tweeted that he will "retire" the word from his vocabulary
(CNN) -- It's been a rough week for Alec Baldwin.
Not only did he give very emotional testimony against an accused stalker, but he also raised the ire of GLAAD after using an anti-gay slur he didn't realize was one.
According to TMZ, the "30 Rock" star chased after a photographer outside his Manhattan apartment on Thursday and called the man a "c**ksucking f*g."
"Get away from my wife and the baby with the camera," Baldwin can be heard yelling on video taken of the incident. "What f***ing language you want that in?"
On Friday Baldwin posted a statement on MSNBC's website saying, "I did not intend to hurt or offend anyone with my choice of words, but clearly I have -- and for that I am deeply sorry. Words are important. I understand that, and will choose mine with great care going forward."
The incident occurred hours after Canadian actress Genevieve Sabourin was found guilty of stalking and harassing Baldwin.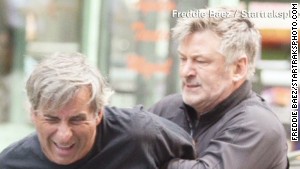 Alec Baldwin pins paparazzo against car
"What I said and did this week, as I was trying to protect my family, was offensive and unacceptable. Behavior like this undermines hard-fought rights that I vigorously support."
The statement came after MSNBC announced a two-week suspension for Baldwin's Friday evening show "Up Late With Alec Baldwin."
"I understand 'Up Late' will be taken off the schedule for tonight and next week. I want to apologize to my loyal fans and to my colleagues at MSNBC -- both for my actions and for distracting from their good work. Again, please accept my apology," wrote Baldwin.
Following reports of the incident, the activist organization GLAAD expressed its disappointment on Twitter.
"Mr. Baldwin can't lend his support for equality on paper, while degrading gay people in practice," GLADD tweeted.
The organization later added via Twitter, "It's clearly time Mr. Baldwin listens to the calls from so many LGBT people and allies to end this pattern of anti-gay slurs."
Baldwin responded with his own series of tweets.
"Anti-gay slurs are wrong," he said. "They not only offend, but threaten hard fought tolerance of LGBT rights. I'm grateful to all of the ppl I meet + hear from who recognize that I would never say something to offend my friends in the gay community."
He also said "1-Rich Ferraro from @glaad informs me that c'sucker is an anti-gay epithet. In which case I apologize and will retire it from my vocabulary."
On Friday TMZ featured video of Baldwin asking his male hairdresser if he thought he was a homophobe, to which the stylist jokingly responded, "Yes. Big time."
This is not the first time Baldwin has had a run-in with paparazzi. In August, Baldwin was photographed holding a paparazzi's arms behind his back and pinning him over the hood of a parked car. Both Baldwin and the photographer called 911 but no charges were filed.
In 2012, a New York Daily News photographer accused Baldwin of assault. Baldwin said the photographer bumped him with his camera.