STORY HIGHLIGHTS
A sinkhole pops up in the early morning hours in Dunedin, Florida
A resident says he noticed his screened-in porch had fallen into the hole
The sinkhole was at least 70 feet wide, 50 feet deep and growing
It should be filled in soon, though some may not return to their homes
Dunedin, Florida (CNN) -- Michael Dupre, his wife and his daughter made it out of their Dunedin, Florida, house after noticing its screened-in room plunging into a pit in the ground.
His wedding ring did not.
As the family stood outside early Thursday, a firefighter buckled herself up, smashed a window, then snatched the ring from a desk in Dupre's office.
"And a few minutes later, the whole thing collapsed back down there," he said.
Sinkholes like this one in Dunedin, a city of about 35,000 people just north of Clearwater, are hardly rarities in Florida. Hundreds pop up in the Sunshine State each year, like the one in August that gobbled a condo building in the town of Clermont.
Dupre not only knew of the dangers, but he also was doing something about them. After spotting "a few little hairline cracks," he contacted his insurance company and, after a lot of back-and-forth about what to do, had workers come to his western Florida house over the last few days to start stabilizing the ground.
Sinkholes: Common, costly and sometimes deadly
"We were actually planning ..., when the whole repair was done, to put a pool in the backyard," he said, noting he'd already gotten estimates. "That (hope) is over.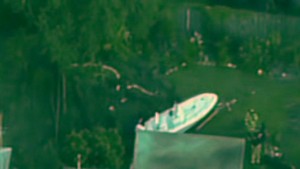 2 homes in Florida sinkhole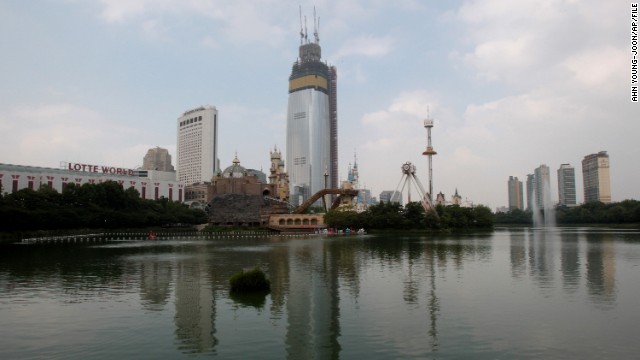 An increasing number of sinkholes have appeared in and around the neighborhood where the Lotte World Tower is being built in Seoul, South Korea. The first one was discovered in June and several others have appeared since then, according to local media reports, causing the construction of what would be Seoul's tallest building to come under scrutiny.
Eight Corvettes fell into a sinkhole that opened up beneath a section of the National Corvette Museum in Bowling Green, Kentucky, on February 12. The sinkhole was about 40 feet wide and 25-30 feet deep.
The rear portion of a residential home is consumed by a sinkhole November 14 in Dunedin, Florida.
A 60-foot-wide sinkhole formed underneath the Summer Bay Resort in Clermont, Florida, about 10 minutes from Walt Disney World, on August 11. One resort building collapsed, and another slowly sank.
A backhoe is swallowed by a sinkhole in Montreal, Quebec, Canada, on August 6. The driver of the backhoe was not injured.
A sinkhole killed a guard at a construction site in Shenzhen, China, on March 27. The sinkhole might have been caused by heavy rains and the collapsing of old water pipes running beneath the surface, the Shenzhen Special Zone Daily reported.
Workers watch the demolition of the house where a sinkhole opened three days before in Seffner, Florida, on March 3. Sinkholes caused by acidic groundwater corroding the limestone or carbonate rock underground are common in Florida, according to the Florida Department of Environmental Protection.
Buildings fell into a sinkhole near a subway construction site in Guangzhou, China, in January 2013. The hole measured about 1,000 square feet across and 30 feet deep and was without casualties, according to a state media report.
A basketball court in Ortley Beach, New Jersey, fell into a sinkhole caused by Superstorm Sandy in November 2012.
In July 2011, a man inspects a 40-foot-deep sinkhole that a family found after they heard a booming noise in their kitchen in Guatemala City, Guatemala.
Construction on a subway line caused a huge sinkhole to form in a road in Beijing in April 2011.
An aerial photo shows sinkholes created by the drying of the Dead Sea near Israel in 2011.
A utility worker examines the area around a sinkhole caused by a broken water main in Chevy Chase, Maryland, in December 2010.
Tropical Storm Agatha caused a sinkhole to open in Guatemala City in May 2010.
A fire truck protrudes from a sinkhole as Los Angeles Mayor Antonio Villaraigosa talks to reporters in September 2009.
A water main collapsed an entire block-long part of Ocean Park Boulevard in Santa Monica, California, in December 2002.
In Orlando, a sinkhole 150 feet wide and 60 feet deep swallowed trees, pipelines and a section of sidewalk near an apartment building in June 2002.
A 30-foot-deep sinkhole appeared in a busy street in a suburb east of downtown Los Angeles. A motorist drove into the hole but was rescued before a concrete slab fell onto the car.
"The Great Blue Hole" is the name of a massive underwater sinkhole off the coast of Belize. The deeper you go, the clearer the water becomes, revealing amazing stalactites and limestone.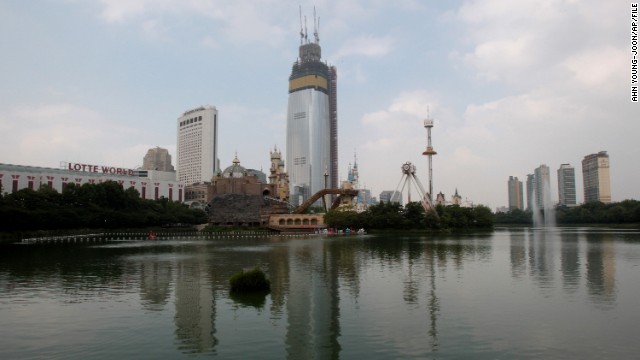 Photos: When the ground gives way
"We thought it was going to get fixed. And unfortunately, it's not."
All those plans changed after his daughter came into his bedroom before dawn Thursday, saying, "Daddy, somebody is trying to get our house!"
Dupre said he first dismissed the thought, thinking it was the wind, but then he heard a loud crack.
"I said, 'There's something wrong.'"
After seeing what had happened to their screened-in room, Dupre told the rest of his family to grab some clothes and get out of the house, then called 911.
They haven't been back inside, with Dupre saying he expects only firefighters -- like the one who rescued his wedding ring -- will go in, if it's even safe enough for them.
As of Thursday afternoon, the sinkhole that enveloped Dupre's home and badly damaged another was 70 to 75 feet wide, 50 feet deep and growing, according to Dunedin Fire Chief Jeff Parks. Seven homes in total were evacuated.
But the hole shouldn't be like that for long.
"The plan now (is) to fill the hole tomorrow," Parks said, "before some rain is expected this weekend (that may) make it a lot worse."
The Dupres won't be able to go back into their home at that point, however. They will be staying at a Holiday Inn Express that graciously put them up for two nights, then asking friends to let them stay over until they figure out what to do next.
"It's all new for us," Dupre said. "... We're trying to do our best."
Opinion: Florida, fix sinkhole policy
CNN's Greg Botelho and AnneClarie Stapleton contributed to this report.