Former male model Andrej Pejic
revealed to People magazine
in July 2014 that she has undergone sex reassignment surgery and is now Andreja. She is one of a few high-profile transgender people.
"TRANSform Me."
She now portrays Sophia, a trans woman in prison, on the Netflix show "Orange Is the New Black." She received the Emmy nomination for that role.
Laverne Cox is the first openly transgender person to be nominated for an Emmy. She appeared on the VH1 reality show "I Want to Work for Diddy" and later produced her own series,
Former "Drag Race" contestant Carmen Carrera wants to be the first transgender model to walk the runway for the Victoria's Secret fashion show.
Alexis Arquette is not only a member of a famous acting family, but also a transgender woman who has appeared in several films, including "Down and Out in Beverly Hills."
Lana Wachowski was "Laurence" when she and her brother Andy directed films like "The Matrix."
Chaz Bono transitioned from Chastity Bono, which is how many fans knew him when he appeared on his parents variety series, "The Sonny & Cher Show."
Isis King was a contestant on the 11th and 17th cycles of "America's Next Top Model."
posed nude
with male supermodel Tyson Beckford. The French model said she became a woman at age 16 because "I just woke up one day realizing that it's enough, I need to embrace who I am and be loved for what I am and what I have been through, without the fear of being rejected."
Ines Rau recently
Lea T is a Brazilian/Italian who has served as a muse for the designer Givenchy. She
Transgender celebrities
Transgender celebrities
Transgender celebrities
Transgender celebrities
Transgender celebrities
Transgender celebrities
Transgender celebrities
Transgender celebrities
Transgender celebrities
Transgender celebrities
STORY HIGHLIGHTS
Fans are petitioning Carmen Carrera to be Victoria's Secret's first transgender Angel
Carrera wants trans women to have "respectful representation"
Executive producer of "RuPaul's Drag Race:" It's Carmen Carrera's chance to break the "beauty barrier"
Victoria's Secret has no comment
(CNN) -- Victoria's Secret is synonymous with sultry femininity, and if Carmen Carrera had her way, that would include transgendered women as well.
Fans have petitioned for the transgender burlesque performer and model to join the ranks of Heidi Klum, Gisele Bundchen and Miranda Kerr as Victoria's Secret's newest Angel. The Change.org petition, which calls Carrera "a force to be reckoned with," says such a move by Victoria's Secret would "show the entire community that they embrace trans patrons." The petition has received more than 36,000 signatures, but Carrera told CNN en Español that she has yet to hear from the lingerie company.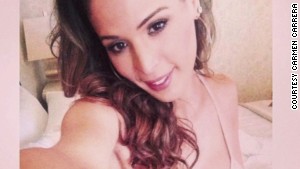 Transgender Victoria's Secret Angel?
"Trans women are a part of the female population and I think that they deserve a respectful representation," Carrera said. "It would be pretty amazing for Victoria's Secret to be that huge corporation that embraces trans women. We shop there as well. I can only hope and dream, but I think it's time. And, I meet most of the requirements and have credibility as a model. They should do it."
Victoria's Secret declined to comment.
Before Carrera became "Carmen," she was Christopher Roman from New Jersey. She first garnered fame on Season Three of "RuPaul's Drag Race" on the LOGO network. She began her transition to a woman after the show wrapped, and has since been signed by Elite Model Management, appeared on "What Would You Do?" and in W magazine, and worked with famed photographer Steven Meisel on a film.
For five seasons "RuPaul's Drag Race" has demystified drag queens and redefined a standard of beauty. "RuPaul's Drag Race" executive producer Tom Campbell told CNN, "The first face of MAC VIVA GLAM was RuPaul, (who) was a pioneer for drag performers. Now it's Carmen Carrera's chance to break the 'beauty barrier' for trans people."
While the LGBT community has made some strides around the nation, Carrera said she still comes across many people who simply don't understand the transgender community. "For a long time trans people have always been a joke. Our reputation has always been the bottom of the barrel and it's not fair," she said.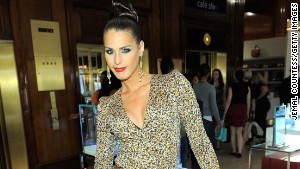 Carmen Carrera attends Fashion's Night Out at SAKS Fifth Avenue on September 8, 2011 in New York City.
Carrera confessed that her transition to a woman was both a physical and emotional uphill battle.
"I run into a lot of ignorance and stupidity," Carrera said. "It gets really frustrating, but you have to take yourself out of it and realize what's happening in the bigger picture. A lot of people are still uncomfortable with this idea, I don't know why. I think most of the country and the world haven't gotten to know trans people. If you don't know me, get to know me. I'm open, honest and genuine."
"It's difficult for people (who) don't know trans men and women to wrap their head around the whole thing," Campbell said. "That's why it's so important that more trans people have a chance to tell their stories and, as is the case with Carmen, to give a face ... to the trans movement."
Model and designer Isis King was the first trans woman to compete on "America's Next Top Model," and said that while the petitioners' hearts might be in the right place, the petition itself might not be the best approach.
"I don't want any special treatment because I'm trans unless there's a particular role made for it. I want my legacy to be that I was hard-working and good at what I did," King said, "Should Victoria's Secret have a trans model? Sure, why not. But should they be pressured into hiring one? No, I don't think it's fair."
King isn't offended that the lingerie company doesn't have a trans model. She knows firsthand how difficult it is for any woman to land a spot in the elite group of Victoria's Secret models.
"If trans people are going to make any strides in society it shouldn't be forced, but if anyone can make it as a Victoria's Secret model it's Carmen. She's beautiful and just did a runway show with Marco Marco and was amazing," King said.
While Carrera didn't join the Angels for the Victoria's Secret runway show in New York on November 13, she said she has the love and support from those that matter most: her family, friends and fans.
"I have an education, stepdaughter and go to PTA meetings. I live my life as a woman does in this country," Carrera said, "That's what people need to know."
If Carrera ever does become an Angel, Campbell said she would bring RuPaul's trademark charisma, uniqueness, nerve and talent to Victoria's Secret, and thinks she's on the right path.
But, if he had to give any advice he would say, "To quote RuPaul: I have one thing to say. You better work!"
Do you think Victoria's Secret should hire Carmen Carrera? Share your thoughts in the comments.