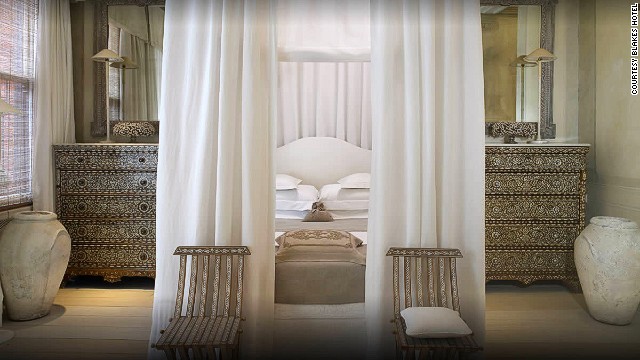 The Corfu Suite at the
Blakes Hotel
in London won the judges' vote for the sexiest hotel room for its white drapes, mother-of-pearl accents and a four-poster bed "you can't leave." Do you agree with the judges?
Ca Maria Adele
hotel in Venice, described by judge and burlesque dancer Immodesty Blaize as a "fantasy cocoon," was one of the runners-up in the world's sexiest bedroom category.
Alila Villas Uluwatu in Bali hangs over a cliff-edge, looking out over the Indian Ocean.
Made of bamboo and reclaimed wood, the
Ace Hotel bar was the winner in the Best Hotel Bar category.
This one was a no-brainer. A New York favorite, the ever-crammed, quirky
La Bastide de Moustiers, located inside an inn in Provence, France, has been awarded more Michelin stars than any other chef in the world, and serves up "show-stopping" food, according to the judges in the Best Hotel Restaurant category. The restaurant "is a love poem to the surrounding area, a gastronome's daydream that showcases the finest local produce in a daily changing menu of delectably inventive dishes."
The owner of
Como Shambhala Estate offers the most luxurious of therapies in a tropical, holistic setting.
Located in Ubud, Bali, "the world capital of wellness retreats," the
Sextantio Albergo Diffuso took the top spot for its minimalist, medieval rooms with working fireplaces and village craftwork.
The criteria for the Eco Award included "low environmental impact without sacrificing on comfort and quality," "pioneering use of new technology" and the use of renewable energy resources and products. The 27-room
Soneva Kiri in Koh Kood, Thailand, was designed by Dutch eco-architect Olv Bruin, who asked children to design their dream play area and made that come to life.
The kids' club at the
Brody House in Budapest, Hungary, manages to provide cheap accommodations (starting at £50 ($80) per night) in a cool, boho chic setting.
Budget and boutique don't necessarily go hand in hand, but the
The Dunton Hot Springs resort is a "year-round alfresco spa haven" thanks to its hot springs, and took the top spot for best outdoor setting.
The Rockies, a Colorado mining town, a mountain hideaway with log cabins and incredible views,
The Upper House gets rid of all the little annoying things about staying in a hotel, and blows their guests away by going "above and beyond all expectations," hence the win in this category.
Hong Kong's
The Fogo Island Inn is a boutique eco hotel set against an ocean backdrop, and considered the best new hotel by Mr and Mrs Smith users and judges.
Modern architecture in a Canadian island fishing village.
Post Ranch Inn at Big Sur is "quite simply, one of the world's very best places to say," according to the judges in this category, which included a Sunday Times editor and an award-winning photographer. Their reasons: California cliff-top setting, fireside massages, hot tubs, views of tall redwoods and the Pacific ocean.
The
Sexiest Bedroom in the World
Sexiest Bedroom -- Runner-up
Best-Dressed Hotel (interior styling)
Best Hotel Bar
Best Hotel Restaurant
Best Spa Hotel
The Eco Award
Best for Families
Best Budget Boutique Hotel
The Greatest Outdoors
Above and Beyond
Best Newcomer
Best Smith Hotel 2013