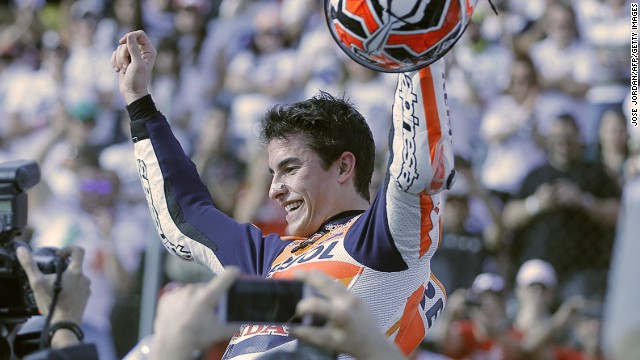 Marc Marquez is hoisted aloft after claiming the MotoGP title, finishing four points ahead of defending champion Jorge Lorenzo.
The 20-year-old Spaniard is the youngest rider to win motorcycling's top division, and the first rookie since American Kenny Roberts did it in 1978.
He finished third in the final race at Valencia, where Lorenzo did all he could to win a third world title by claiming his third successive race victory.
Only four riders won races in the 18 stops on the calendar this year -- Lorenzo (eight), Marquez (six), Dani Pedrosa (three) and Valentino Rossi (one).
Marquez finished on the podium 16 times, with one disqualification in Australia in October that kept the title race alive and a DNF after crashing at June's Italian Grand Prix.
As well as ending the reign of Yamaha rider Lorenzo, Marquez also overshadowed his Honda Repsol teamate Pedrosa -- who is still waiting for his first title after eight seasons in MotoGP.
Seven-time world champion Rossi was a distant fourth in the standings in his return to Yamaha after two seasons with Ducati.
The popularity of Marquez is forcing Lorenzo to soften his often spiky persona, says Monster Yamaha Tech 3 team boss Herve Poncharal.
Marquez has taken advantage of new tire technology to adopt an elbows-to-the-ground style that other riders have begun to follow, says former Superbikes champion James Toseland.
Spain's new motorcycling king
Spain's new motorcycling king
Spain's new motorcycling king
Spain's new motorcycling king
Spain's new motorcycling king
Spain's new motorcycling king
Spain's new motorcycling king
Spain's new motorcycling king
Spain's new motorcycling king
STORY HIGHLIGHTS
Marc Marquez has impressed with his demeanor as well as his success on the track
Spaniard is the youngest rider to win motorcycling's top title, and first rookie since 1978
Head of MotoGP says Marquez has beaten "really great, great riders" in his debut season
Principal of a rival team says Marquez "brings so much energy, such a fresh way of behaving"
(CNN) -- While Spain wallows in the doldrums of economic despondency and political turmoil, with youth unemployment at eye-watering levels and Catalan separatists threatening to tear away at the country's seams, there is one place where its stock has never been higher.
On the motorcycling track, 2013's calendar is a parade of Iberian supremacy, with Spaniards dominating every race class to the almost complete exclusion of other nations.
At the forefront of this is MotoGP's newly-crowned champion: a 20-year-old whose debut season in the elite division has delighted even the most jaded observers of this most daring of motorsports.
Marc Marquez has exploded onto the scene like a grinning Catherine wheel, redefining the expectations of rookie riders and cocking a gleeful snook at the establishment, leaving dazed rivals scratching their heads in disbelief.
Read: Motorcycling's Spanish civil war
2013 championship standings

MotoGP - 1,000 cc engines

1. Marc Marquez (Spa)

2. Jorge Lorenzo (Spa)

3. Dani Pedrosa (Spa)



Moto2 - 600 cc

1. Pol Espargaro (Spa)

2. Scott Redding (GB)

3. Esteve Rabat (Spa)



Moto3 - 250 cc

1. Maverick Vinales (Spa)

2. Alex Rins (Spa)

3. Luis Salom (Spa)
After a bizarre disqualification at the Australian Grand Prix threatened his commanding lead in the championship, Marquez kept his head with two remarkably mature displays of disciplined riding -- first in Japan and then during a frenzied final race at Spain's Valencia circuit, to take a richly deserved title.
As the youngest champion in the history of top-level motorcycling, known by his Catalan fans as "the Thunder from Cervera," he has a vividly bright future.
Someone who knows all about the challenges of being a MotoGP rookie is James Toseland, who spent two tough seasons riding for the satellite Yamaha Team after making the step up from Superbikes, where he was a double world champion.
Now touring with his rock band and preparing for an attempt at the world two-wheeled land speed record, Toseland is a big admirer of Marquez and believes his youth is actually an advantage.
"It just happens as a 20-year-old," said Toseland, who returned to Superbikes before a wrist injury ended his racing career in 2011.
"All you're seeing is a young kid; he doesn't understand the mechanics of the bike so well yet, or the people he's racing against -- all he's doing is putting his helmet on, putting his leathers on, cocking his leg over that bike and absolutely wringing its neck, with the confidence of what he's achieved previously in Moto2 and the old 125 cc class."
'Nobody can do something like that'
Herve Poncharal, principal of the Monster Yamaha Tech 3 team and leader of the IRTA group that represents MotoGP's teams, told CNN that Marquez served early notice of his special talent.
"I remember one of his last races in the old 125 class, in Portugal," he said. "The race was shortened to something like five or seven laps. He crashed on the warmup and he had to start from the pit lane because he pitted to have his bike fixed, so he started dead last, and quite a lot after the last row, but he won that race.
"He won the championship that year, and from that moment we thought, 'Nobody can do something like that.' "
Carmelo Ezpeleta, CEO of Dorna -- the organization that runs MotoGP -- was struck by the way Marquez immediately looked at home in the top class.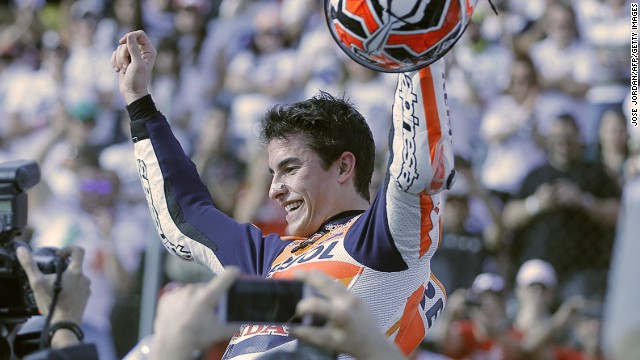 Marc Marquez is hoisted aloft after claiming the MotoGP title. The 20-year-old Spaniard is the youngest rider ever to win the world championship.
Marquez (right) made an immediate impression in MotoGP, finishing third in the opening race of the season. Jorge Lorenzo (center) won the race with Valentino Rossi finishing second.
Marquez stormed to victory in only the second race of season at GP Circuit of the Americas. At 20 years and 63 days old, Marquez became the youngest winner of a MotoGP race beating U.S. rider Freddie Spencer's record (20 years, 196 days).
Marquez has claimed nine pole positions, six wins and been on the podium in every race he has finished this season.
Marquez had won the previous four races before the British GP in September and was almost out of sight in the world championship standings. But reigning world champion Jorge Lorenzo reignited his title challenge with a stunning win over his young compatriot at Silverstone.
Race marshalls show Marquez the black flag at the Australian GP in October. The Honda rider was disqualified for exceeding the maximum number of laps allowed before a driver must complete a pit stop. Lorenzo took the checkered flag to keep his title chances alive.
Jorge Lorenzo secures a seventh win of the season in the penultimate race of the season at the Motegi Circuit in Japan.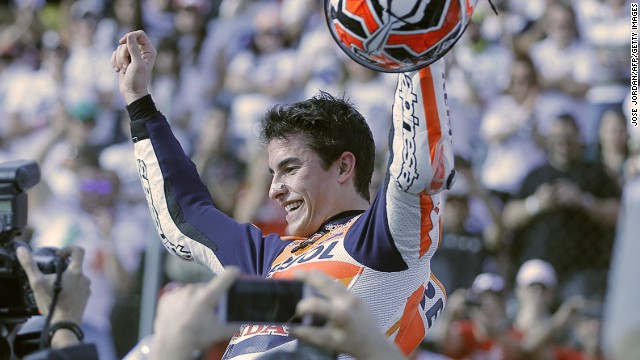 Marquez wins MotoGP title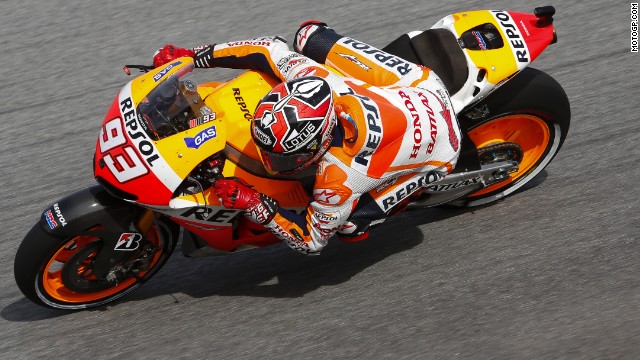 Marc Marquez is the Spanish rookie who is enjoying a dream first season at MotoGP level. The Honda rider leads the world championship heading into the final race of the year at Valencia, where he is bidding to become the first rookie to win the title since Kenny Roberts in 1978.
Hot on Marquez's heels is his compatriot Jorge Lorenzo, a two-time world champion who is 13 points behind Marquez in second place overall.
Marquez held a commanding 43-point lead over Lorenzo heading into the Australian Grand Prix, the 16th race of 18. However, he was disqualified after breaking an emergency rule requiring a mandatory bike change -- which was introduced due to tire safety concerns at the resurfaced Phillip Island circuit. Lorenzo took the checkered flag to blow the title race wide open.
Lorenzo continued his winning run at the Japanese Grand Prix on October 27, meaning his title defense would go down to the wire.
The last time the MotoGP title race went down to the last grand prix was in 2006, when Nicky Hayden trailed Valentino Rossi by eight points. The American was given a boost when the Italian crashed on lap five in Valencia, leaving Hayden to come home in third place and clinch the championship.
Marquez and Lorenzo have developed a fierce rivalry, while the young pretender has also been making enemies within the Honda camp. Teammate Dani Pedrosa, pictured, was on the receiving end of Marquez's aggressive style at the Aragon Grand Prix when the pair came together while battling for second place. Marquez was deducted one point and warned about his driving style.
James Toseland is a double Superbike world champion who switched to MotoGP in 2008 and is now focusing on a music career. "I've been amazed at how he pushes the bike to the limit consistently," Toseland told CNN when asked about Marquez.
Herve Poncharal is the owner of the Monster Yamaha Tech 3 team and a big admirer of both title contenders. "It's going to be incredibly tense -- 13 points is good to have, but it's not a lot," he told CNN.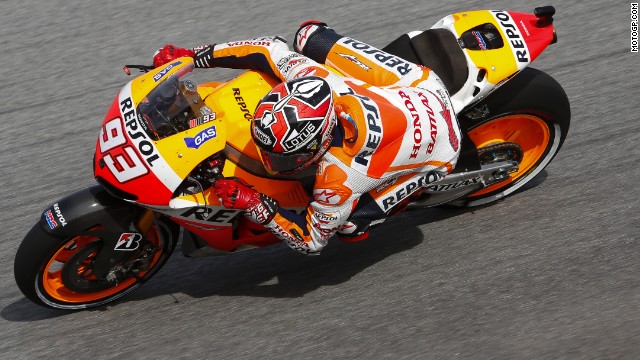 Marc Marquez's bid for MotoGP glory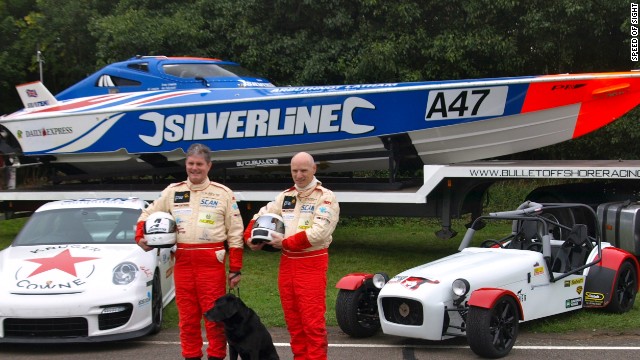 Mike Newman broke the blind land speed record by driving at an average speed of 186mph in September 2013. On November 1 he will try to break the blind water record in a powerboat off the English coast.
Newman, 52, was born with glaucoma and lost his sight at the age of eight. Newman drove a Porsche GT2 to break the record of Turkish pop star Metin Senturk, who managed speeds of 182 mph driving a Ferarri F430 in 2010.
Newman was directed around the track at Bruntingthorpe Proving Ground, Leicestershire, England, via radio link by his stepfather Michael who is a driving instructor.
Newman's dog Baxter will be on hand once again as his owner goes in search of that elusive third and final record.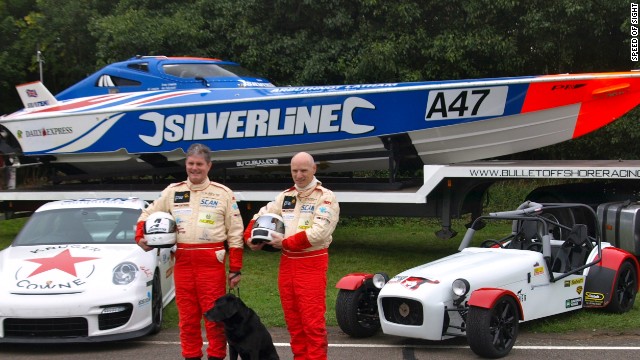 Speed of Sight
"His personality is really important," Ezpeleta told CNN. "He's somebody who arrived to the championship as a hero, kind of saying, 'I'm here, I want to be here.'
"Immediately when he arrived in the top class he started coming to the MotoGP executive commission with the other riders, and immediately he wanted to hear and give his opinions; he's a great talent but also a great personality."
Fresh attitude
This vibrant personality is one of the key reasons many see Marquez as the natural successor to Italy's charismatic seven-time world champion Valentino Rossi.
The Spaniard's smiling demeanor has not only won him fans off the track, it also appears to have helped guide him through the stresses of the MotoGP season.
"He brings so much energy, such a fresh way of behaving, a fresh mind, enthusiasm," Poncharal told CNN.
"In Australia (after Marquez was controversially disqualified) Jorge Lorenzo, Dani Pedrosa or Valentino Rossi would have left the track and been very long faced. Marc was on a crate, while everyone was packing, eating some crisps, and laughing with his crew.
"He's always in the paddock. Although the other guys are walking to and from their motorhome and the box, in between the two they have their sunglasses and their headphones on and are not talking to anybody. Marc is always there, anything that is happening in the paddock he's there.
"The attitude of this guy is a big bonus for our championship and it's so good to see a top guy who is still going out and playing with the Moto3 guys, and being available for anyone."
The almost universal affection for Marquez has also given last season's champion Lorenzo -- who missed out by four points this time despite winning Sunday's final race -- pause for thought.
"Mother nature didn't gift Lorenzo the way she gifted Marquez," Poncharal said. "On the riding he can compete with Marquez and he's showing that every weekend, but Marc is so much more appreciated by everyone because of his nature, and Marc instantly makes you feel at home with him; he inspires sympathy, and not everybody has got that.
I think Marc is ready, if nothing bad happens to him, to write another big chapter of MotoGP history
Herve Poncharal
"And I think Jorge is trying very hard to change his image, which is not as likeable as Marc's, but this is something that is not easy to change."
Personality with great talent
Ezpeleta recognizes the importance of Marquez's personality, but says it is important not to overlook his talent.
"The most important thing is to be a very good rider," he said. "Rossi, (Casey) Stoner, Lorenzo, Pedrosa and other riders have put the championship at an incredible level, and I think one of the assets of Marc is that he has been beating people like Lorenzo and Pedrosa, who are really great, great riders.
"Of course the personality is important, but just the personality is not enough -- it needs to be the personality together with a great, great rider."
Toseland believes the crew in Marquez's Repsol Honda garage deserve credit for their approach to blooding the young star.
"They've employed a young kid and nurtured him," he said. "They will have put the settings on the bike to where they will see the data and the electronics -- on how he's opening the throttle up and how he's riding -- and they will have given him a bit of a safety net at first, because there's a massive power difference between Moto2 and MotoGP.
"Then they would have gradually opened up the power, decreased the traction control, the anti-wheelie control, all the settings you can change on a bike, to build his confidence."
Marquez was allowed to go straight into a factory MotoGP team -- Repsol Honda -- at an age that was previously prohibited by the sport's so-called "rookie rule." It was scrapped last year, having been introduced in 2010 to spread riding talent around the satellite teams.
Toseland believes this has been significant, and that other stars have also helpfully aligned to smooth Marquez's path to success.
"To join one of the best teams, with what looks like the best bike this year -- and with Lorenzo and Pedrosa both injuring themselves and missing a race early in the year -- for him to then get the confidence of actually learning how to win, and getting a couple of wins under his belt, all those factors put into the pot have just made him so confident in what he's doing," he said.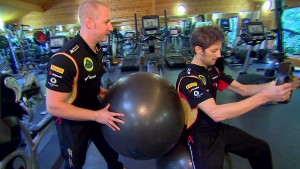 A crash course in F1 fitness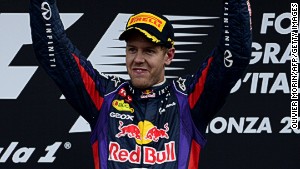 What's behind Vettel's winning streak?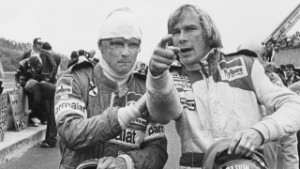 Niki Lauda on F1's most dangerous years
"You can see when he's on track that he's not fazed by anything or anyone, from the confidence he's got from having that little bit of breathing space earlier in the year."
The next big chapter?
Poncharal believes that Marquez would have achieved success even without a factory bike.
"At the moment he has the lot, he's on what feels like the best bike, which is for sure a bonus, although Lorenzo is showing us that the Yamaha is not so bad," he said.
"But, and this is just my opinion, I'm not so sure that (on a satellite Honda) he would have done a lot less."
As well as winning friends with his smiling demeanor and openness off the track, Marquez has also caught the eye with his audacious riding style, which sees his elbow as well as his knee pressing down on the track through corners.
This enables him to better gauge what both the front and the rear of the bike are doing, providing a "fourth wheel" to help him get around faster. Other riders have begun to mimic this spectacular and effective technique.
Toseland is among many startled by this evolution, and puts it partly down to advances in racing tires.
"I used to get my elbow down with qualifying tires, and that's what it's all about really -- it's the tire technology, Bridgestone have obviously developed a tire with the edge grip now that enables the bike to lean over that far, and also enable you to lean off the bike that much with the confidence that the grip is there," he said.
"It's not just Marquez now, you see others like Stefan Bradl and Jorge Lorenzo with their elbows down. It's not so much that they've changed their style, it's the tire is allowing the bike to lean over that far."
They might be able to follow him, but can anyone can catch Marquez next year?
"It's always difficult to say, 'He's going to be the greatest of all time,' " Poncharal said.
"But clearly if you remember the last 40 years you have Kenny Roberts, then you have the Mick Doohan era, you have the Valentino Rossi era, and I think Marc is ready, if nothing bad happens to him, to write another big chapter of MotoGP history."