STORY HIGHLIGHTS
Three days after Typhoon Haiyan, families fear for silent loved ones
Around 30 members of Daisy Nemeth's extended family are missing
Family's trying to hire someone to go to Tacloban to find them
Her 68-year-old uncle is missing, with children, wife, grandchildren, cousins
Hong Kong (CNN) -- Their faces stare from old photos, their voices silent since Super Typhoon Haiyan swept through Tacloban in the Philippines on Friday.
At first Daisy Nemeth wasn't worried. Her family was close, they kept in touch. Soon, no doubt, she'd hear from her home in Hong Kong that all were safe.
But three days later, that call hasn't come.
Around 30 family members are missing.
"It's my uncle, my mom's brother is missing. All his children, his wife, everyone. My cousin is missing with her six children, they range in age from 9 to 19. Then I have many, many other missing cousins. But these are the ones we're the closest with -- and they're nowhere to be found," Nemeth said.
READ MORE: Survivors face grim struggle
She'd be there in a heartbeat to look for them herself, she said, but at six months' pregnant and a mother to twin toddlers, there's no way she can go, even if she could find a way in.
Instead, her family, some of whom are based in Denmark, has been trying to hire someone to go to Tacloban to search for them, but no one seems to want to go.
"If no one can or is even willing to do it, I can't even begin to imagine the situation there," she said.
"In the Philippines you can buy anything and anyone. I hate to say it but that's the truth. So if we can't even pay someone to go in and look for them..." Nemeth said, her voice trailing off.
READ MORE: 'We just can't keep going'
Nemeth's uncle, Rogelio Tan, is 68 years old and suffers from a severe learning disability. She's concerned for his safety if he's left to fend for himself.
She says her uncle doesn't always make the most sensible decisions, and fears what could happen "if he doesn't have his children with him to make good decisions for him.
"I don't know if they are hurt, if they can get help. It is really an awful situation to be in -- looking in and not being able to do anything. It's not that we don't have the funds to get them out, we don't have the people to get them out.
"It is extremely frustrating. I would be devastated if anything has happened to them but I would be even more devastated if something happened to them in the aftermath. The thought of it kills me."
Social help
For the past couple of days, Nemeth has been checking Facebook, where lists have been posted of survivors found in medical centers, and others are posting photos of lost family members in the hope that someone's seen them.
In a follow-up call with CNN, she revealed someone claiming to be the wife of her cousin, and the mother of three children, contacted her saying they were planning to make their way to Tacloban -- though Nemeth wants to check they are who they say they are. "I will obviously fund them if they are. We don't know anything yet."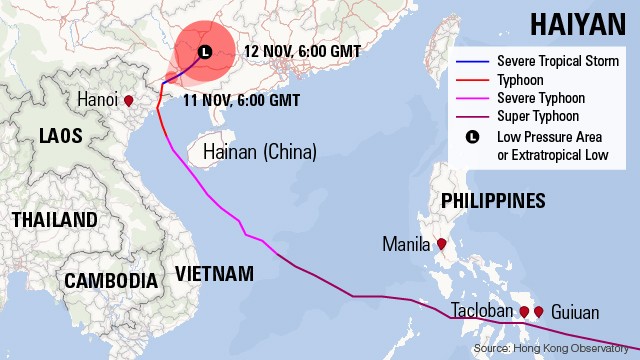 Haiyan's track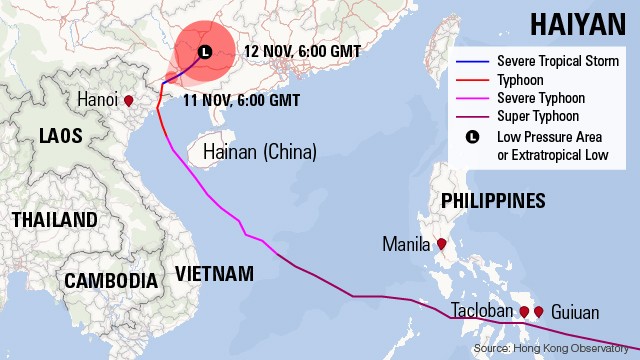 Haiyan's track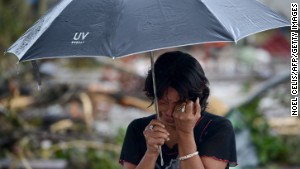 Survivors tell stories of terrible loss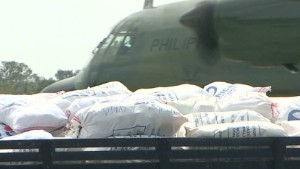 Typhoon aftermath on Cebu island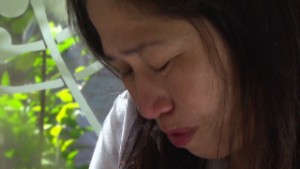 Filipino expats desperate for news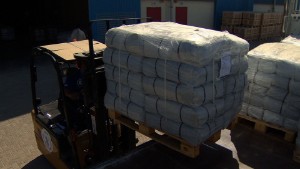 UN: Logistics are biggest challenge
Unfortunately since her story was published on CNN, she's been inundated with messages from the wrong kind of people.
"I've heard from a lot of crazy people, a lot of people pretending to be family, wanting money. It is what it is -- I don't have it in me to deal with it. It drains you of what little energy you have."
One of the largest Facebook pages devoted to finding loved ones is "Tacloban (and nearby Waray Towns) Yolanda Update," where more than 17,000 users are swapping messages in a mixture of English and the local language, Tagalog.
Among the pleas for help are stories of survival.
"THANK YOU LORD JESUS CHRIST... just got a call from our mother and they are all complete and safe... they survived by drinking only water in our deep wheel without foods in 4 days... they walked 6 hours to reach the Tacloban City Hall just to be able to contact us.. they are now going to the airport to take the C130 to Cebu with my relatives," writes William Sherwin Ay-Ay.
Nemeth is hoping for a similar tale of survival but so far has seen nothing that has offered anything beyond graver fears that her family has disappeared without a trace.
"I've seen all the pictures and I'm scouring the pictures but I can't even recognize the neighborhoods," she said. "According to some Facebook groups, the area my uncle was in, it isn't even there any more."
But he says she has managed to get in touch with a former United Nations worker, who has offered to physically check possible addresses in Tacloban.
Hong Kong's Filipino community pulls together
Other Hong Kong residents, like Catherine Marsden, a Filipino drama teacher, have the same heartbreaking thoughts.
She attended a disaster response meeting at the office of the Consulate General of the Philippines in Hong Kong on Monday night. Speaking with unconcealed emotion she urged those present to not forget the other, so far, unreported areas affected by the typhoon.
"I'm planning to get help, from the immediate needs like baby formula and rice, to the rehabilitation efforts," said Marsden who has a house in Coron, a popular diving and holiday destination in northern Palawan.
Marsden has only been able to contact one friend who works at the Club Paradise beach resort who said that the surrounding local houses in the remote area were just not there anymore.
"I need to go and help these people, I'll go there myself if needs be," she said.
READ MORE: Your stories of survival
It's like nothing we've really seen before. It's too soon to say how many in the city have relatives or friends that have been affected by the disaster.
Rosanna Villamor-Voogel, Philippines Consulate, Hong Kong
If the meeting illustrated the size of the task ahead, it also showed also the huge desire to help among Hong Kong's 180,000 Filipino population.
In the 17 months deputy consul general Rosanna Villamor-Voogel has been in the job, it was the fullest meeting of its kind.
"It really reflects the gravity of the disaster, it's like nothing we've really seen before," she said. "It's too soon to say how many in the city have relatives or friends that have been affected by the disaster."
WATCH: 'We will overcome,' says government
The advice conveyed by the consulate was for those with missing loved ones to email them their details: their names, mobiles numbers and last known locations. (Visit the Facebook page of the Consulate General of the Philippines in Hong Kong).
"From there we can consolidate by each area and give a list of the missing to agencies," said Villamor-Voogel.
Two telecoms companies from the Philippines have established call centers where those in the city worried about loved ones can call the country free-of-charge. "Although it depends on the cell phone coverage in the local areas," added Villamor-Voogel.
Cargo companies in the city have also stepped up and are offering to transport donated goods for free.
However the official advice is for those wanting to help to donate funds rather than goods because of the difficulty of accessing the affected areas.
The consulate's advice is to donate through the Philippine Red Cross, Department of Social Welfare and Development and the National Disaster Risk Reduction and Management Council.
Numerous fund-raising events at schools and churches across the city are being planned for the weekend.
Lists of survivors are coming through from some areas, says Villamor-Voogel. A congressman from Leyte, Ferdinand Martin Romualdez, has put an updated list of those found on his Facebook page; something that Villamor-Voogel hopes others in similar positions will do, if they are able.
"I hope that all this can show the Philippines' spirit, that we are people who are determined and dedicated."
iReport: Looking for loved ones
Dean Irvine contributed to this report