STORY HIGHLIGHTS
Fukushima officials must figure out what to do with increasing amounts of radioactive water
There are questions about lingering effects for people near the facility during meltdowns
Experts don't know exactly how to remove molten nuclear fuel from the melted down reactors
Editor's note: For more on the future of nuclear power as a possible solution for global climate change, watch CNN Films' presentation of "Pandora's Promise," airing on CNN on Thursday, November 7, at 9 p.m. ET/PT.
Tokyo (CNN) -- The meltdowns of three reactors at Japan's Fukushima nuclear power plant may have happened more than two years ago, but the disaster remains a giant, unresolved mess.
An earthquake in 2011 triggered a tsunami which slammed into the plant, disabling it. The threat of radiation forced neighbors to evacuate and many still can't return to their homes. Authorities face many challenges before they can make the facility safe again for the long term.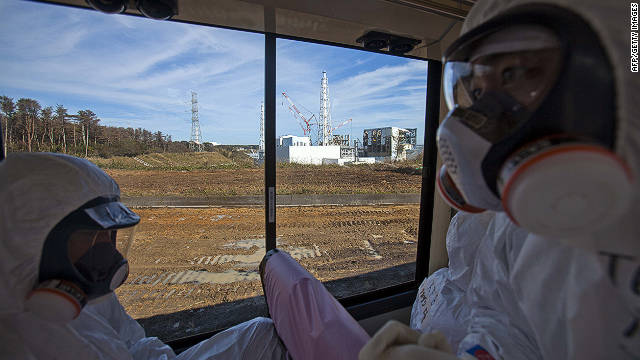 People wearing protective suits and masks ride on a bus past the crippled Fukushima Daiichi nuclear power station in Okuma, Japan, on Saturday, November 12 2012. Journalists got their first ground-level glance around the stricken facility, eying shells of reactor buildings, tons of contaminated water, and workers still scurrying to mitigate damage from a crisis that began eight months ago.
The crippled Fukushima Daiichi nuclear power station is seen through a bus window in Okuma on Saturday. An epic 9.0-magnitude earthquake and subsequent tsunami March 11 wreaked havoc around Japan, killing more than 15,000 people. While many of those died instantly, the East Asian nation was on edge for weeks as utility and government employees scrambled to prevent a worsening nuclear catastrophe at the Daiichi plant, located about 150 miles (240 kilometers) north of Tokyo.
A deserted street near Okuma is visible from the bus window, inside the contaminated exclusion zone near the crippled nuclear power station.
Throughout the summer and fall, there were no longer reports of explosions or new leaks of radioactive material into the ground and sea. But the facility still remained off limits to reporters and, for a 20-kilometer radius around the plant, to the general public, due to the continued high levels of radiation and ongoing efforts to prevent yet more blasts and leaks.
Radiation readings rose steadily as the journalists neared the plant, reaching 6.7 microsieverts in Okuma. There, they put on respirator masks, adding to an ensemble of a protective suit, two pairs of gloves, two sets of plastic booties over their shoes and a radiation detector.
The crippled Fukushima Daiichi nuclear power station is visible through a bus window Saturday.
Journalists pass a newly built sea wall next to the crippled nuclear power station.
Workers dressed in protective suits and masks are checked for radiation outside a building at J-Village, a soccer training complex now serving as an operation base for those battling Japan's nuclear disaster in Fukushima.
A employee of the Tokyo Electric Power Company walks up stairs near temporary housing built for workers who live at J-Village, at the former soccer training complex.
A worker carries his belongings as he walks among the temporary housing structures at J-Village.
A deserted field and buildings inside the contaminated exclusion zone around the crippled nuclear power station are seen through the bus window.
A deserted neighborhood inside the contaminated exclusion zone is visible through the bus window.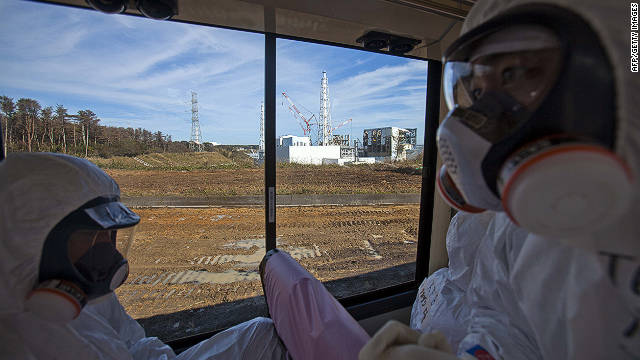 Fukushima: A closer look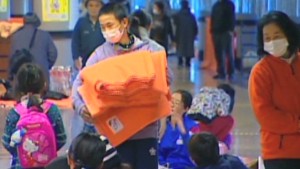 The children of Fukushima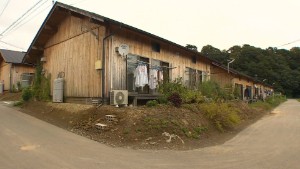 Living in limbo near Fukushima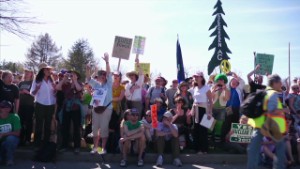 Is nuclear power really that bad?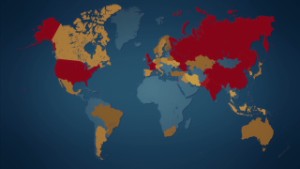 Can nuclear power be a good thing?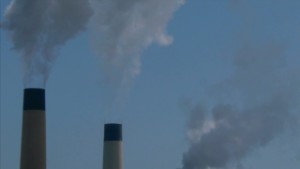 Environmentalist backs nuclear energy
Here are five of the biggest questions still out there:
1. How dangerous for your health is Fukushima?
Data published in August shows 44 out of 216,809 children under age 18 in Fukushima prefecture were diagnosed with thyroid cancer or suspected of having the disease. The figure is far higher than the international average but opinions are split as to whether this is because of the nuclear accident or because of more sensitive screening. Also, health experts say it takes years after radiation exposure to develop thyroid cancer, which suggests the cause of the cancer may predate the tsunami.
Read more about Fukushima health effects
2. What can you do with radioactive water?
The most immediate problem for plant operator Tepco is the hundreds of tons of water poured over the damaged nuclear reactors every single day to keep the molten fuel cool. If the fuel is not kept cool, it could cause another disaster.
That radioactive water then needs to be stored safely. But several on-site water storage tanks that were originally designed to be temporary have sprung leaks. Tepco said last summer that as much as 300 tons of toxic groundwater was seeping into the Pacific Ocean every day, sparking fears about radioactive contamination of fish, which are a major food source.
More about Japanese-spawned tuna caught off the U.S.
3. Is it safe to remove spent fuel rods?
Tepco is just days away from starting to remove 1,500 irradiated spent fuel rods from a pool in reactor number 4 to a safer location. The building was damaged by a hydrogen blast after the disaster. Removing fuel from a severely damaged pool has never been attempted. Critics fear the building is unstable and any mistake could cause a new nuclear disaster.
Read more about removing the fuel rods
4. How do you remove molten fuel in melted down reactors?
The radiation levels in reactors 1, 2 and 3 are so high that the area is inaccessible to humans. No one knows for sure where the molten core is resting within the basements of the buildings and how far it has penetrated through their floors. The technology does not exist to remove this molten fuel.
5. How do you stop running out of skilled labor?
Workers within the Fukushima nuclear power plant have a radiation exposure limit. Once they reach this limit they can no longer work on site and new workers need to be found. As time goes on, more experienced workers will reach their exposure limits, sparking concerns that available workers will have decreased skill levels.