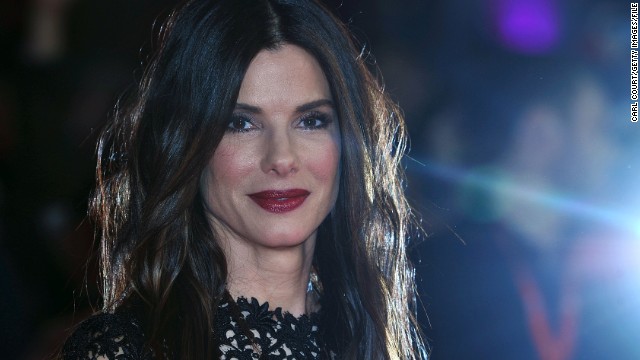 Sandra Bullock was on the red carpet this week for the premiere of her latest film, "Gravity," at the London Film Festival. She spoke to CNN about why gender shouldn't be an issue in action films.
The 49-year-old plays the lead role of astronaut Dr Ryan Stone, alongside co-star George Clooney (pictured at the Venice Film Festival earlier this year.) "There is a female and male in the film. The point of view is everyone's point of view," said Bullock.
Mexican director Alfonso Cuarón (pictured on set with Bullock and Clooney) made the actors wear 12-wire harnesses, operated by puppeteers, to recreate zero-gravity. Stunning visual effects were added later.
Long before Bullock was hurtling through space, she was careering down a highway with Keanu Reeves in the 1994 film which helped launch her career -- "Speed."
Much like Cameron Diaz or Jennifer Aniston, Bullock has made a name for herself as the likeable, all-American girl next door, hovering somewhere between femme fatal and affable comedian. Here, she plays an executive hatching a plan to marry her assistant, played by Ryan Reynolds, in 2009 rom-com "The Proposal."
She might be better known for her chick flicks, but there's no doubting Bullock's commercial success. In 2010 she won the Academy Award for best actress in "Blind Side," playing a southern mom who adopts a black teenager.
Sandra Bullock
Power couple
Visual effects
Speed, 1994
The Proposal, 2009
Blind Side, 2010
STORY HIGHLIGHTS
Sandra Bullock says blockbuster "Gravity" isn't about gender, but human adversity
Oscar-winning actress was suspended from puppet strings for tough lead role
Would rather spend time with adopted son, than attend glittering Hollywood events
Leading Women connects you to extraordinary women of our time. Each week, we profile women at the top of their field, exploring their careers, lives and ideas.
London (CNN) -- If ever there was a costume that erased gender, it's got to be an astronaut's suit. Big, bulky, with a uniform shape and reflective mask, it's pretty hard to tell whether the person inside is male, female, or Ham the chimpanzee.
So when Sandra Bullock plays an astronaut hurtling through space in new blockbuster "Gravity," one of the only clues she's even a woman is the sound of her hysterical gasping: "I can't breathe! I can't breathe!"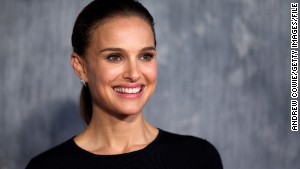 Marvel and Portman make science cool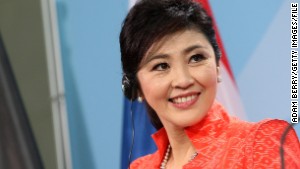 Thailand PM: 'I've proven myself'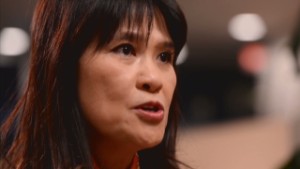 Tech CEO benefits from being an outsider
For 49-year-old Bullock, playing the lead role of Dr Ryan Stone in the thriller which premieres in Britain this week, this is not a female action film -- it's a "human action film."
And if it were up to her, the rest of Hollywood would stop making a distinction between the two.
"There is a female and male in it. The point of view is everyone's point of view, it just so happens that I have a female body and I fortunately got to do the part," she told CNN in an interview at the London Film Festival screening.
"We were very conscious to not make it about the sex -- we made it about the situation and the adversities, rather than 'this is a woman in adversity' or a 'man in adversity.' Anyone can put themselves in my character's situation and feel exactly the same."
Read: Natalie Portman -- Science's unlikely heroine?
America's sweetheart?
Indeed, the infinite blackness of space, and indistinct white uniforms worn by Bullock and co-star George Clooney, create a unique environment not just free from gravity -- but traditional gender cues.
It's quite literally a world away from some of Bullock's best known roles -- the love interest of terrorist-busting cop Keanu Reeves in 1994 thriller "Speed," the tom boy FBI agent turned bombshell in 2000 chick flick "Miss Congeniality," or the executive trying to marry her assistant in 2009 rom-com "The Proposal."
Her 2010 hit "The Blind Side" -- in which she plays a southern mom who adopts a black teenager -- earned her an Academy Award for best actress, also becoming the first film with a sole female lead to take over $200 million at the U.S. box office.
Yet the day before she scored the highest accolade in cinema, Bullock was picking up the Golden Raspberry Award for worst actress in 2010 comedy "All About Steve."
She is one of the few actors to accept the prize in person, revealing a charming ability to not take herself too seriously in a notoriously cutthroat industry.
"They said that nobody went to see this film, but there's over 700 members here and that means the majority of the 700 voted," she joked at the time.
Mom's the word
While Forbes this year named Bullock the most marketable celebrity in the world, with annual earnings of $14 million, it seems her biggest priority right now is not career -- but family.
When it was time for the 2010 Oscar after-party, the best actress-winner instead opted to go home to her newly adopted son Louis -- whom she named after New Orleans jazz trumpeter Louis Armstrong, also from her child's hometown.
Read: Why doesn't Hollywood trust women?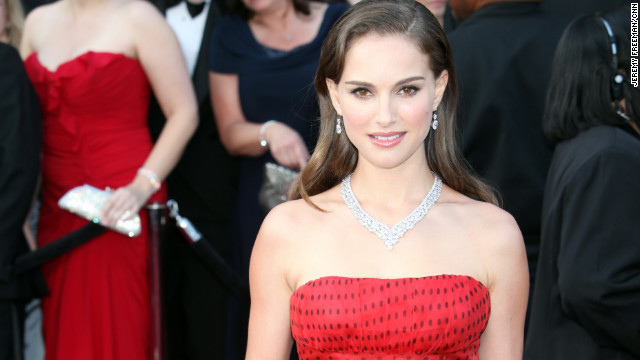 Academy Award-winning actress Natalie Portman tells CNN she hopes her role as astrophysicist Jane Foster in "Thor: The Dark World" encourages a new generation of female scientists.
The 32-year-old Israeli-born American plays the love interest of Marvel Comics superhero Thor in the Hollywood blockbuster premiering this week. Jane Foster (pictured here) was originally a nurse, but was recast as a scientist for the film.
She's not the first female scientist on the big screen. Here, Jodie Foster plays astrophysicist Ellie Arroway in 1997 film "Contact" -- based on the novel by Carl Sagan.
Sigourney Weaver played zoologist Dian Fossey in the Academy Award nominated film, "Gorillas in the Mist." Real-life naturalist Fossey, originally from Kentucky, studied mountain gorillas in Rwanda as part of her remarkable work.
When Carrie Fisher appeared as Princess Leia in "Star Wars," she showed a generation of young women that Sci-Fi heroes weren't all lazer-blazing men.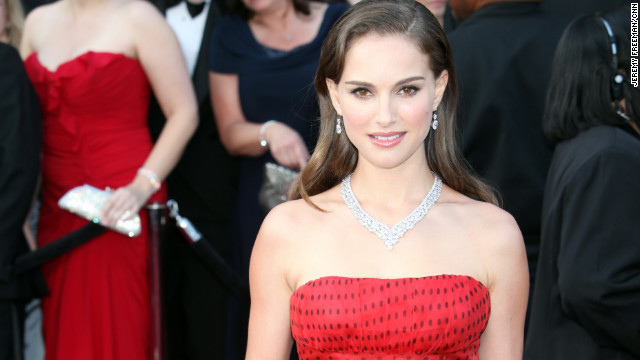 Famous female scientists in film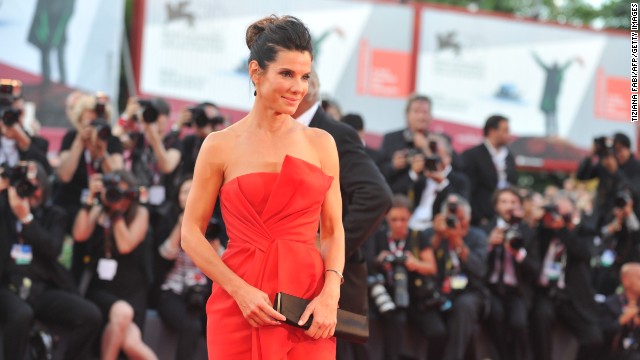 We know you don't need another reason to love Sandra Bullock. The acclaimed actress has earned the title of "America's sweetheart" by being charming and self-deprecating; grounded, but also a talented Hollywood star. As she celebrates her 50th birthday on July 26, here's a look at the life and career of Sandy B.
In 1992, Bullock costarred with Tate Donovan in the comedy "Love Potion #9." The pair dated for a bit after filming ended.
The actress portrays Agnes von Kurowsky in the 1996 drama "In Love and War."
Bullock and John Travolta have some fun in Las Vegas after being named the 1996 National Association of Theatre Owners' female and male stars of the year.
Bullock plays a single mom embarking on a new romance in the 1998 movie, "Hope Floats."
Also in 1998, Bullock and Nicole Kidman star as witches in the film "Practical Magic."
Bullock and Ben Affleck star in "Forces of Nature" in 1999.
A role in "28 Days" in 2000 allows Bullock to further display her acting chops as a woman forced to enter rehab.
Michael Caine walks with Bullock in a scene from the 2000 film "Miss Congeniality."
"Divine Secrets of the Ya-Ya Sisterhood" brought Ellen Burstyn, Maggie Smith, Fionnula Flanagan, Bullock and Shirley Knight together in 2002.
Hugh Grant and the actress have chemistry in 2002's "Two Weeks Notice."
Bullock suffers as Jean Cabot in the critically acclaimed 2004 drama ''Crash."
In 2005, Bullock reprises her role as Gracie Hart in "Miss Congeniality 2: Armed and Fabulous."
Former "Speed" co-stars Keanu Reeves and Bullock reunite in 2006 for the romantic drama "The Lake House."
In 2007, Bullock steps out with her then-husband, Jesse James, at the premiere of "Premonition" in Hollywood, California.
The actress stars as Linda in the psychological thriller "Premonition."
Ryan Reynolds and Bullock shake things up in 2009's "The Proposal."
Mary Horowitz (Bullock) thinks she's in love with cable news cameraman Steve (Bradley Cooper) in the 2009 film "All About Steve." The film went on to be nominated for five Golden Raspberry Awards in 2010, with Bullock winning for "worst actress" -- ironically, the same year she won the best actress Oscar for "The Blind Side."
Lily Collins, Bullock, Tim McGraw, Jae Head and Quinton Aaron say grace in a scene from "The Blind Side."
Bullock accepts the best actress award for "The Blind Side" during the 82nd Annual Academy Awards in March 2010 in Hollywood, California.
Bullock stars as Linda Schell and Thomas Horn as Oskar Schell in the 2011 drama "Extremely Loud & Incredibly Close."
Bullock and her son, Louis, are spotted on the streets of Manhattan in 2011.
Melissa McCarthy and Bullock bring the funny as law enforcement partners in 2013's "The Heat."
Bullock is set adrift in space in the 2013 thriller "Gravity" which earned her several accolades including a best actress Oscar nomination.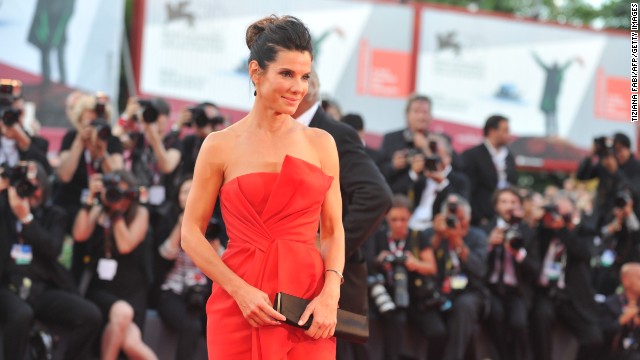 Sandra Bullock: America's sweetheart
It is perhaps a sign of Bullock's strength of character that she continued with the adoption process after splitting with husband and TV mechanic Jesse James, after his infidelities were exposed in the press.
Today, mother and son have eschewed the bright lights of Los Angeles for a home in Austin, Texas, with Bullock admitting: "I feel happier, better and younger now than I did 10 years ago."
Singing her praises
Bullock grew up in a house of music, her German mother Helga and American father John, both opera enthusiasts who taught singing.
She and younger sister Gesine lived in Washington D.C, in a home constantly visited by their parents' artist friends. When Bullock announced that she wanted to pursue an acting career, her family was supportive, though realistic about the hard slog ahead.
Moving to New York and supporting herself with various hospitality jobs, Bullock was the ripe old age of 30 --practically over-the-hill for a woman starting out in Hollywood -- when she starred in breakthrough film "Speed."
Brave new world
And while she's since starred in numerous box office hits, you get the feeling "Gravity" is a film that pushes her beyond the chick-flick persona she's arguably better known for.
"It took away anything I knew as an actor," she said, referring to Mexican director Alfonso Cuarón's decision to shoot the actors in 12-wire harnesses, to recreate zero-gravity.
It took away anything I knew as an actor
Sandra Bullock
The harnesses were either operated by puppeteers, or attached to rotating rigs. All of which took place inside a cube covered in thousands of LED lights to simulate the alternating glow of the sun. Visual effects artists added the spacesuits later.
Read: Who are Hollywood's highest-paid actresses?
"It left me closed in a box for 10 hours a day, with no one to talk to, and no life form around me," said Bullock. It was the first of its kind, it was a prototype, they invented it. They didn't know if it would work until the day we got into it.
"As alienating and frustrating as it was, being as cumbersome as it was, you knew you were a part of something that no one else had done before. You just sucked it up, and as crabby as I was most days, it worked. I didn't want to be very comfortable, my character wasn't comfortable in space."
Judging by "Gravity's" phenomenal box office sales -- so far taking over $400 million worldwide -- the rest of us are also lining up to see America's sweetheart outside her comfort zone.