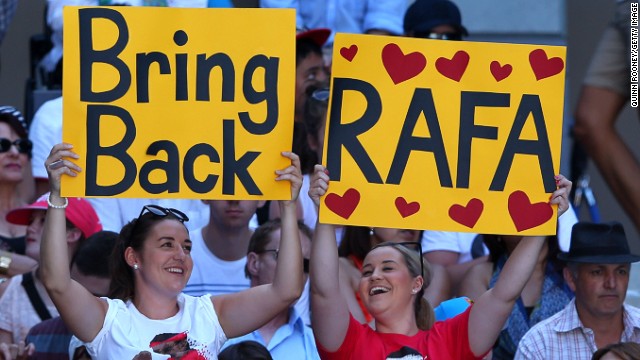 Despite his six-month absence because of a knee injury, Rafael Nadal was at the forefront of some supporters' minds when January's Australian Open took place without him. The Spaniard's withdrawal meant he dropped out of the top four for the first time since 2005.
In the distant setting of Chile, Nadal returned to action in the doubles event at the ATP Vina del Mar on February 5 after 222 days away. He duly reached the final of the singles, only to lose to little-known Argentinian Horacio Zeballos.
Days after losing in Chile, Nadal was able to celebrate his first trophy since winning the 2012 French Open. Playing on his preferred clay surface in Brazil, he beat Zeballos' compatriot David Nalbandian to begin his march back to the top of the rankings.
The trophies continued as Nadal followed up his Brazil success by winning in Mexico and then at Indian Wells too. His third final clash with an Argentinian resulted in victory over Juan Martin del Potro as Nadal became the player with the most Masters 1000 wins in history. "Seriously, it's impossible to have better comeback, no?" he said.
Real Madrid soccer stars Cristiano Ronaldo and Sergio Ramos watch Nadal beat compatriot David Ferrer, despite being just two points from defeat in their Madrid Open quarterfinal. Nadal would go on to beat Swiss Stanislas Wawrinka in his seventh consecutive final since his comeback.
Nadal won his first major of the year in Paris, after beating Ferrer in the final to win his eighth French Open. The real decider came in the semifinal where the Spaniard came back from a break down in the fifth set to beat Novak Djokovic in a clash that lasted four hours 37 minutes.
Nadal's spectacular return came crashing to a halt when he lost to Belgium's 135th-ranked Steve Darcis on the opening day of Wimbledon -- the Spaniard's second successive humbling at the London event after losing to Lukas Rosol round two in 2012. The deserved defeat was Nadal's first in the opening round of a grand slam.
In a scenario barely imaginable at the start of the year, Nadal claimed his second major of 2013 when he beat Djokovic in the U.S. Open final. The title took his grand slam tally to 13 -- just four fewer than Roger Federer's all-time record.
Having steadily climbed back up the rankings, Nadal returned to the No. 1 spot in unwanted circumstances -- after Tomas Berdych retired through injury in the semifinals of October's China Open. "(This is) one of the best years of my career without any doubt," Nadal said later. "It sure is special to be back to the top position of the rankings after more than a half year without playing tennis."
Boasting a career grand slam in addition to an Olympic gold medal and success in the Davis Cup teams event, the sole major title to elude Nadal is the ATP World Tour Finals. The 27-year-old beat Wawrinka in his second round-robin match to ensure he will finish one of his most memorable years as world No. 1 for the third time, having done so in 2008 and 2010.
Far from forgotten
The comeback begins
Instant return
Raining trophies
Madrid Maestros
Gladiatorial combat
Deja vu
Flying high
Back on top of the world
Final frontier
STORY HIGHLIGHTS
Rafael Nadal will be the year-end world No. 1 for the third time in his career
Spaniard beats Switzerland's Stanislas Wawrinka at ATP World Tour Finals in London
Nadal also books place in semifinals of biggest competition he has yet to win
(CNN) -- Rafael Nadal sealed a remarkable comeback in 2013 by beating Stanislas Wawrinka at the ATP World Tour Finals on Wednesday to ensure he will finish the year as world No. 1.
The Spaniard also qualified for the semifinals of the only major tennis tournament he has never won, with the 27-year-old boasting a career grand slam in addition to an Olympic gold medal.
Since returning to the sport in February after seven months out with a knee injury, the 13-time grand slam champion has won 10 titles in a year which he has described as one of his best.
Beating Wawrinka in London confirmed that he finishes on top of the world for the third time in his career, with Novak Djokovic now forced to settle for second place. The Serbian had held the honor the past two years, while Nadal is the first player to win it back twice.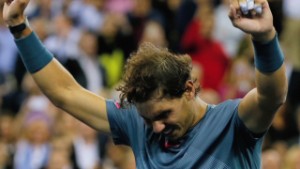 Rafael Nadal's triumphant comeback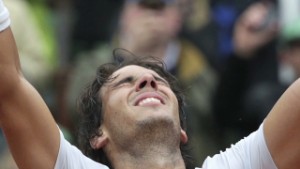 Nadal clinches 8th French Open
Read: Serb stars slam anti-doping procedures
"A lot of emotions today," Nadal said following his 7-6 (7-5) 7-6 (8-6) over the Swiss eighth seed. "It's the perfect scenario to be finally the year-end No. 1 in this fantastic stadium, in front of this unbelievable crowd, so many thanks for making me feel like this.
"This has been an unbelievable comeback year."
It certainly has.
When he returned to action in Chile in February, Nadal moved so gingerly at times that he felt it better to leave some points as he attempted to protect his troublesome knee.
A first title since the 2012 French Open followed later that month in Brazil, and these were soon followed by further triumphs in Mexico and Indian Wells.
Comprehensive confirmation of the fact that "the King of Clay" had fully recovered his abilities came at the French Open when he beat Djokovic in a compelling semifinal before defeating compatriot David Ferrer to claim a record eighth title at Roland Garros.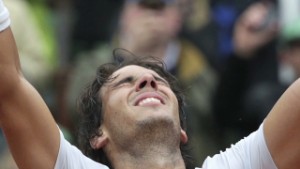 Nadal clinches 8th French Open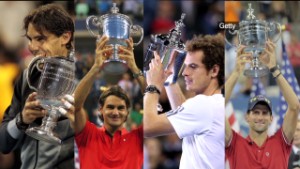 Secret to beating tennis' big four
Humiliation followed at Wimbledon as the former champion was beaten by Belgium's 135th-ranked Steve Darcis, the first time Nadal had exited a grand slam in the first round.
Yet he recovered to clinch the U.S. Open in September, beating Djokovic in the final, and before a packed crowd at London's O2 Arena on Wednesday, Nadal said his extraordinary return would have been impossible without his family.
"The team is everything for me," he explained.
"Without them, I would never have the chance to be back where I am today -- being the No. 1 at the end of the season when there are such unbelievable competitors in front of me.
"Without my family team behind me, it is impossible to think like this, especially after what happened last year."
Swiss finals debutant Wawrinka now has a win and loss ahead of his final round-robin match against Ferrer, while Nadal will close against Tomas Berdych.
Third-ranked Ferrer lost out to Czech Berdych in Wednesday's late game 6-4 6-4.