Truffles, totes, and Target wine: These are a few of Oprah's favorite things
updated 10:29 AM EST, Fri November 8, 2013
STORY HIGHLIGHTS
Oprah has released her Favorite Things list
They include a bottle of target wine and organic cotton pajamas
She is giving away the items in a sweepstakes
(EW.com) -- "O, O, O!"
Nothing says the holidays than someone in red giving out free gifts. No, not Santa — Oprah Winfrey, of course!
The former talk show host released her annual Favorite Things list for O, The Oprah Magazine on Tuesday. This year, Miss Winfrey got a little help from friend and comedian Jimmy Kimmel to pose as an elf and finish the 15-foot train in Winfrey's stunning red White by Vera Wang gown, which weighed 25 pounds.
As for the list itself, Winfrey's favorites run the gamut from $13 red wine from Target to a $500 Truffle Risotto gift box (that she plans on giving Rita Wilson this year, because Tom Hanks definitely needs more truffles in his life).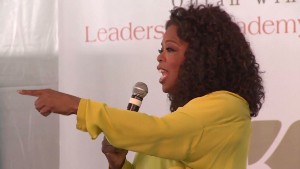 Oprah Winfrey's sale rakes in big bucks
For all you book club members out there, the list also includes the Kindle Paperwhite, and for those who don't read, Oprah has you covered with the new Beats Studio Headphones by Dr. Dre. If you want to be physically covered, there are T-shirts co-designed by Ashton Kutcher, a Quilted Nylon Barn Jacket by C. Wonder, and who doesn't love organic cotton pajamas in the morning?
But with no talk show audience to surprise any more, Oprah is giving away all 60 items in O's 12-Day Holiday Give-O-Way sweepstakes, where a lucky reader will be picked each day to win (that's 12 winners, for those still thinking about the headphones).
But if you don't win or can't afford a $250 straw tote bag, Oprah reminds us its always the thought that counts, not the price tag. "It's not about spending tons of money. It's not about buying the biggest gift," Oprah says. "Generosity is about using whatever you have to give a gift that means something."
Indulge in the complete list here.
See the original story at EW.com.
CLICK HERE to Try 2 RISK FREE issues of Entertainment Weekly
© 2011 Entertainment Weekly and Time Inc. All rights reserved.