Washington (CNN) -- There was little drama in the four key races we were watching Tuesday night. But the off-year elections were viewed as much for what they would say about next year's midterm elections and the next presidential contest in three years.
Here are five things we learned Tuesday night:
1. Christie's words and numbers make a case for 2016
Chris Christie has more than New Jersey on his mind.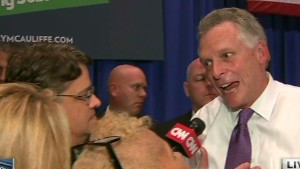 McAuliffe: I knew it would be close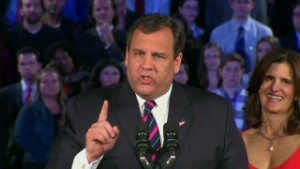 Christie: D.C. should tune into N.J.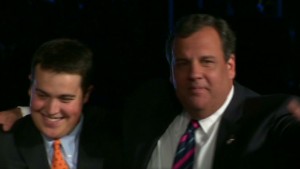 Was Christie's speech an announcement?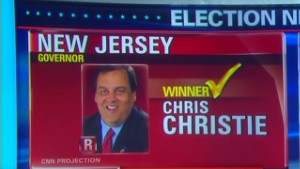 Christie wins New Jersey governor's race
In his re-election victory speech Tuesday night, the blunt-talking New Jersey governor who's seriously considering a bid for the 2016 GOP presidential nomination touted his bipartisan successes in the Garden State.
"I know tonight, a dispirited America, angry with their dysfunctional government in Washington, looks to New Jersey to say, 'Is what I think happening really happening? Are people really coming together? Are we really working, African-Americans and Hispanics, suburbanites and city dwellers, farmers and teachers? Are we really all working together?' " Christie said.
"Let me give the answer to everyone who is watching tonight: Under this government, our first job is to get the job done, and as long as I'm governor, that job will always, always be finished," he told supporters at a victory gathering in Asbury Park.
While much of Christie's speech was directed at a New Jersey audience, it may also have been meant as a message for the nation, two top Republicans said.
"It wasn't an acceptance speech, that was an announcement speech," said CNN contributor Alex Castellanos, a veteran of numerous GOP campaigns.
Exit polls: Christie, McAuliffe took different paths to victory
"I think it was an introductory speech," added former House Speaker Newt Gingrich, the co-host of CNN's "Crossfire."
With Christie's re-election campaign seen as a tuneup or steppingstone for that probable White House bid, he needed a big victory over his little-known Democratic challenger, state Sen. Barbara Buono. And Christie came though, grabbing 60% of the vote, at last check.
Another question heading into Election Day 2013 was how Christie would perform with voters who lean Democratic.
CNN exit polls indicate Christie got 57% of the female vote. He won every age group except 18- to 29-year-olds, which he narrowly lost. He also won the Latino vote and took just over a fifth of the African-American vote, a much better performance than many Republicans in recent elections.
As expected, 93% of Republicans voted for Christie, according to the exit polls.
But he also won two-thirds of independents and just over three in 10 Democrats in a state where Democrats and independents made up nearly three-quarters of Tuesday's electorate.
The exit polls appear to bolster Christie's case that he's among the most electable of the potential GOP White House hopefuls heading into 2016.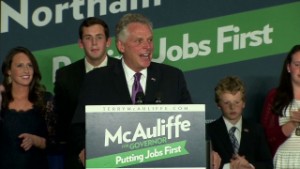 McAuliffe narrowly wins Virginia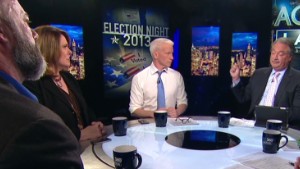 Lessons for GOP in McAuliffe victory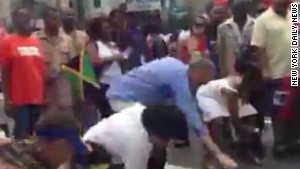 Dancing with the de Blasios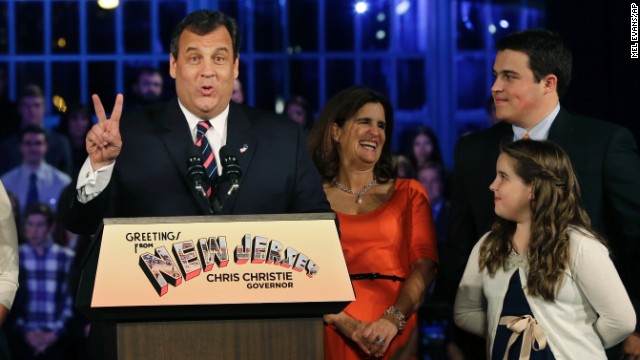 New Jersey Gov. Chris Christie stands with his family and celebrates winning a second term in Asbury Park, New Jersey, on Tuesday, November 5. Christie defeated Democratic challenger Barbara Buono. Americans in several states turned out to vote Tuesday for mayoral and gubernatorial candidates as well as ballot initiatives.
A man adjusts a sign on the podium prior to New York mayoral candidate Bill de Blasio's election night party on Tuesday, November 5. De Blasio defeated Republican candidate Joe Lhota to become the first Democratic mayor of New York City in more than two decades.
Tea Party member John Wallmeyer watches results of the Virginia governor's race at an election night gathering in Richmond. Republican candidate Ken Cuccinelli was the first state attorney general to file a lawsuit against the Affordable Care Act when it was passed in 2010.
Supporters of Virginia gubernatorial candidate Terry McAuliffe attend an election night event in Tysons Corner, Virginia. McAuliffe, a former Democratic National Committee chairman, defeated Cuccinelli in the race.
McAuliffe celebrates his win with supporters in Tysons Corner.
Poll workers help voters cast their ballots in Mendham Township, New Jersey.
Don Rockway casts his vote at Westminster Presbyterian Church in Grand Rapids, Michigan.
Dave Silverman, 91, hangs his cane on the booth while voting in State College, Pennsylvania.
Caroline Novello casts her ballot inside a chapel in Burlington, North Carolina.
From left, Cecilia Idman-Rait, Suzie Tapson and Ania Camargo campaign for Boston mayoral candidate John Connolly in the Beacon Hill neighborhood.
Christie jokes with the media after he and his wife, Mary Pat, voted on Tuesday.
Christie's Democratic opponent, Barbara Buono, exits a voting booth after casting her vote in Metuchen, New Jersey.
A boy yawns while waiting for his father to finish voting in Brooklyn.
New York City mayoral candidate Bill de Blasio speaks to the media after voting at a public library branch in Brooklyn.
Election officer Richard Meyer directs people where to vote in McLean, Virginia.
New York City mayoral candidate Joe Lhota arrives at a polling station in Brooklyn.
People vote at the Park Slope Branch Public Library in Brooklyn, New York.
Virginia Attorney General Ken Cuccinelli, a Republican gubernatorial candidate, votes in Nokesville, Virginia.
Cuccinelli's Democratic opponent, Terry McAuliffe, passes a campaign flyer to a child as he greets commuters at a Metro station in Fairfax, Virginia.
A voter studies his completed ballot at a polling station in Brooklyn.
A dog yawns while waiting for its owner to vote in Brooklyn.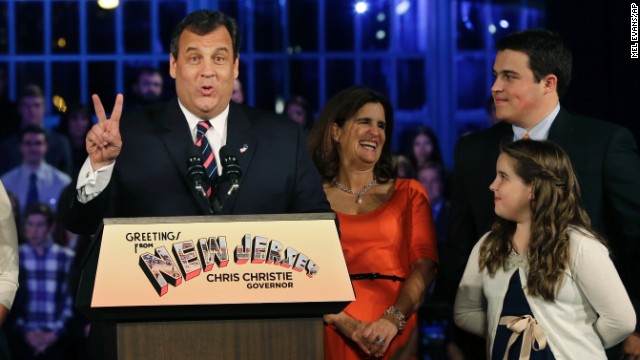 Photos: Election Day 2013
2. Obamacare mattered
Virginia was the first swing state to hold an election after the Affordable Care Act website's troublesome rollout, a controversy that has permeated national news coverage for weeks. Almost 30% of Virginia voters said health care was the most important issue in the race.
While Democrat Terry McAuliffe narrowly beat out conservative Republican Attorney General Ken Cuccinelli, analysts credit a GOP focus on Obamacare for boosting Cuccinelli's vote total.
"This is what kept this race close," CNN's John King said Wednesday on "New Day."
Obamacare website getting better, official tells Senate panel
Among all Virginia voters, 53% said they oppose the president's health care law, while 45% said they support it, according to CNN exit polls. A huge majority of those Obamacare opponents -- 80% -- voted for Cuccinelli.
Exit polls: Division over Obamacare
Cuccinelli ran hard on the health care law in the final weeks, calling the election "a referendum on Obamacare." After his narrow loss, Republicans said the outcome might have been different had the race lasted just a few more days.
"Obamacare is toxic," said Brian Baker, president of the Ending Spending Action Fund, a conservative Super PAC that spent half a million dollars backing Cuccinelli. "If the shutdown had ended a week earlier, or the election had ended a week later, Cuccinelli would have won. This is a bad omen for Democrats in 2014."
3. Good news, bad news for the tea party in Alabama
If there was any district that Dean Young could have won in 2013, it was Alabama's 1st District. The southern Alabama district is not only reliably Republican, but political handicappers list it as one of the most conservative in the country.
Establishment beats tea party in Alabama runoff
And Young is a conservative Republican who asked other Republican candidates to take an anti-same-sex marriage pledge, believes President Barack Obama was born in Kenya and said he wouldn't vote for his opponent in the general election should he win.
But he still lost his primary runoff to the better-funded, more-establishment Bradley Byrne, a former state senator.
In total, Byrne raised almost three times as much money as Young, with substantial donations from business community political action groups and individual business donors.
That could signal the coming of a more active Republican business community.
Already, the Chamber of Commerce has said it would be more involved in primary fights next year because of the negative effects of the partial government shutdown this year.
The bad news for the tea party is obvious and twofold.
In a very conservative district, a tea party candidate lost in a race widely seen as a precursor to more fights inside the GOP ahead of 2014 primary elections that will affect the makeup of Congress. What's more, an involved business community willing to throw its money behind candidates that won't shut down the government could be bad for the conservative movement.
But the news isn't all bad for the tea party.
Even though Young ran to the right of Byrne, groups that have backed tea party candidates largely ignored him during the race. Tea Party Express, Club for Growth and FreedomWorks -- three of the largest national groups that have backed tea party candidates -- all sat on the sidelines of the family feud.
So, if you aren't involved, is it really a loss?
4. Time for change in New York
Bill de Blasio's sizable victory was no surprise, and it was clear Tuesday night that the soon-to-be-mayor wants to shake things up in New York City.
De Blasio wins NYC mayoral race
"Today you spoke out loudly ... for a new direction for our city, united by a belief that our city should leave no New Yorker behind," he said in his victory speech, with his campaign sign on the podium shouting out "PROGRESS" in red and white.
The towering figure with populist appeal stepped on stage to a raucous audience and the lyrics of a popular song, Lorde's "Royals." The tune is quite fitting for his campaign to combat inequality: "We'll never be royals. It don't run in our blood. That kind of lux just ain't for us."
De Blasio campaigned on a promise to raise taxes on those earning more than $500,000 a year to pay for universal prekindergarten, and he wasn't shy in declaring his mission to level the playing field in New York.
"Make no mistake: The people of this city have chosen a progressive path, and tonight we set forth on it, together, as one city," he said.
The first Democrat elected New York City mayor since 1989, de Blasio has painted himself as the herald of a new era in city government.
His predecessors -- Republican Rudy Giuliani and Republican-turned-independent Michael Bloomberg -- were known for their tough-on-crime and big business reputations.
De Blasio, the city's public advocate, has gone to no end to highlight his biracial family and portray himself as a man of the people and a unifier in the most diverse city in the country. The Democrat also spoke part of his speech in Spanish on Tuesday night and talked at length about his Italian background.
Further showcasing his unusual-for-a-candidate style, he also hasn't been afraid to boast of his love for the Boston Red Sox on the campaign trail.
Whether he actually raises taxes on the city's upper class as he promised is yet to be known, but after following two decades of only two mayors, he'll probably bring a different feel to the city.
5. Cuccinelli backers furious at GOP
Cuccinelli was heavily outspent in Virginia by McAuliffe and Democratic outside groups like Planned Parenthood, NextGen Climate Action and Independence USA PAC, an anti-gun group funded by Bloomberg.
The money wasn't the sole reason McAuliffe held a lead for most of the year: Cuccinelli was an unabashedly conservative candidate running in a swing state, his campaign made some strategic errors, and outside forces like the ethics scandal surrounding Gov. Bob McDonnell consumed the spring and summer news cycle.
McAuliffe led the race in every poll since May, back when TV ad spending was mostly at parity.
But the Democratic spending assault, especially after Labor Day, locked in the contours of the race. Heading into Election Day, Democrats had a roughly 4-1 spending edge over Republicans on the TV airwaves, and Republicans couldn't punch through.
With Cuccinelli steadily trailing throughout the fall, it became harder and harder for him to raise money and enlist outside support.
As the race came down to just 40,000 or so votes Tuesday night, Cuccinelli supporters in Richmond were livid that Republicans didn't do more to help.
The Republican Governors Association spent about $8 million on the race, but stopped running television ads weeks ago. At the time, they pumped $1.7 million into a cakewalk of a governor's race in New Jersey -- precious money that could have boosted Cuccinelli down the stretch.
The Republican National Committee spent $3 million in Virginia -- a worthy commitment, $6 million less than it did in 2009.
"A number of people in the party establishment are going to need to take a hard look in the mirror and think about how they stranded their Republican nominee in Virginia, and with their help we would have had a Republican governor of Virginia," vented one Republican strategist close to the campaign.
Indeed, Cuccinelli kept it surprisingly close in the end, losing by just two points even while running as an unabashed "first principles" conservative in a state dominated by an increasingly moderate electorate.
"This guy ran and stuck to his guns and almost pulled it off," said Pete Snyder, a businessman and former Republican candidate for lieutenant governor. "Ken ran an unbelievable race, stuck to his principles. He had tons of drama in the party, and he was almost able to overcome that."
Asked about the criticism from Cuccinelli supporters, RNC spokeswoman Kirsten Kukowski said the party committee boosted get-out-the-vote efforts.
"The RNC spent millions of dollars to fund the ground game efforts in both New Jersey and Virginia, working in coordination with both campaigns to identify and turn out voters," she said.
More: Colorado voters approve marijuana tax