Detroit elects first white mayor in more than 4 decades
updated 9:22 PM EST, Wed November 6, 2013
STORY HIGHLIGHTS
The last white mayor of Detroit was Roman Gribbs, who served from 1970 to 1974
The mayor-elect tells a newspaper his first priority will be cutting police response times
FBI says there were 15,011 violent crimes, 386 homicides in Detroit last year
Detroit is run by an emergency manager, whom governor appointed until September
(CNN) -- Detroit elected Mike Duggan mayor Tuesday. And he's white.
Of course, he has numerous qualifications for the job -- experience as a hospital CEO, county executive, former prosecutor, etc. -- but in a city where four of five residents are African-American and no Caucasian has held the city's highest office in almost four decades, the headline is that Duggan is white.
The last white mayor to take the city's helm was former sheriff and prosecutor Roman Gribbs, who served from 1970 to 1974.
Duggan, 55, will replace outgoing Mayor Dave Bing after defeating his opponent, Wayne County Sheriff Benny Napoleon, by a margin of 55% to 45%, according to CNN affiliates WXYZ and WDIV.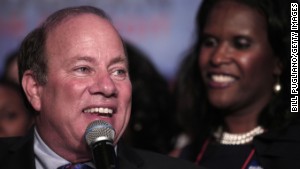 Detroit Mayor-elect Mike Duggan celebrates his mayoral victory Tuesday night.
His campaign slogan was "Every neighborhood has a future," and he ran on a platform of financial turnaround, crime reduction and economic development. He told the Detroit Free Press on Wednesday that his first priority will be cutting police response time.
"If you don't feel safe in this community, people don't want to live here and don't want to open a business here," he told the newspaper.
He'll have his work cut out in a city the FBI says saw 15,011 violent crimes and 386 murders last year. It also has more than 30,000 vacant buildings, WDIV reports, a telling mark of the fiscal crisis through which the city is struggling. It filed for bankruptcy in July.
Duggan may have to operate through consensus until at least September, as Gov. Rick Snyder in March appointed Kevyn Orr to serve as emergency manager for at least 18 months.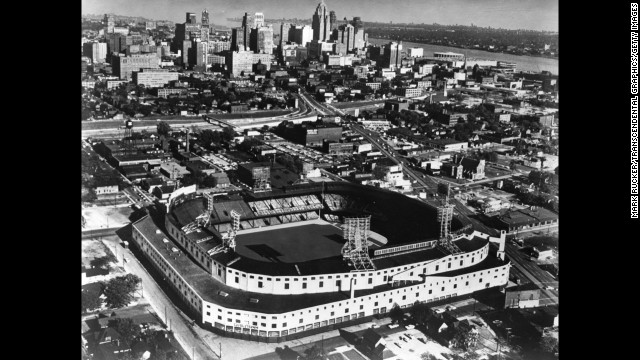 Detroit has become the largest American city to declare bankruptcy. People who spend any time there grow accustomed to hearing the words "used to be," says Heidi Ewing, co-director of "Detropia," a documentary about the Michigan city and its uncertain future. An aerial view, circa 1950, of the old Tiger Stadium and the downtown skyline shows the Motor City in all its former glory.
The American automobile industry has been centered in Detroit. Rows of these behemoths in a city parking lot around 1960 show the industry at its height.
Music also played an important role in the success of Detroit, where Motown Records was headquartered in the 1960s. Here Stevie Wonder, left, and Marvin Gaye record in a Motown studio in Detroit in 1965.
A mother gives her child advice during a boxcar race in Livonia, Michigan, a Detroit suburb, circa 1955. The move to the suburbs accelerated, especially after rioting that devastated Detroit in 1967.
Downtown Detroit is full of people on a rainy afternoon circa 1955. Looking at old photos of the Motor City, Ewing says she always was a bit envious of the city life that eluded her and her siblings who grew up in the suburbs.
Tugboats race on the Detroit River in 1954.
Pete Babando, left, and Harry Lumley of the Detroit Red Wings celebrate in the locker room with the Stanley Cup after defeating the New York Rangers in the 1950 Stanley Cup finals in Detroit.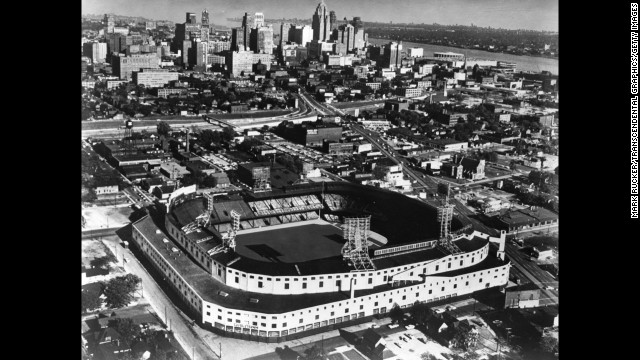 Photos: Detroit, the glory days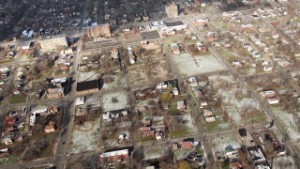 The Motor City sputters to a stop
While Duggan told WDIV he'd liked to "shorten Kevyn Orr's stay," most of the authority in city matters lies with Orr while he's emergency manager. Snyder has said that will be until Detroit emerges from bankruptcy and repairs its finances.
Duggan's campaign website touts his record of fiscal turnaround: As president and CEO of Detroit Medical Center, Duggan led the hospital to its first profit since 1997; as general manager of the SMART bus system, he eliminated the deficit and increased bus service by 50%; and as deputy Wayne County executive, he eliminated a $130 million deficit and assisted in creating 15 straight balanced budgets.
The married father of two and former Wayne County prosecutor attended Detroit Catholic Central High School before graduating from the University of Michigan as an undergraduate and as a law student.
Follow Eliott C. McLaughlin on Twitter: @CNNWriters