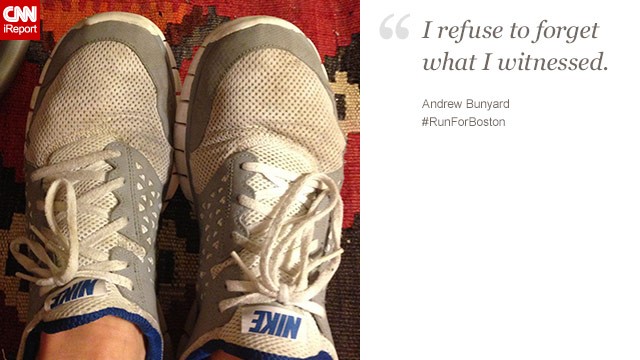 Andrew Bunyard, 28, works at a hospital in Boston. "I refuse to forget what I witnessed and heard," he said.
Sharon Berger Cooper, 40, from Parkland, Florida, said the tragedy in Boston made her more grateful for her health and ability to run.
Lauren Germaine, 33, lives in North Carolina but calls Boston home. She hopes to run the marathon there next year.
Kylee Seibert, 27, from Bowling Green, Ohio, says she was inspired by "people running towards the scene" after the blasts in Boston.
Rosalind Cohen-Baruch, 44, from San Francisco, started running to lose weight and feel better about herself. She's running for people who have had that feeling taken away.
Cheering spectators are the only reason Ezra Gonzales-Müller, 35, from Germany, says he can finish a race. "I am devastated that they were targeted," she says. "My heart weeps."
Sean Houston, a CNN employee in Atlanta, says people who helped victims in Boston "remind us of the best of America."
"The bombings reminded me that I have a gift. I have my legs," says Catina Culshaw, 39, from Birdsboro, Pennsylvania.
Mark Giannetti, 23, lives near the site of the bombing. "I've been running every day to try and keep my mind clear," he says, "which doesn't quite work."
Jenifer Jagielski, 45, from Sydney, who broke her foot running, says the sport is great because it lets friends and family members share ups and downs together.
Deborah Kara, 26, who lives in Saudi Arabia, says Boston's victims "deserve our full support and cheering."
"I never thought I would say this, but I am going to run that marathon next year," said Karin Kenney, 45, of Massachusetts.
Texan Jennifer Kirkpatrick, 41, plans to run the Dallas Marathon.
Joseph Larramendia, 24, from New Jersey, wants to run to demonstrate how "strong and resilient" Americans are.
Run for Boston Facebook group
that has about 25,000 members.
John Mulholland, a 42-year-old in Illinois, started a
started a website
where people can log the miles they're running for Boston.
Becca Obergefell, 26, from Ohio,
Beatriz Orozco, 28, from California, likes running for its sense of community -- and because she only has to compete with herself.
"I'd like to show marathon runners and those watching that I'm inspired by so many of them," said Jessica Pilkington, a 27-year-old who works in Boston.
Mishka Shubaly, from New York, has used running as a way work through his alcohol addiction.
"I was left with a surprising anger" after the bombings, said Valerie Szwarc, 47. She wants to qualify for the Boston Marathon to show "good will always outweigh evil."
Chris Gorman, 31, is raising money for charity while he runs with Boston in mind.
After watching the "completely unreal" events unfold in Boston, New York resident and Boston native Jainen Thayer decided to run "to begin to heal."
Jenny Van Buren, 43, from Ohio, said the Boston bombing only "makes me want to run farther!"
"I run for the support, the spectators and the victims of Boston," said Jennifer Wood, 34, from Syracuse, New York.
"As runners, we are resilient by nature," said Megan Biller, a 29-year-old in Big Rapids, Michigan.
Victoria Bushmire, a 29-year-old in Pittsburgh, says runners all over the world feel Boston's pain.
Katherine Lee, a 52-year-old from Missouri, and her daughter have been to the Boston Marathon before. They're running with Boston "on our minds and in our hearts."
#RunForBoston
#RunForBoston
#RunForBoston
#RunForBoston
#RunForBoston
#RunForBoston
#RunForBoston
#RunForBoston
#RunForBoston
#RunForBoston
#RunForBoston
#RunForBoston
#RunForBoston
#RunForBoston
#RunForBoston
#RunForBoston
#RunForBoston
#RunForBoston
#RunForBoston
#RunForBoston
#RunForBoston
#RunForBoston
#RunForBoston
#RunForBoston
#RunForBoston
#RunForBoston
#RunForBoston
#RunForBoston
STORY HIGHLIGHTS
John Sutter talks with a Boston Marathon bombing survivor
"I was gonna cross that finish line one way or another," runner says
Lee Ann Yanni had three surgeries before running the Chicago Marathon
She had signed up for the race before getting injured in the April bombing
Editor's note: John D. Sutter is a columnist for CNN Opinion and head of CNN's Change the List project. Follow him on Twitter, Facebook or Google+. E-mail him at ctl@cnn.com.
(CNN) -- Seven months of marathon training have made my 30-year-old knees feel like those of a person decades older. At times, I've hobbled down stairs and winced unexpectedly. If I owned a cane, I'd shake it at the trim women who run past me while pushing strollers full of infants -- and the gazelle-ish teens who spring by at two to three times my running pace.
Griping about irritating run-spiration T-shirts that say things such as "Preserve the Sexy" is a coping mechanism -- a way to distract myself from the somewhat-frightening marathon I signed up to run, like many of you, in response to the Boston Marathon bombing.
Until Monday, I wondered if I could finish.
That was the day I had a conversation with a Boston bombing victim who, after three surgeries, ran her first marathon a few weeks ago.
Before that, I worried about "Mile 20," which is when many runners quit. In most marathon training programs, you don't run farther than 20 miles before race day. It seems natural to a Woody-Allen brain that Mile 20 should induce panic. How are you supposed to get energy for those extra 6.2 miles, which will take me at least an hour to run?
RELATED: 'Run for Boston' iReport group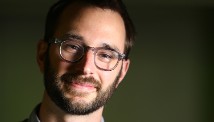 John D. Sutter
All of those complaints and fears seemed so childish after I e-mailed with Lee Ann Yanni, a 32-year-old who was standing near the finish line in Boston in April when the bombs went off. Chips of wood and shrapnel the size of a half-dollar lodged themselves in her leg. Her fibula broke through the skin. Her eardrum popped. The doctors thought she was crazy, she said, when she told them she was going to run the Chicago Marathon. Before the bombing, she signed up for the race in honor of her dad, who died of cancer in October 2012. Injuries weren't about to change her mind.
"I'm not letting these fools take my first marathon away from me," she told the Boston Herald.
Three months after the bombing, Yanni walked without crutches. In September, she ran for the first time since the surgeries, which removed the shrapnel, repaired the bone and grafted skin across the bottom part of her leg, pulling the flesh from her thigh.
Yanni is a physical therapist in Boston, so she knew what she was up against.
"I know I wasn't ready to run, and I said many times that this was the dumbest idea I had ever had," she wrote to me, "but no one argued with me. Guess they were smart."
RELATED: I'm running a marathon for Boston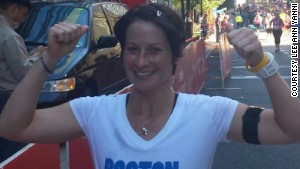 Lee Ann Yanni
A friend suggested she walk most of the marathon, but Yanni insisted she would run it within the 6 1/2 hour limit. "I said, 'NO.' That's not even an option. It's not an option not to FINISH.'"
"My dad fought his cancer for six weeks," she added, "and I could suck it up and do whatever it took for 6 or 6 1/2 hours of 'pain.' He was a fighter, and I knew that it was in me in some form."
The world of running was new to me when I began this process. This spring, two miles stole my breath. I had to do a training program to be able to start the marathon training program. For all their quirks -- the Gu packets, the Band-aided nipples, the overendorphined Instagram feeds -- runners all seem to harness a sense of determination you don't find in day-to-day cubicle life. It can't be a question of whether or not you'll finish. You will finish.
To believe otherwise is to fail, in a sense.
I believe that now, but only because I've heard so many stories like Yanni's. Earlier this year, I traveled to Oklahoma City to watch Sara Hunt finish the marathon she started in Boston but was cut less than a mile short by the bombing. "Once I hit the point where I stopped in Boston, I was like, 'No more walking. I'm running this,'" she told me. "This race, this is for Boston. I'm finishing."
There, I also met Gary Woodbridge, whose wife, Ronota Newberry-Woodbridge, was killed in the 1995 Oklahoma City bombing. He ran his first marathon in her honor. "She always wanted to run a marathon, and I finally lost enough weight where I thought I could try," he told me. He struggled, but he finished. He had to.
RELATED: In OKC, a run to finish what she started
When I'm running the marathon next week in North Carolina, I'm sure there will be points when I'll want to give up -- but I won't. I'll have too many stories with me.
I'll think of how Yanni's husband washed her damaged leg while she held a towel over her face and cried, unable to walk and not wanting to look at the limb. About how she only had run about 11 1/2 miles in her premarathon training. She hit "the wall," so to speak, at Mile 22 of her race. "It was like a wall or a curtain came down," she said. Everything got hazy. She doesn't remember seeing mile markers 23 or 24.
"My legs started to cramp, but I didn't want to stop and stretch because I was scared I wouldn't be able to get going again."
She did keep going, of course.
"My advice would be just take it one step at a time," she wrote. "We are only a select group of people that make that journey and take the time to achieve such an insane goal.
"Take each mile and savor it."
"I am glad that I can inspire people," she added, "but I just feel like a normal person who loves running and who is wicked stubborn! ... I was gonna cross that finish line one way or another."
After hearing Yanni's story, I'm sure I will, too.
I'd also encourage you to consider signing up for a race -- of any length -- as part of CNN iReport's Run for Boston group. Hundreds already have pledged to do so.
The goal is to show support for the truly brave people such as Yanni and others who are taking steps each day toward recovering from the Boston tragedy.
We're running for them.
What are your tips for getting past 'Mile 20'? Share them in the comments section or on Twitter. Tag the tweets #runforboston.
The opinions expressed in this column are solely those of John D. Sutter.