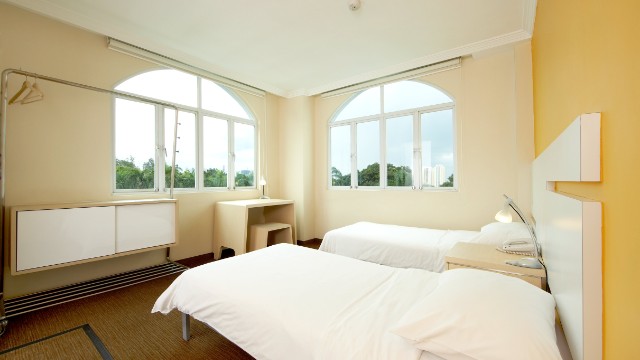 In addition to clean dorms, Hangout offers sleek doubles and singles with views of Singapore's Mount Emily Park. The main draw, though, is the vibe. Occupants can play pool, or mingle on the rooftop deck (complete with sun chairs).
In addition to spacious doubles and free wi-fi, UHostel has some boho communal spaces, like a screening room. The management regularly hosts movie nights, and other meet-and-greet activities, like cooking classes.
Comfort and ecology are the main tenants of The Beehive, which is run by an American couple. The in-house cafe serves up organic breakfasts, fair trade coffees and teas and vegan dinners three times a week.
Deluxe rooms at Palmer's Lodge, in London's Swiss Cottage neighborhood, mimic those found in traditional hotel rooms. They have en suite bathrooms, coffee machines, and even a private TV. There is a bar and restaurant on-site, and business travelers can book meeting and conference space through reception.
Stay Inn is less like a hostel and more like a boutique B&B. The digs are tastefully decorated, and there is a clean communal kitchen (complete with cappuccino machine) and a public lounge area with free wi-fi.
Puls Hostels have rolled out in a handful of cities, launching lavish perks wherever they set up shop. At Plus Florence (pictured), then not only have double rooms on offer but an outdoor and indoor swimming pool, a sauna, a gym, a steam room and a Turkish bath.
Plus Berlin also has a pool and sauna, not to mention free yoga classes and a conference room for business travelers.
Miss Sophie's is one of four properties belonging to the Bohemian Hostel Group and is regularly extolled for its stylish, minimalist design by the likes of Lonely Planet and The Guardian.
Lub D, which has two locations in Bangkok, makes for a congenial stop. Both locations have a screening room, and offer up free popcorn (and hugs, just ask reception).
Housed in an old biscuit factory in downtown Reykjavik, Kex is a great pick for business travelers on a budget. It has meeting space, an old-school boxing gym, free wi-fi, an on-site cafe and bar, and a heated patio for lounging and mingling.
Generator specializes in quirky hostels, and has several locations throughout Europe. The certainly aren't shy on the perks. At the Dublin location (pictured), guests can take a dip in the jacuzzi, catch a movie in the screening room, indulge in a power shower, and fill up in the morning on a full Irish breakfast.
Ostello Bello aims to operate like a home away from home. The Milan hostel welcomes guests with a tipple, and all rooms come with a private bathroom. There is also a guest kitchen, complete with a garden, BBQ area and hammocks. Best of all, guests can order breakfast any time they wake up, whether that's 3am or 2pm.
A clean, colorful and quirky hostel, Casa Garcia has a communal kitchen for guests, free wi-fi, and free maps of Barcelona. As the name suggests, its designed to resemble a local home.
Aventura Boutique Hostel isn't your typical hostel. It doesn't have bunk beds, there's a guest kitchen for guests, and there's even an in-house massage service (perfect after a long day pounding the pavement).
Hangout@mt.emily, Singapore
UHostel, Madrid, Spain
The Beehive, Rome, Italy
Palmer's Lodge, London
Stay INN, Lisbon, Portugal
Plus Florence, Florence, Italy
Plus Berlin, Berlin, Germany
Miss Sophie's, Prague, Czech Republic
Lub D, Bangkok, Thaliand
Kex Hostel, Reykjavik, Iceland
Generator Dublin, Dublin, Ireland
Ostello Bello, Milan, Italy
Casa Garcia, Barcelona, Spain
Aventura Boutique Hostel, Budapest, Hungary