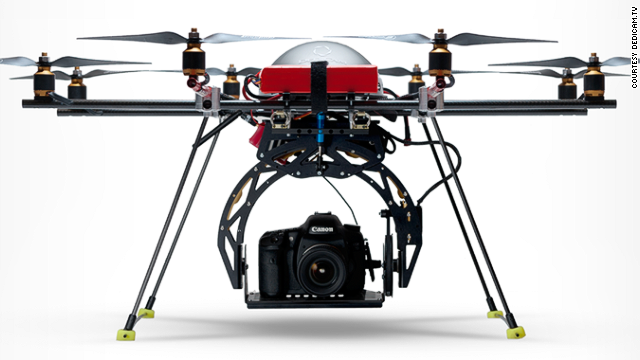 Herding sheep, delivering pizza, guiding lost students around campus -- these are just a few things friendly drones can do. Company and DIY drones are on the rise, and not even Hollywood stars will be safe from them. Soon starlets might be acting in front of
drone-mounted cameras
or being
chased by a UAV paparazzi.
Matternet
aims to create a network of drones capable of transporting potentially lifesaving goods to rural and under-developed areas. The
Bill & Melinda Gates Foundation
is backing rural drone transport too, funding a project that aims to transport vaccines to hard-to-reach and disaster-struck locations.
U.S. start-up
In Peru, archeologist are using drones to map archeological sites and protect them from vandals and squatters.
Japanese toy maker Kyosho has developed an infrared controlled drone 'Neon Messenger', which can display LED messages while flying.
Harvard
students navigate around MIT's infamously convoluted landscape. It was developed by an
MIT
research group called
Senseable City Lab
.
Drones turn campus guide at -- where else -- MIT. Skycall is a prototype to help
Bert Jansen
. The remote-controlled quadcopter was first exhibited in Amsterdam and Jansen has since created more taxidermy drones.
Drone+stuffed cat = art. Orville is a flying helicopter cat made by Dutch artist
German communications provider
Deutsche Telekom
is tired of people stealing their copper cables. So they contracted a company to tag overhead telephone cables with drones across Germany in an effort to fight theft of the cables, which has shot up in recent years with the value of copper.
Domino's
has tested the possibility of delivering pizza via the
DomiCopter
. Other companies are also investigating the possibility of delivering their food via drones.
Pizza delivery company
Los Angeles County Sheriff's Department
began experimenting with the SkySeer Search and Rescue drone as early as 2006.
Drones, often more resilient than humans, make for an ideal search party, as they can be pre-programmed to scan an area inch-by-inch.
Soon, real farming could be as easy as online farming games. Time-consuming agricultural tasks, such as spraying pesticides, could be left to UAVs, whilst surveillance drones can analyze the land and offer insight into how to boost the harvest. This French drone is scanning crops to help farmers optimize water levels and fertilizer use.
Burning Man
festival in Nevada is often a hotbed of amateur UAV activity. So much so that some look to the event for insight on how to balance freedom of drone use with privacy and safety concerns.
The
Drones as shepherds? Quadcopters could soon be replacing dogs as herders.
Fly-n-Sense
company has developed an innovative forest surveillance system which will enable a real-time monitoring of fire outbreaks and the development of flames in French southwestern forests.
The French
Ol Pejeta Conservacy
in Kenya is planning to use the UAV to monitor the location of its wildlife and deter poachers from harming the animals.
Efforts to protect four of the world's last remaining northern white rhinos have been boosted by a $70,000 drone. The
3D Robotics
has developed the X8, a copter that can take high-resolution videos and photographs, an do detailed mapping. 3D Robotics says the user will be able to create, fly and repeat missions for data measurement.
UAV technology company
15 pretty cool drones
Airborne aid
Indiana drones
Game of drones
Campus guide
Cat drone
Copper chopper
Pizza drone
Search and rescue
Lay of the land
UAV in the desert
Herding sheep
Real-time monitoring
Drone ranger
Up, up and away!
STORY HIGHLIGHTS
Though drones have incredible commercial potential, most countries restrict its use
The U.S. is expected to open up drones for commercial use by 2015
AUVSI estimates the U.S. loses $10 billion yearly by delaying drone integration
Though drones bring up privacy concerns, some argue it could advance privacy law
(CNN) -- Apart from what they do for the military; drones have already proven themselves capable sheep herders, delivery boys, tour guides, filmmakers, archaeologists, and -- possibly -- spies.
The global economic potential of these machines is astounding; a recent study estimated the worldwide market for unmanned aerial vehicles (UAVs) at $89 billion in 2013.
Proponents are eager to point out the many ways they're going to make our lives better.
"Really, this technology is an extra tool to help an industry be more effective," says Gretchen West, the executive vice president for the Association for Unmanned Vehicle Systems International (AUVSI).
"With precision agriculture, for example, it can take pictures of fields so farmers can identify problems they wouldn't necessarily see walking through the fields. In law enforcement, you could find a child lost in the woods more easily than walking through a field, particularly if there's bad weather or treacherous ground."
Drones make surveillance cheaper and easier, so you can expect to see more of it
Ryan Calo, University of Washington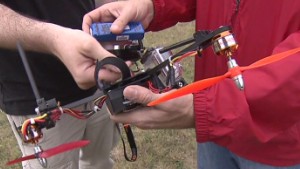 The growing appeal of private drones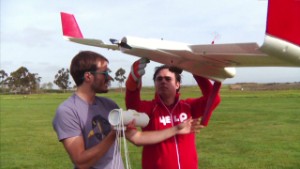 Unmanned aircraft delivers burritos
While it may seem that drones are set to take over our lives, the reality is a bit more complicated. Drone usage around the world is definitely picking up in the public sector, but when it comes to commercial activity, many countries have strict limitations.
Opinion: Bad laws could hurt good drones
The United States doesn't allow for commercial drone usage at all, though that's expected to change in 2015, when the Federal Aviation Administration (FAA) aims to put a plan in place to integrate drones in U.S. airspace. In the meantime, says West, the U.S. is losing $10 billion in potential economic impact for every year the FAA delays.
"I think the U.S. has been the leader in this technology, and I think there's a risk of losing that first-mover aspect the longer we wait on regulations," she says.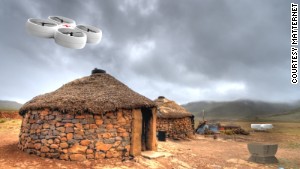 Matternet aims to create a network of drones capable of transporting potentially lifesaving goods to rural areas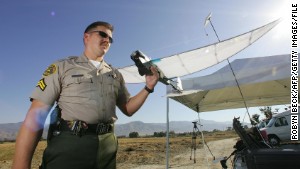 Los Angeles County Sheriff's Department began experimenting with the SkySeer Search and Rescue drone in 2006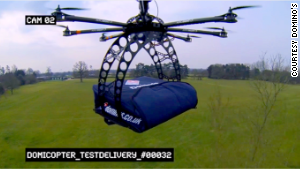 Domino's has tested the possibility of delivering pizza via the DomiCopter drone
"A lot of countries are allowing for flight, and that puts us at a disadvantage. We're seeing U.S. manufacturers realize they're developing great products they can't use here, and they're looking to overseas to fulfill their business model."
Currently, civilian drone use in the U.S. is only sanctioned in a handful of incidents, namely in the public sector, as research or as a hobby, though the latter dictates they don't fly above 400 feet, near populated areas or outside of the operator's line of vision. While this means that ostensibly, non-military manufactures are restricted to making hobby models, most of these can take on commercial applications.
"We're amazed at the uses that pop up," says Sue Rosenstock, a spokesperson at 3D Robotics -- an American manufacturer of hobbyists UAVs.
In addition to catering to enthusiasts locally, Rosenstock estimates that half their business is done overseas in countries with fewer restrictions. One of the most open countries, she notes, is Australia.
The Outback recently made headlines when Australian start-ups Zookal and Flirtey announced they would team up to provide textbook deliveries via drones by next year.
Read more: How robots learn from insects
"We see them as a wonderful example of the power of legislation to free up this emerging technology," says Rosenstock.
Despite the infancy of the industry, many lawmakers fear the potential invasion of privacy that drones portend. Nine U.S. states have already passed laws restricting drone use, both in the hands of private citizens and law enforcement agencies.
"Drones make surveillance cheaper and easier, and when you do that, you can expect to see a lot more of it," warns Ryan Calo, a law professor at the University of Washington School of Law and an affiliate scholar at the Stanford Law School Center for Internet Society.
While Calo argues that the ease with which the government can spy on us "should be a concern", he also says that drones could be useful in starting a long overdue conversation about privacy law.
"Privacy law has lagged behind surveillance technology for years, and it probably has to do with the fact that citizens can't envision what the problem is, but they can picture what drone surveillance would feel like," he says.
As a result, he argues, drones "could be a catalyst for better privacy law."