Samsung edges Apple in tablet-satisfaction survey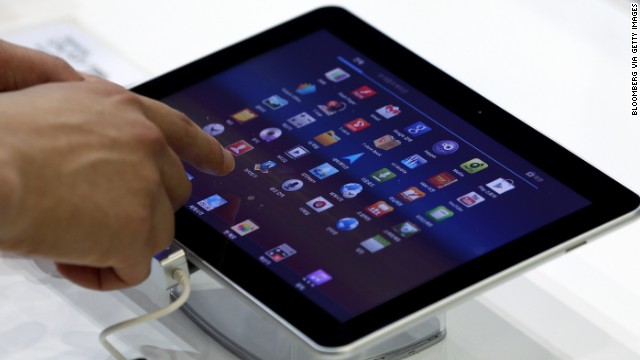 While the iPad still leads the way, the tablet-computer market has become a more diverse and competitive one in the past year or so. Users looking to upgrade from their smartphone screen, or get simpler than a laptop, have options that include Apple's offering, as well as new designs from Samsung, Google, Microsoft, Nokia, Asus and others.
The latest version of Apple's industry-leading tablet (they've sold 170 million) went on a serious weight-loss routine. It weighs in at only one pound, down from 1.4, and is 20% slimmer than its predecessor. It starts at $499. On Tuesday Apple also rolled out a new iPad Mini with a high-resolution (or "retina display" in Apple-speak) screen.
Nokia's first full-size tablet, the Lumia 2520, has a 10-inch display screen and runs a version of the Windows 8 operating system. It sells for $499, with 4G LTE and a 6.7-megapixel back-facing camera.
The second generation of Microsoft's tablet-laptop hybrid, the Surface 2, was rolled out for sale October 22. Starting at $449 for a 32GB model, the Surface got thinner and more powerful and added a high-definition screen. (It also got rid of the confusing "RT" at the end of its name). The souped-up Surface Pro 2 starts at $899.
Emerging as Apple's chief mobile rival, Samsung rolled out the third generation of its Galaxy Tabs earlier this year. The 10.1-inch version of the Galaxy Tab 3 starts at $359 and is the top-selling full-size tablet running Google's Android operating system.
There's a lot more competition now, but Amazon's Kindle Fire was the first tablet to dent iPad's dominance with its smaller size and lower price tag. The new 7-inch Kindle Fire HD costs $199, while a bigger, 8.9-inch Fire HD sells for $299.
Google wasn't the first company to make a tablet smaller than the iPad. But many reviewers think they've made the best mini model. The Nexus 7 is a relatively powerful device running Google's Android operating system and starts at an affordable $199.
They don't have broad name recognition, but Asus has quietly become the third-leading tablet seller (at least in the first few months of 2013). Asus has impressed critics with its Transformer tabs, which have filled the hybrid tablet/laptop slot more successfully than Microsoft's Surface. Its top-of-the-line Transformer Pad Infinity begins around $400.
The hottest and best-known tablets
iPad Air
Nokia Lumia 2520
Microsoft Surface 2
Samsung Galaxy Tab 3 10.1
Kindle Fire HD
Google Nexus 7
Asus Transformer Infinity
STORY HIGHLIGHTS
Samsung tablets edged out iPads in JD Power's new customer-satisfaction survey
Samsung topped the rankings with a score of 835, narrowly beating out Apple's 833
Some tech pundits questioned the market-research company's scoring system
Users scored the iPad higher than Samsung tablets in four of five categories
(CNN) -- Samsung tablets have edged out iPads for the first time in JD Power's biannual customer-satisfaction survey, although some observers say the results don't quite add up.
Samsung topped JD Power's rankings with a score of 835 out of 1,000, narrowly beating out Apple's 833. Amazon was third in customer satisfaction at 826, followed by Asus and Acer.
The rankings are based on the experiences of 3,375 tablet owners who responded between March and August of this year, and don't include the new iPad Air and iPad Mini, which went on sale Friday.
But some tech pundits questioned the market-research company's scoring system.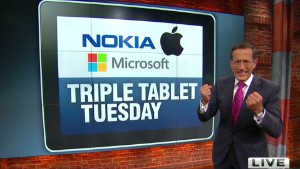 Triple tablet Tuesday
Survey respondents scored Apple's iPad higher than Samsung's tablets in four of five categories -- performance, ease of operation, styling/design, and features -- while Samsung scored higher in just one: cost.
A Samsung Galaxy Tab 3 with an almost 8-inch screen, Wi-Fi-only connectivity and 16GB of storage sells for $299, compared to $399 for a comparable iPad Mini.
"Reporters who got their hands on the attached chart were left scratching their heads," wrote Philip Elmer DeWitt in Fortune. "The only category that Samsung beat Apple in was (duh) cost. And cost, according to Power's press release, counts for at most 16% of the total score."
"Did J.D. Power overreach in giving its top customer satisfaction nod to Samsung instead of Apple?" wondered Don Reisinger of CNET. "So who's the real winner?"
JD Power did not immediately respond Friday to CNN's request for comment.
Apple in the past has trumpeted JD Power's rankings as evidence of its products' popularity with consumers. At the company's Worldwide Developers Conference in June, Apple CEO Tim Cook bragged that iOS devices have won nine consecutive JD Power awards.
JD Power's survey notes that Samsung is the only manufacturer to improve across all five categories since its last survey in April.
The survey found that before buying their tablet, 50% of consumers rely on recommendations from friends, family members or colleagues, while 49% gather information from the manufacturer's website.
Other factors that determine tablet-buying choices include brand reputation (42%) and past experience with the brand (32%).