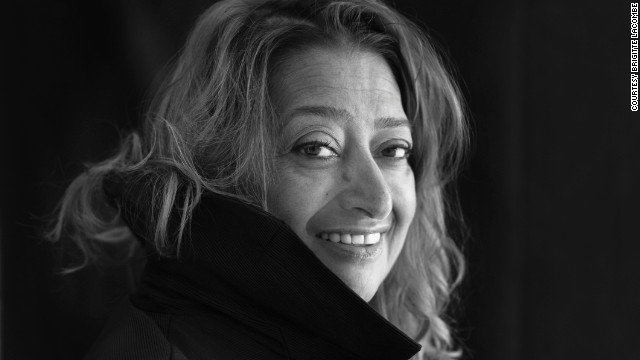 Meet Zaha Hadid, the world's most famous female architect.
The 63-year-old Iraqi-born Briton is perhaps best known for her white, sweeping, space-age buildings. Now she's turned her attention to superyachts.
The six concept yachts, designed for German shipbuilders Blohm+Voss, range from a 128-meter "master prototype" to a 90-meter version called "Jazz."
"The idea was that the frames could be like veins," explained Hadid. "I like this kind of project because every time you do them, you learn about some other type of parameters which you had not always considered."
"Unfortunately, architecture, as much as we'd like it to float, it doesn't. That's one thing that's different -- architecture is tied to gravity," she said.
In the last decade, Hadid has enjoyed huge success. In 2004 she became the first woman to win the Pritzker Prize -- regarded as architecture's Nobel -- and last year was awarded an DBE from the Queen, for her services to the industry.
Hadid's first completed building was the Vitra Fire Station in Weil am Rhein in 1993. She recently returned for 20th anniversary celebrations. "When I go back, buildings look very different -- they're either smaller or not as you expect them," she said.
Hadid won an international design competition to build Rome's contemporary art gallery. Featuring overlapping limbs, MAXXI has often been held up as her finest work, awarded a Stirling prize in 2010 for British architects.
Hadid's Aquatic Centre, built for the London 2012 Olympic Games, featured a distinctive sweeping ceiling. "An undulating roof sweeps up from the ground as a wave, enclosing the pools of the Centre with its unifying gesture," she says on her website.
Hadid's biggest office outside of London is in China, so it's unsurprising that she has designed a number of buildings in the country, including the Galaxy Soho entertainment and office complex (pictured), the Guangzhou Opera House in 2010, and the Wangjing SOHO towers complex, set to be completed next year.
Last month Hadid opened the new Serpentine Sackler Gallery in London's Hyde Park, featuring her distinctive sweeping, space-age roof.
Set to be completed this year, Hadid said she was particularly pleased with the design for the Heydar Aliyev Cultural Center in Azerbaijan.
Zaha Hadid
Water works
Smooth operator
Floating future
Nautical design
Sail away
Vitra Fire Station, Germany, 1993
MAXXI museum, Rome, 2009
London Aquatics Center, 2011
Galaxy Soho, Beijing, 2012
Serpentine Sackler Gallery, London, 2013
Heydar Aliyev Cultural Center, Azerbaijan
STORY HIGHLIGHTS
Exclusive interview with world's most famous female architect Zaha Hadid
Designer behind new luxury Blohm+Voss superyachts: "Frames like veins"
Iraqi-born Briton says building Baghdad's central bank would be "very special"
Thinks conditions of construction workers is the responsibility of governments
(CNN) -- When I first meet Zaha Hadid she's as tight-lipped as a closed door. This is a woman who doesn't do idle chit chat. Why would you when you're the world's most famous female architect?
Asked if people needed to be a little afraid of her, the brusque answer is "No," before shooting me a case-closed expression. "I think people are always intimidated by something. I don't do things that scare people off."
"Full of lies," is her response, when I refer to one article in which she demanded flight crew swap her plane, while taxiing on a runway.
Forty minutes later, Hadid has softened somewhat, opening the door on a remarkable life that began in 1950s Baghdad, before smashing through the "boy's club" of international architecture, to become one of the most celebrated -- and divisive -- designers on the planet.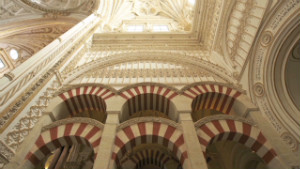 Zaha Hadid's favorite buildings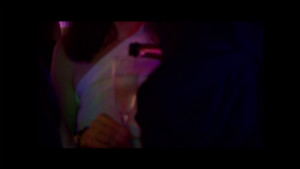 A trendy party with Zaha Hadid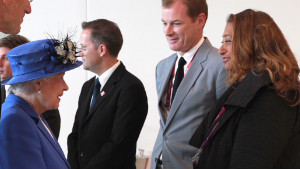 Architecture fit for royalty
Perhaps the urban legends about her formidable demeanor are part of the mystique that has built up around the 63-year-old Iraqi-born Briton, who today boasts over 400 staff and 950 projects in 44 countries -- including plans for Japan's 2020 Olympic Stadium and the recently opened Serpentine Sackler gallery in London's Hyde Park.
Dozens of models of Hadid's distinctive white, sweeping, space-age designs sit on undulating plinths in her gallery in east London's fashionable Clerkenwell.
The installation is called "City of Towers," and sitting a little behind this mini metropolis is the creator herself, dressed in a black cloak at a long table of rippling glass.
"Frames like veins"
Her latest project is for German superyacht builders Blohm+Voss -- the same company behind billionaire businessman Roman Abramovich's "Eclipse," the second-largest private yacht in the world.
On the wall behind her, a plasma screen flashes computer-generated images of her six boats, their gleaming exoskeleton frames seamlessly weaving together each luxurious level. They range from a 128-meter "master prototype" to a 90-meter version called "Jazz."
There's barely a right angle in sight. So just what goes on in the mind of an architect who has created buildings with the most intriguing shapes?
"The idea was that the frames could be like veins," explained Hadid. "I like this kind of project because every time you do them, you learn about some other type of parameters which you had not always considered.
"Unfortunately, architecture, as much as we'd like it to float, it doesn't. That's one thing that's different -- architecture is tied to gravity."
Read: The $15m yacht controlled by an iPad.
"I never took 'no' for an answer"
Gaze across the sweeping roof of Hadid's London Aquatic Centre or the overlapping limbs of Rome's MAXXI museum, and you get the feeling these fluid forms are not harnessed by gravity at all.
For fans, they're beguiling creations which redefined architecture for the modern age. For detractors, they're overbearing and over budget.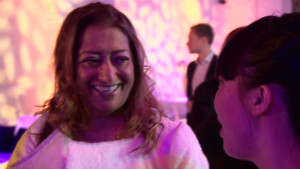 Architect rejects 'old boys' club'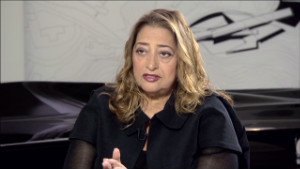 The woman behind Olympic Aquatic Centre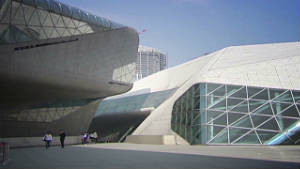 Guangzhou's striking opera house
Either way, there's no denying Hadid's phenomenal success, the first woman to win the Pritzker Prize in 2004 -- regarded as architecture's Nobel -- and in the last decade going from the architect who never built anything to the architect who built everything.
"I never took no for an answer. I never sat back and said 'walk all over me, it's OK,'" she says about her headstrong approach.
"In London it was very timid, people behave well, they're polite -- especially if you're a woman. A woman should behave properly. It means that you don't challenge the situation."
Indeed, when Vienna's MAK museum had an exhibition of her work in 2003, attendants wore t-shirts emblazoned with Hadid quotes such as, "Would they still call me a diva if I was a man?"
Is there a defiant twinkle in her eye as she recalls the incident? "If you're a man you're seen as someone who's tough and ambitious," she says. "But when a woman is ambitious it's seen as bad. I think things have changed in the last 20 years. They're better. But there's still prejudice."
Read: World's 'most exclusive club' admits women
From an outside perspective, Hadid's determination has paid off, finally cracking the notoriously masculine world of architecture. She disagrees.
"I think it's a boys' club everywhere," she says. "And I'm not privy to that world so much -- they go fishing, they go golfing, they go out and have a drink. And as a woman you're excluded from that bonding. It's a big difference."
"We were building a new world"
Hadid grew up in a Bauhaus-inspired home in Baghdad, her father leader of the Iraqi Progressive Democratic Party, a man who highly valued education.
She and her two brothers were sent to boarding school in England, before later gaining a degree in mathematics from the American University of Beirut.
As a teen she was inspired by a 1960s post-war boom in modernist architecture, when exciting new designs made the cover of Time magazine.
"There was a sense of optimism, we were building a new world that was demolished during the war," she said. "There were new ideas, new materials."
At 22 she moved to London to train at the radical Architectural Association, under the tutelage of influential Dutch architect Rem Koolhaas, who famously called her "a planet in her own inimitable orbit."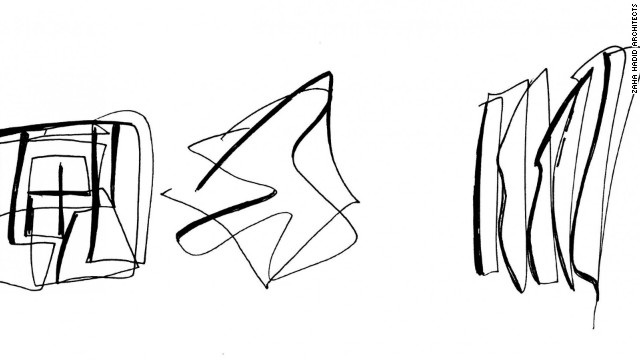 The $35.7m Lois & Richard Rosenthal Center for Contemporary Art begins with a sketch.
More context is revealed by a painting.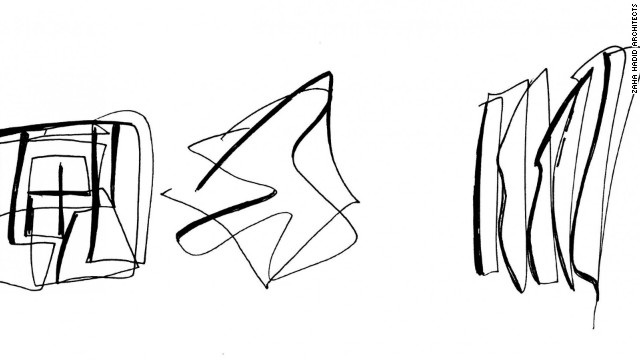 Evolution of a building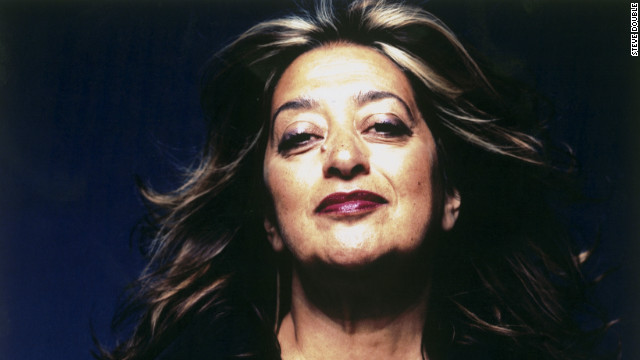 Iraqi-born Zaha Hadid is one of the greatest living architects, and the first woman to win the Pritzker Prize.
Inspired by the fluid geometry of water in motion, Zaha Hadid's London Aquatic Centre is considered the "most majestic" Olympic space.
Hadid won the RIBA's Stirling Prize two years running, the second time for the Evelyn Grace Academy in Brixton, South London. According to the Financial Times, "a number of the students, particularly the girls, have already expressed an interest in becoming architects."
Hadid has also designed furniture, door handles, vases and these plastic shoes for Brazilian label Melissa.
Hadid's unusual skirted tower on the Marseilles coast.
"I am very difficult," Hadid tells Leading Women. "I mean, I'm very generous with many people. Some people think I'm too generous. But I'm not consistent. I'm not always cold; I'm not always friendly."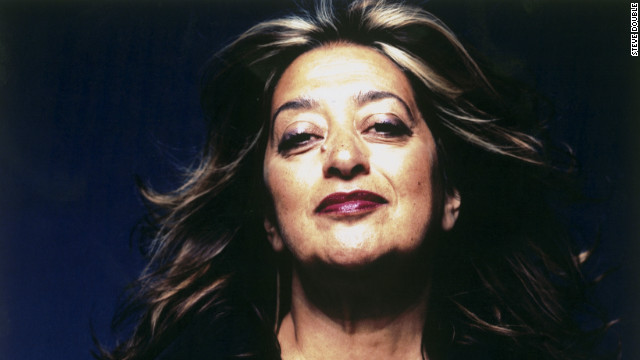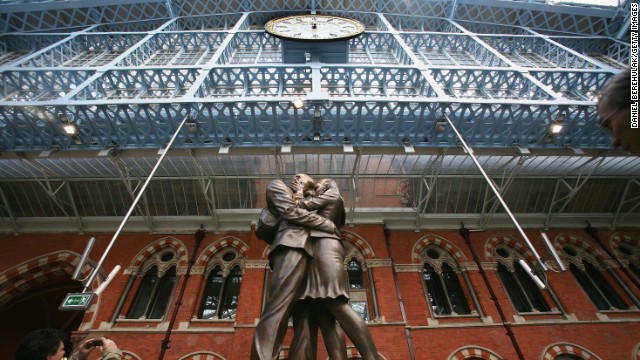 London's St Pancras International last week announced the second installation to appear in its contemporary arts program. Chromolocomotion, by the artist David Batchelor, will see a group of perspex shard sculptures hang from the roof of the terminal building.
The stunning interior of Grand Central Terminal in New York. Built in 1913, the iconic station is decorated with winding marble staircases and gleaming chandeliers. Grand Central has also offered a picturesque backdrop to numerous Hollywood blockbusters over the years, including Carlito's Way and The Godfather.
Atocha is the largest railway station in the Spanish capital, Madrid. The vast terminal services high-speed (AVE) trains, local commuter lines and a phalanx of inter-city routes. It also plays host to a 4,000-square meter garden filled with tropical plants and flowers (pictured).
The interior of the Liège-Guillemin station in Liege, Belgium. The facility's ultra-modern glass and steel facade is featured in promotional posters for upcoming Wikileaks docu-drama, The Fifth Estate, starring Benedict Cumberbatch. Although far from Belgium's biggest or busiest station, Liège-Guillemin is fully equipped for high speed arrivals and departures as well as commuter trains.
Not only is the Chhatrapati Shivaji Terminus in Mumbai the busiest train station in India, it's also a UNESCO World Heritage Site. The immense facility -- featuring a mixture of gothic turrets, stone domes and pointed arches -- serves as a terminal for long distance trains and suburban railway services. It was also featured in the 2008 hit movie, Slumdog Millionaire.
The classy yellow facade and green copper dome of Flinders Street Station in Melbourne, Australia. The century-old structure is the busiest suburban railway station in the southern hemisphere with 110,000 commuters passing through each day, according to the City of Melbourne.
Union Station in Los Angeles may look like little more than a sleepy Spanish colonial church, but it's one of California's busiest transport hubs. More than 60,000 travelers pass through the station every day, taking in the station's ornate waiting rooms and manicured gardens along the way.
The spectacular Milano Centrale is the main railway station of Milan, Italy. Furnished with 11,000 cubic meters of marble flooring and home to an array of stone sculptures, the 82-year-old terminus is as much a cultural destination as it is a transit hub.
Passengers wait at the Dostoyevskaya metro station in Moscow. Much of the Russian capital's vast underground system is decorated with elaborate Soviet artwork. Here, a portrait of iconic author, Fyodor Dostoyevsky, looks down upon travelers.
The giant Gare du Nord in Paris is Europe's busiest railway station, offering a variety local and national services as well as international routes to the likes of Belgium, Holland, Germany and the UK. More than 190 million passengers pass through the station's famous brick facade entrance every year.
Constructed way back in 1910, Kuala Lumpur Railway Station stands out thanks to its spectacular architectural style, which fuses a combination of Indian, Arabic and Western techniques. Although no longer the Malaysian capital's primary rail hub (a role now performed by the more modern Kuala Lumpur Sentral), commuter trains still regularly pass through the century-old station.
OK, so it's not actually built yet, but Riyadh's new metro system is set to be pretty spectacular once it is. Construction will begin next year on the King Abdullah Financial District station (pictured) designed by Zaha Hadid Architects.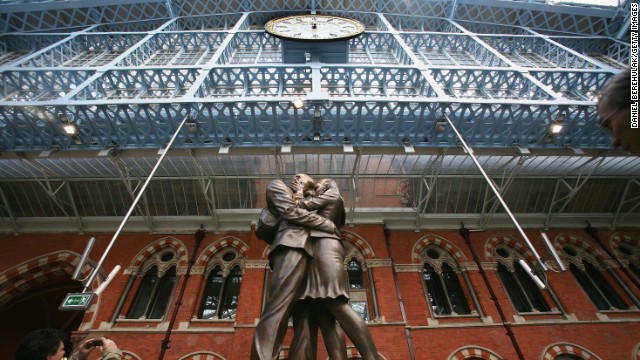 What did he mean by that?
"I often wonder that myself," Hadid says with a chuckle, revealing a cheeky gap-toothed smile. "When he said it at the time, I was upset. But in a way he was right -- I should not have a conventional career and he was absolutely spot on."
The renegade planet that is Hadid kept hurtling forward, setting up her own London practice and, in 1993, completing her first building -- the Vitra Fire Station in Germany. She recently returned for its 20th anniversary.
"When I go back 20 years later, buildings look very different -- they're either smaller or not as you expect them."
Read: 162 years of America's Cup yacht design
But it was the 1995 Cardiff Bay Opera House in Wales -- a commission she won twice, but was thwarted by local politicians -- which nearly ended her career, and helped shape the steely woman who last year was honored by Queen Elizabeth for her services to architecture.
"I know a lot of people thought I would give up, because it was such an awful, painful experience. I remember the day it happened I thought, 'I will not let this finish me.' In a way, it saved me. I think it did make me stronger," she said.
"I wouldn't build a prison"
Today, it's difficult to imagine many developers turning down the celebrity architect, her buildings dotted everywhere from Beijing to Azerbaijan.
Is she concerned about the human rights credentials of the countries she works in?
"As an architect, if you can in any way alleviate an oppressive situation, or elevate a culture, then I think that you should. It's different if someone asks you to build a prison -- I wouldn't do it. But if I'm doing a museum or a library, I think that's different," she said.
I never took 'no' for an answer. I never sat back and said 'walk all over me, its ok'
Zaha Hadid
And the conditions of the construction workers?
"It's not your responsibility really. I think different nations should take care of their workforce.
"As an architect, if you are involved in every layer then honestly you don't do anything. I'm not saying I shouldn't be thinking about it, but I think it's a job for the politicians, for the media, for the locals, to deal with it."
One country yet to host a Hadid original is her native Iraq, though she has been commissioned to build Baghdad's new central bank -- when that will actually happen is anyone's guess.
But you get the feeling that no matter how hugely successful Hadid is, she will always paint herself as the feisty underdog -- as much a part of her distinctive brand as undefinable space-age shapes.
"When you're younger you just want to bang ahead. But it is very tiring, this constant fighting," she said.
"Of course, we are more accepted now, but there's always a reminder of the time when they resisted -- the only fundamental difference is before they resisted because they thought we were crazy.
"Now they resist because they think we're successful."