'Back is hindering Federer,' says Serena's coach
updated 2:12 PM EDT, Fri November 1, 2013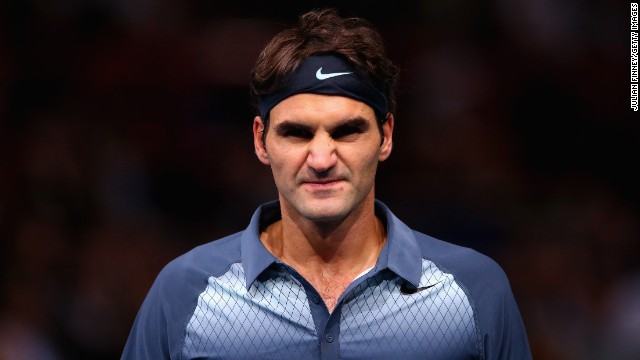 Since moving to London in 2009 more than one million people have attended the World Tour Finals, making it the world's biggest indoor tennis tournament. Former world No. 1 Roger Federer has won a record six World Tour Finals titles.
Spain's Rafael Nadal may be top of the world rankings, but he has never won a World Tour Finals title.
Serbia's Novak Djokovic is a two-time champion at the season-ending event, winning it in both 2008 and 2012.
The closest world No. 3 David Ferrer has come to winning the competition is a defeat to Federer in the 2007 final.
Stanislas Wawrinka is making his World Tour Finals debut. His qualification marks the first time that two Swiss players will be competing at the season finale.
Argentina's Juan Martin Del Potro was beaten in the first London final in 2009 by Russia's Nikolay Davydenko.
The tournament pits the top eight players in the world against each, but world No. 9 Richard Gasquet is heading to London due to the withdrawal of Wimbledon champion Andy Murray.
Czech Republic's Tomas Berdych enjoyed his best World Tour Finals in 2011, when he reached the semifinals.
The magnificent eight of men's tennis
The magnificent eight of men's tennis
The magnificent eight of men's tennis
The magnificent eight of men's tennis
The magnificent eight of men's tennis
The magnificent eight of men's tennis
The magnificent eight of men's tennis
The magnificent eight of men's tennis
STORY HIGHLIGHTS
A prominent tennis coach says Roger Federer can still challenge for titles
Patrick Mouratoglou is the coach of women's world No. 1 Serena Williams
Mouratoglou convinced Federer's back injury is the reason behind his slump
Federer is bidding for a record seventh World Tour Finals triumph
(CNN) -- Roger Federer arrives in London for the ATP World Tour Finals with a point to prove.
The 17-time grand slam champion, arguably the greatest player to ever pick up a racket, is outside the top four of the world rankings for the first time in a decade.
Drops in form and fitness have plagued the once all-conquering Swiss, but one prominent coach is confident Federer can return to the peak of the sport if he can address a niggling back problem.
Read: Federer looks for London redemption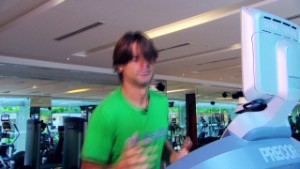 A workout with David Ferrer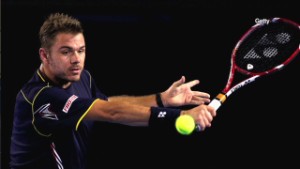 Wawrinka ready for singles success
"He's fighting against his back which is hurting him very often during the year," Patrick Mouratoglou, coach of women's tennis powerhouse Serena Williams, told CNN.
"He lost many matches because of the back, he lost confidence because of that and also he cannot practice the way he wants because his back is hurting.
"He's been out of shape too many times in the year and at that level you cannot perform when you are out of shape."
Federer, who recently split from coach Paul Annacone, is appearing in the season-ending showpiece for a record-equaling 12th year in a row.
The Swiss has also won the tournament more times than any other player in history, with Federer heading to London's O2 Arena in search of a record-extending seventh title.
Read: Serena Williams digs deep for WTA title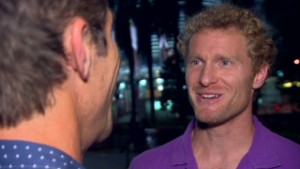 Dmitry Tursunov's tour of Kuala Lumpur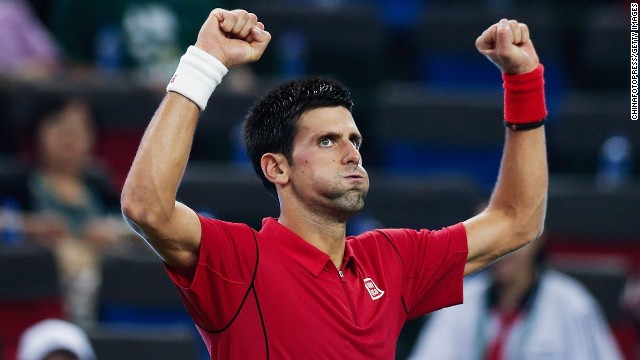 Novak Djokovic has achieved even greater success since switching to a strict gluten free diet, cutting out wheat and chocolate.
Bjorn Borg lifts the Wimbledon trophy in 1976, one of five straight wins at SW19. He relied on a diet of steak and potatoes during his incredible career.
Borg is seen tucking into the traditional English breakfast of bacon and eggs after being knocked out of Wimbledon in 1974.
Eric Butorac (left) with doubles partner Raven Klaasen after winning the Malaysian Open title. Butorac has paid close attention to diet during his long career.
Even the most tempting dishes and pastries can now be served up in gluten free mode.
2013 Wimbledon champion Andy Murray jokingly drinks a bottle of beer given to him by at an exhibition in Australia, but like other star players he has cut out alcohol altogether.
Maria Sharapova enjoys the traditional champagne offering to winners at a tournament in 2012.
Rafael Nadal and other star players eat copious quantities of bananas for quick energy release during long matches.
Roger Federer makes a tradition of giving out pizza to the ballkids at the annual ATP tournament in his hometown of Basel but the Swiss star keeps to a strict diet in his preparations.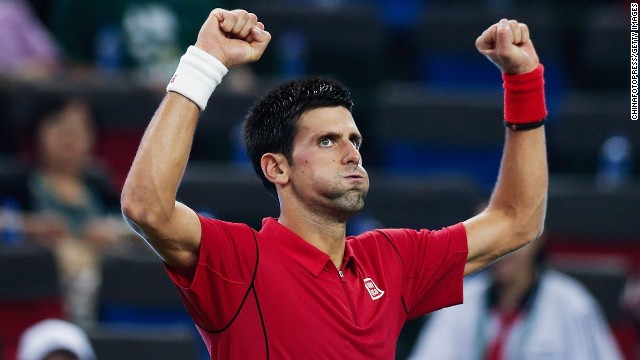 Eating the way to tennis success
Mouratoglou is confident Federer, currently down in seventh in the world rankings, still has what it takes to challenge the top players in the men's game.
"His back is the main thing," he added. "I cannot say he would be No.1 still because the men are very close to each other.
"I think Rafael Nadal has always caused problems to Roger, but he would be in the top three."
World No. 1 Nadal tops the bill at the World Tour Finals and is bidding for a first win at the event, while six-time grand slam champion Novak Djokovic is looking to add to the titles he clinched in 2008 and 2012.
British fans will be disappointed that Andy Murray misses as he continues his recovery from a back injury, but 2009 U.S. Open champion Juan Martin del Potro will be in attendance.
David Ferrer, Tomas Berdych and Federer's compatriot Stanislas Wawrinka will also take part in the eight-man round robin competition.
Frenchman Richard Gasquet completes the line-up. The world No. 9 has benefited from Murray's withdrawal.