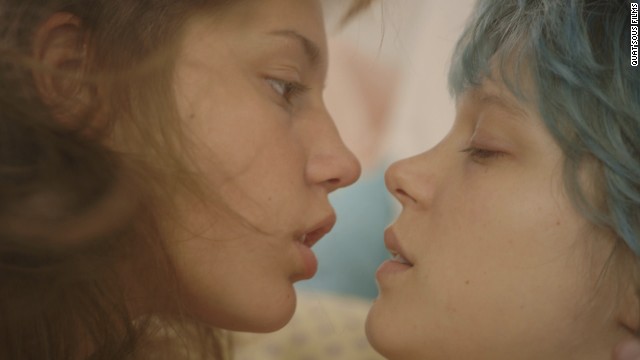 Adele Exarchopoulos, left, and Lea Seydoux star in "Blue is the Warmest Color," which is drawing lots of attention because of its graphic sex scenes, including one that is more than six minutes long. Here are some other films that fogged the windows.
resulted in an X rating
at first and has fans still wondering, did they or didn't they?
The graphic sex scenes between Donald Sutherland and Julie Christie in "Don't Look Now"
except maybe Roger Ebert
-- but had it couples acting out that
food scene.
"Nine 1/2 Weeks," starring Mickey Rourke and Kim Basinger, wasn't a huge commercial success, and critics didn't love it --
Daniel Day-Lewis and Lena Olin had some sexy scenes in "The Unbearable Lightness of Being."
Gay activists protested "Basic Instinct
," starring Michael Douglas and Sharon Stone, as they felt that the portrayal of her bisexual character was offensive.
Jane March and Tony Leung Ka Fai star as a young girl and her older lover in "The Lover."
Naomi Watts, left, and Laura Harring got hot and heavy in "Mulholland Drive."
Gina Gershon, left, and Jennifer Tilly play lovers in "Bound."
Matt Dillon and Denise Richards helped steam things up in the erotic thriller "Wild Things," which included a menage a trois scene with Neve Campbell.
Halle Berry and Billy Bob Thornton dealt with some heavy emotional issues in "Monsters Ball" while engaging in some passion.
Gael Garcia Bernal, Diego Luna and Maribel Verdu form a passionate trio in "Y Tu Mama Tambien."
"Secretary," starring Maggie Gyllenhaal and James Spader, explores the relationship between a submissive secretary and her boss.
Heath Ledger, left, and Jake Gyllenhaal share a cowboy love that dare not speak its name in "Brokeback Mountain."
Raphael Barker and Sook-Yin Lee star in "Shortbus," about a female sex therapist and a group of sexually adventurous New Yorkers.
Kate Winslet and David Kross played out the heat between a younger man and an older woman in "The Reader."
Mila Kunis
Sexy sex scenes
'Last Tango in Paris' (1972)
'Don't Look Now' (1973)
'Nine 1/2 Weeks' (1986)
'The Unbearable Lightness of Being' (1988)
'Basic Instinct' (1992)
Hollywood's steamiest sex scenes
'Mulholland Drive' (1996)
'Bound' (1996)
Wild Things (1998)
'Eyes Wide Shut' (1999)
'Monster's Ball' (2001)
'Y Tu Mama Tambien' (2001)
'Secretary' (2002)
'The Brown Bunny' (2003)
'Brokeback Mountain' 2005
'A History of Violence' (2005)
'Shortbus' (2006)
'The Reader' (2008)
'Black Swan' (2010)