STORY HIGHLIGHTS
NEW: Tech giants Google, Oracle and Red Hat helping to fix HealthCare.gov
NEW: House Republicans seek security documents from Sebelius and contractors
Obama: "I take full responsibility for making sure it gets fixed ASAP"
Sebelius says she was wrong to tell Obama the website was ready
Washington (CNN) -- Out of the political frying pan and into the partisan fire for Health and Human Services Secretary Kathleen Sebelius.
A day after apologizing and taking responsibility for the problem-plagued Obamacare website, Sebelius got subpoenaed on Thursday by one of the fiercest Republican critics of the administration -- House Oversight Committee Chairman Rep. Darrell Issa of California.
Issa told CNN that the subpoena demands documents and information relating to the HealthCare.gov website that his committee previously requested from Sebelius, adding she "answered some questions but evaded a great many."
"Now we really need to insist on those documents," he said.
A spokeswoman for the Health and Human Services Department noted last week that Issa's committee began requesting a broad range of documents and transcribed interviews during the recent 16-day government shutdown.
"While we are working diligently to satisfy their interest and have repeatedly communicated our intent to cooperate, their timeline was not feasible given the vast scope of their requests," the spokeswoman, Joanne Peters, said Thursday.
"We are disappointed that the committee believes a subpoena was necessary; however it does not change our intent to continue to cooperate with them to produce documents as expeditiously as we are able to," she added.
Meanwhile, some top Republican members of the House Energy and Commerce Committee sent letters Thursday to Sebelius and four contractors involved in the website project requesting documents involving security concerns raised at its hearing a day earlier with the Secretary.
It's been almost a month since the website for enrolling in President Barack Obama's signature health care reforms went live. But technical problems, despite a series of advance warning signs, have impeded the system and provoked anger and frustration.
Even after a chorus of apologies out of Washington, it may be another month before everything's running smoothly.
The federal agency that oversees the troubled website announced Thursday it had brought on experts from tech giants Google, Oracle and Red Hat to the team working to fix the problems.
According to a blog post by Julie Bataille, spokeswoman for the Centers for Medicare and Medicaid Services, dozens of people were reinforcing the "tech surge" by the administration working on the website issues.
"They come from leading technology companies such as Red Hat and Oracle, and include individuals with expertise on site reliability; stability; and scalability," Bataille's webpost said.
She identified one of the new additions as Michael Dickerson, a site reliability engineer on leave from Google.
On Wednesday, Vice President Joe Biden became the highest-ranking administration official to apologize for the botched rollout.
"We assumed that it was up and ready to run," he told CNN's sister network HLN. "But the good news is although it's not -- and we apologize for that -- we are confident by the end of November it will be, and there'll still be plenty of time for people to register and get online."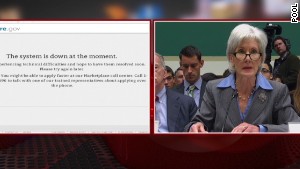 Obamacare site down for Sebelius hearing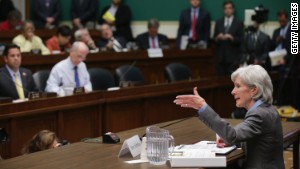 Sebelius apologizes for website flaws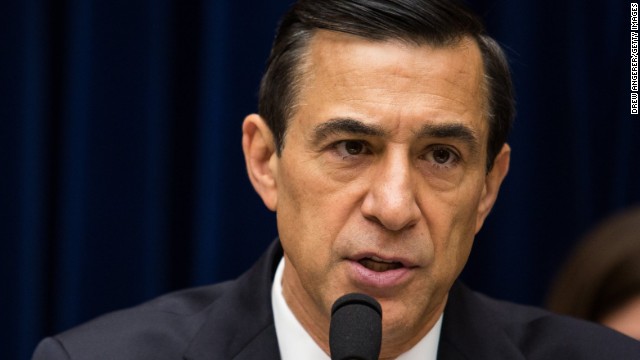 Rep. Darrell Issa, R-California, is the chairman of the House Government Oversight Committee. On October 31, Issa's committee issued a document subpoena to Health and Human Services Secretary Kathleen Sebelius for documents and information related to HealthCare.gov. "I've lost my patience," Issa said to CNN's Wolf Blitzer in explaining the decision to use a subpoena. Issa also said his committee has sent a document subpoena to website contractor Optum/QSSI.
Speaking soon after the Health and Human Services secretary testified before Congress on October 30, President Obama took responsibility for fixing the troubled Obamacare site. "I'm not happy about it and neither are a lot of Americans who need health care," Obama said at a Boston rally. "There is no excuse for it and I take full responsibility for making sure it gets fixed ASAP. We are working overtime to improve it every day."
Amid Republican calls for her resignation, Health and Human Services Secretary Kathleen Sebelius provided a personal mea culpa October 30 as she testified before the House Energy and Commerce Committee. "In these early weeks, access to HealthCare.gov has been a miserably frustrating experience for way too many Americans," she said. Speaking directly to Americans confronting the site problems, Sebelius added: "You deserve better. I apologize. I'm accountable to you for fixing these problems."
Marilyn Tavenner is the administrator of the Centers for Medicare & Medicaid Services, which is part of HHS. Tavenner testified October 29 before the House Ways and Means Committee about the Obamacare enrollment website and became the first administration official to apologize for the site's performance problems. "I want to apologize to you that the website does not work as well as it should," she said, adding that HealthCare.gov "can and will be fixed."
Rep. Fred Upton, R-Michigan, is the chairman of the House Energy and Commerce Committee, the first congressional committee to hold hearings on the troubled Obamacare enrollment site. Upton opened the committee's October 30 hearing by saying news about Obamacare "seems to get worse by the day." "Americans are scared," he said. At a previous hearing, Upton called the launch of the website "nothing short of a disaster."
Rep. Henry Waxman, D-California, is the top Democrat on the House Energy and Commerce Committee. During the committee's October 30 hearing Waxman said that "the worst abuses of the insurance industry will be halted" by Obamacare. The California Democrat said the health care law's reforms mean better plans are available at lower premiums, and he urged his Republican colleagues to "stop hyperventilating" about problems with the website.
Rep. Mike Rogers, R-Michigan, sits on the House Energy and Commerce Committee and is also the chairman of the House Intelligence Committee. During Sebelius' October 30 testimony, Rogers accused the HHS secretary of putting the private information of Americans at risk by failing to properly test security measures on the Obamacare enrollment site. "This is a completely unacceptable level of security," he said. "You know it's not secure."
Rep. Steve Scalise, R-Louisiana, leads the Republican Study Committee, a caucus of conservatives in the House of Representatives. Scalise has an undergraduate degree in computer science and is a former systems engineer. During an October 24 hearing of the House Energy and Commerce Committee, Scalise told witnesses, "There's a saying in computer programming: 'Garbage in, garbage out.'"
Rep. Frank Pallone, D-New Jersey, made waves on Twitter when he called the October 24 hearing on the Obamacare enrollment site's problems a "monkey court." Pallone made the comment when a Republican lawmaker at the hearing interrupted Pallone and asked him to yield his remaining allotted time to speak.
Cheryl Campbell is a senior vice president of CGI Federal, a contractor for the troubled website. "In principle, it worked," Campbell said at the October 24 hearing when asked by a lawmaker about the product her company delivered for use by the public on October 1. "It's not working great, and we're working to improve it. But it is enrolling people." After Campbell testified, CNN obtained a confidential September 2013 report from CGI to CMS that warned of a number of open risks and issues for the site even as company executives were testifying publicly that the project had achieved key milestones.
Andrew Slavitt is group executive vice president of Optum/QSSI, another contractor for the site. "The system didn't receive adequate end-to-end testing," Slavitt told lawmakers on October 24. Soon after Slavitt testified, his company was named by the Obama administration as the new general contractor charged with overseeing efforts to fix HealthCare.gov.
Lynn Spellecy, corporate counsel of website contractor Equifax Workforce Solutions, testified before the House Energy and Commerce Committee on October 24.
John Lau, program director of website contractor Serco, also appeared before the House Energy and Commerce Committee on October 24.
Rep. Dave Camp, R-Michigan, is the chairman of the House Ways and Means Committee. During the committee's October 29 hearing, Camp raised concerns about the administration's projection of initial low enrollment in Obamacare's new exchanges. "I fear we can see a fundamental breakdown of the insurance market where premiums will skyrocket, pricing millions of Americans out of health care," Camp said to CMS Administrator Marilyn Tavenner.
Rep. Sander Levin, D-Michigan, is the top Democrat on the House Ways and Means Committee.
Rep. Aaron Schock, R-Illinois, confronted Tavenner on October 29 with anecdotal evidence from a constituent about changes to the individual insurance market linked to the implementation of Obamacare, changes that undermine Obama's oft-repeated pledge that "if you like your plan, you can keep your plan." "She has health insurance that she likes. She's been paying her premium. She wants to keep it. But she can't," Schock said. "Isn't that a lie?"
Rep. Bill Pascrell, D-New Jersey lambasted Republicans on October 29 for choosing to pile on the website woes instead of working with Democrats to improve Obamacare. Pascrell pointed out that his party worked with the GOP to improve the Bush administration's Medicare prescription drug benefit even though Democrats opposed the new program. "We lost the policy fight" then but chose to help make the program work instead of trying to discredit or undermine it. "How many of you stood up to do that?" the Democrat asked of his GOP colleagues, "None. Zero. Zero."
Jeff Zients, former acting director of the White House Office of Budget and Management, has been tapped by the administration to provide advice to HHS as the federal agency works to resolve the problems with the Obamacare enrollment site.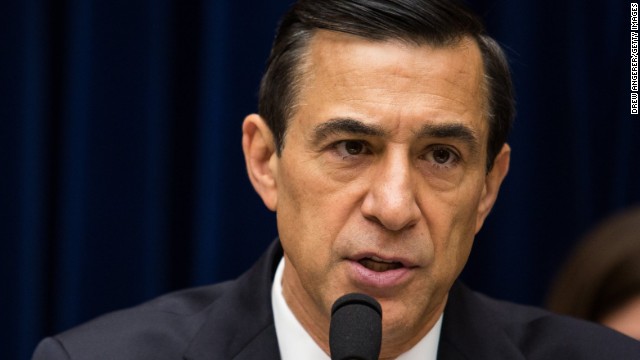 Key players in the health care hearings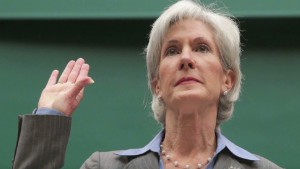 Secy. Sebelius in the hot seat
That mea culpa came after Sebelius apologized for the "miserably frustrating" problems during a 3 1/2-hour congressional grilling. She said she made a mistake when she told Obama that HealthCare.gov was "ready to go" for its October 1 launch.
Sebelius promised a "vast majority" of consumers will have an easier time shopping online for health insurance under Obamacare by the end of November.
Analysis: Sebelius deals with a difficult day
"In these early weeks, access to HealthCare.gov has been a miserably frustrating experience for way too many Americans, including many who have waited years, in some cases their entire lives, for the security of health insurance," Sebelius said.
She echoed the overall administration stance -- that a team of experts is scrambling to fix the website's errors.
To the frustrated users who have had problems, she said: "You deserve better. I apologize. I'm accountable to you for fixing these problems."
5 things we learned from Sebelius hearing
Obama tried to log on
Biden said he didn't even bother logging on to the Obamacare site.
"Actually, the President tried to get online, and my daughter tried to get online," he said. "I did not, because it was clear that I was not getting online."
Obama himself acknowledged that too many people "have gotten stuck, and I am not happy about it."
"There's no excuse for it," the President said. "And I take full responsibility for making sure it gets fixed ASAP."
Glass half full?
Sebelius said the sweeping health care program has delivered on its promise to provide affordable health care coverage. Thousands have been able to access the website to look at new health coverage options that will give them security of knowing they won't go bankrupt if they get sick, she said.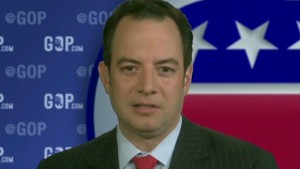 RNC Chairman: 'The President lied'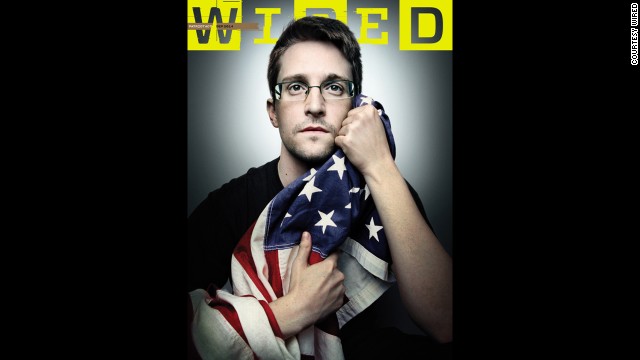 Wired magazine has published a cover photo of NSA leaker Edward Snowden holding the American flag in both of his hands, as if protecting it from the government. Click through the gallery to look at some other controversial magazine covers through the years:
The final season of "True Blood" premiered in June, and what better way to raise awareness than with a sexy magazine cover? Of course, it wasn't the first time the "True Blood" stars had stripped down.
From left, "True Blood" stars Alexander Skarsgard, Anna Paquin and Stephen Moyer appear naked on the September 2010 cover of Rolling Stone. Alan Ball, the creator of the hit HBO series, told the magazine: "To me, vampires are sex. I don't get a vampire story about abstinence." Fans were likely not taken aback by the nude threesome, but the cover had some people calling for it to be pulled from shelves.
Neil Patrick Harris decided to share his eight-pack with the world. The actor slimmed down for his role in the Broadway musical "Hedwig and the Angry Inch," and he displayed his hard work on the cover of Rolling Stone.
Paulina Gretzky's cover for the May issue of Golf Digest stirred controversy and left some LPGA pros feeling overlooked. The magazine explained that as the fiancee of PGA Tour pro Dustin Johnson, Gretzky is a major celebrity in the golf world and thereby qualifies the recognition of a cover story.
Bloomberg Businessweek's November 4 issue addressed the technical problems that riddled the HealthCare.gov website.
With hair covering a portion of her face, and a loose-fitting coat that reveals little skin, some critics said that Elle magazine's November cover of actress Melissa McCarthy was fat-shaming. In response, Elle posted a follow-up item on its website that read in part, "On all of our shoots, our stylists work with the stars to choose pieces they feel good in, and this is no different: Melissa loved this look, and is gorgeous on our cover."
New York City mayoral candidate Anthony Weiner found himself in hot water once again after admitting he had online relationships with three women after his 2011 resignation from Congress. The New Yorker magazine's cover in August 2013 depicted Weiner as King Kong, taking a photo with a cell phone atop the Empire State Building.
Rolling Stone magazine made headlines because of the photo of Boston Marathon bombing suspect Dzhokhar Tsarnaev on the cover of its July 19, 2013, issue. Three people died and more than 170 were injured in the explosions. The photograph originally was posted by Tsarnaev online and had previously circulated around the Internet. Public backlash was almost immediate. Rolling Stone defended itself, saying the cover story reflected its commitment to "serious and thoughtful coverage of the most important political and cultural issues of our day."
Time magazine's April 8, 2013, double cover drew controversy as the U.S. Supreme Court took up two cases centered on same-sex marriage laws.
Time magazine's May 21, 2012, cover caused a stir because of the female subject's mostly exposed breast and the age of her son.
Newsweek in May 2012 declared Barack Obama the "first gay president." The cover reflected the president's public support of same-sex marriage and came during his reelection campaign. Some media pundits and historians argued that James Buchanan was likely the first gay president.
A Bloomberg Businessweek cover in February 2012 addressed the merger between United and Continental airlines with one plane on top of the other and the headline "Let's Get It On." It was recognized by the American Society of Magazine Editors as the year's best cover among business and technology magazines.
The September 14, 2009, cover of Newsweek asked, "Is your baby racist?" Researchers at the University of Texas found that children as young as 6 months judge people based on the color of their skin. Among the story's critics were conservative radio talk show host Rush Limbaugh, who said: "Apparently being born white automatically makes you a racist -- which, to me, is just another example of what obsessive racists the leftists actually are."
The New Yorker's July 21, 2008, cover drew mostly outrage for its depiction of then-presidential candidate Barack Obama dressed like Osama bin Laden and Michelle Obama with an exaggerated Afro dressed in combat gear. The Obama campaign blasted the cover as "tasteless and insensitive," while the magazine said the cartoon was intended to satirize the "lies and misconceptions and distortions about the Obamas and their background and their politics" that were circulating four months before the election.
New York magazine featured Eliot Spitzer on its cover in March 2008, a month after he resigned as governor, with the word "brain" pointing to his crotch. Spitzer was stopped in his political tracks when his liaisons with high-paid escort Ashley Dupre surfaced, leading to his resignation. The magazine devoted three articles to dissecting his downfall.
The American Conservative portrayed Rudy Giuliani dressed in a uniform reminiscent of those worn by Hitler's SS on January 14, 2008, during the then-New York mayor's bid for the presidency. In a cover story, Glenn Greenwald wrote that Giuliani would be "an authoritarian president with the ultimate fantasy: the ability to wield more power than any other human being in the world, with the fewest real limits in modern American history." The cover was slammed by both conservative and liberal commentators.
In January 2007, Texas Monthly referenced an old issue of National Lampoon when they put an armed Dick Cheney on the cover with the headline: "If you don't buy this magazine, Dick Cheney will shoot you in the face." The then-vice president accidentally shot and wounded his friend while quail hunting in South Texas the previous year. The liberal news magazine was giving him its satirical "Bum Steer of the Year" award.
Some television networks pulled Ellen DeGeneres' show after Time released its April 17, 1997, cover revealing her sexual orientation.
The Economist's September 10, 1994, North American cover, which dealt with a surge in corporate mergers, raised eyebrows. "Camels do it, birds and bees do it, even companies do it: all over America, firms are falling in love and settling down together," Deputy Editor Emma Duncan wrote in an article about Economist covers that made news in and of themselves.
Time's June 27, 1994, cover featuring O.J. Simpson's mugshot was widely criticized because the image had been darkened compared with other magazine covers that had used the same image. The cover was viewed as racist because it portrayed Simpson as a darker-skinned man and gave him a more menacing demeanor. Time's managing editor at the time, James R. Gaines, released a statement saying that neither racial implications nor imputation of guilt were intended.
Janet Jackson was featured on the September 1993 cover of Rolling Stone with a pair of hands covering her breasts. The photograph came from a session Patrick Demarchelier shot while producing artwork for the cover of the sexually charged "Janet" album. "We had a choice of shooting her ourselves," Laurie Kratochvil, Rolling Stone's director of photography, told the Los Angeles Times. "But they offered us this and the image is very powerful." The provocative image shocked the world and established Jackson's status as a sex symbol.
In 1987, Newsweek caused a stir when it ran a cover of Vice President George H.W. Bush titled "Fighting the 'Wimp Factor." It was a year before the election that would promote Bush to the presidency, at a time when the country was debating his qualifications. The magazine reprised the "Wimp Factor" phrase in 2012, this time referring to GOP presidential nominee Mitt Romney.
A woman in a meat grinder was on the cover of Hustler in June 1978 alongside a quote from publisher Larry Flynt: "We will no longer hang women up like pieces of meat." It was his response to feminists' claim that women in pornography are treated like pieces of meat, and the gory cover led to more nationwide protests against the magazine.
In January 1973, the cover of humor magazine National Lampoon featured a dog with a revolver pointed at its head and the famous caption, "If You Don't Buy This Magazine, We'll Kill This Dog."
In October 1971, American model Darine Stern made history by becoming the first black woman to appear by herself on the cover of Playboy. It was considered controversial at a time when black women rarely graced the covers of major magazines. The iconic image went on to inspire Playboy's November 2009 cover that featured Marge Simpson as the magazine's first cartoon cover model.
Time magazine's April 8, 1966, cover, and a related article discussing the "death of God movement," drew immediate backlash.
The media played a large role in the American public's perception of the Vietnam War, and Life magazine's November 26, 1965, cover stirred the pot more by showing the "blunt reality of war."
Time declared Adolf Hitler its Man of the Year in the January 2, 1939, issue, just eight months before Germany's invasion of Poland triggered World War II. The issues for Time's Man of the Year, now known as Person of the Year, sometimes run into controversy, but the magazine has shown that its choice often is anything but an endorsement. In the case of Hitler, Time wrote that, among many other things, Hitler had "torn the Treaty of Versailles to shreds," and described the events leading up to the annexation of Czechoslovakia in 1938 as "ruthless" and "methodical."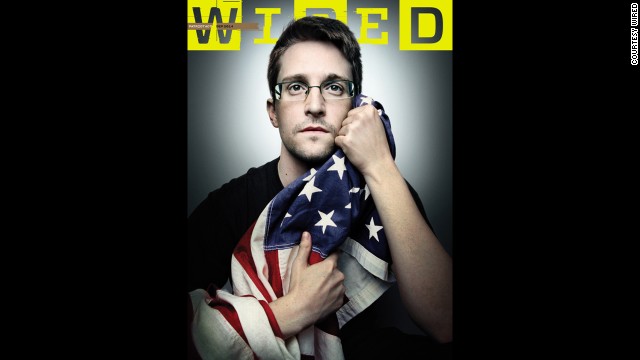 Controversial magazine covers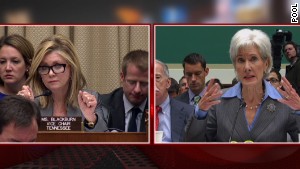 Sebelius: 'Hold me accountable'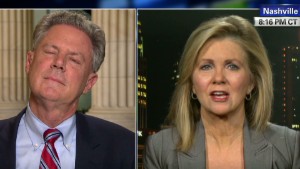 Obamacare under fire
Republicans have called for Sebelius to be fired for the Obamacare problems, but a White House spokesman said Wednesday that Obama has "complete confidence" in her.
"She took responsibility for many of the problems that are evident with the (Obamacare) website, but she also deserves credit for the other aspects of the Affordable Care Act implementation that have gone well," spokesman Josh Earnest told reporters.
In fact, Obama tried to turn the tables on Republican opponents of his signature health care reforms, challenging them to come up with helpful ideas instead of undermining the federal law.
"Anyone defending the remnants of the old, broken system -- as if it was working for people -- anybody who thinks we shouldn't finish the job of making the health care system work for everybody ... those folks should have to explain themselves," he said.
According to the Kaiser Family Foundation website, 15.4 million people had individual health care coverage in 2011, representing about 5% of the population. The vast majority of Americans have coverage through their employer, Medicare, Medicaid or other public providers.
White House spokesman Jay Carney said Tuesday that "a significant portion" of the 5% of people with individual coverage will end up paying less for better policies when they shop around in the new exchanges.
Early warning signs
Some of the criticism surrounding the website's launch has to do with what Obama and other officials knew -- and when they knew it.
CNN has learned the administration received stark warnings a month before the launch that the Obamacare site was not ready to go live, according to a confidential report. The caution, from the main contractor CGI Federal, warned of risks and issues for HealthCare.gov, even as company executives were testifying publicly the project was on track.
Administration was warned before site launch
Sebelius told the House committee the outside contractors who built the website never recommended delaying this month's launch. But she conceded that "we did not adequately do end-to-end testing."
The contracts with the private companies working on the Obamacare website -- which amount to $174 million so far, with more bills due well into 2014 -- do not have "built-in penalties" allowing her department to charge them for disappointing or faulty work, Sebelius said. But Sebelius said the agency will not pay for incomplete work.
Security questions
Republican Rep. Mike Rogers of Michigan, who chairs the House Intelligence Committee, accused Sebelius of putting the private information of Americans at risk by failing to properly test security measures on the website.
"This is a completely unacceptable level of security," he said. "You know it's not secure."
Sebelius responded that testing occurs regularly, and she told Rogers she would get back to him on whether any end-to-end security test of the entire system has ever occurred. Rogers said he knows there have been no such comprehensive security tests.
Memo warned of high security risk at health care website
An internal government memo obtained by CNN on Wednesday that was written days before the website launched warned of a "high" security risk because of a lack of testing.
"Due to system readiness issues, the (security control assessment) was only partly completed," said the Centers for Medicare and Medicaid Services memo. "This constitutes a risk that must be accepted and mitigated to support the Marketplace Day 1 operations."
Sebelius told CNN last week that Obama didn't know of the problems with the site -- even though insurance companies had complained and the site crashed during a pre-launch test run -- until after it went live.
A senior administration official said Obama now gets a "nightly readout" with the latest Obamacare statistics and an update of the website's status.
More: What else could go wrong with Obamacare?
CNN's Brianna Keilar, Joe Johns, Gloria Borger, Kevin Bohn, Lisa Desjardins and Z. Byron Wolf contributed to this report.