Australian Open Fast Facts
updated 11:59 AM EST, Tue November 11, 2014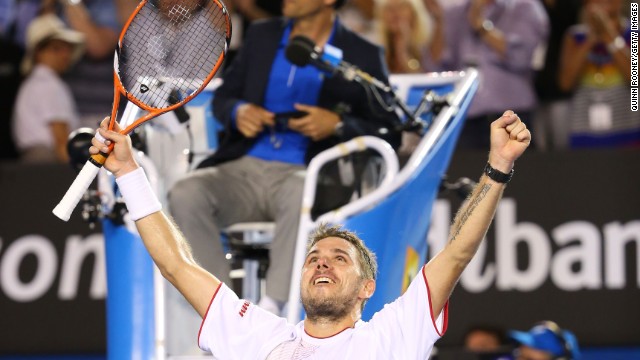 Stanislas Wawrinka savors the moment of victory in Melbourne after recording a dramatic victory over world no. 1 Rafael Nadal.
Rafael Nadal was looking to equal Pete Sampras' haul of 14 major titles in Melbourne on Sunday. Almost everyone expected him to do it, but it was Wawrinka who looked the sharper player in the opening exchanges.
Soon Wawrinka was edging ahead, breaking Nadal's serve in the fourth game.
With a break secured, Wawrinka went on to assume full control of the first set eventually winning it 6-3.
Nadal received a time violation warning from umpire Carlos Ramos early on in the second set. Soon after, Nadal was clutching his back and calling for the trainer.
The trainer arrived with Wawrinka up 1-2 in the second. Soon Nadal was heading off court for a medical timeout.
When he returned, Nadal was moving around so gingerly that it looked almost certain that he was going to retire. His frustrations evident to all.
Nadal continued to receive treatment at changeover of ends as Wawrinka coasted to a two-set lead.
Most of the crowd were expecting Nadal to crumble completely or concede in the third, but slowly his movements became more fluid. Suddenly he was 3-0 up.
Nadal's improving form rattled Wawrinka who despite rallying in the third still lost it 6-3.
A tight opening to the fourth suggested Nadal might pull off an incredible fightback, but Wawrinka steadied his head and held his nerve. After breaking Nadal in the eighth game he was suddenly serving for the championship.
Any nerves Wawrinka was feeling weren't immediately obvious and he served out the match to love to claim his first grand slam title.
Nadal was gracious in defeat. It was the first time in 13 matches that the Spaniard had lost to the Swiss.
"Bad luck was against me today but you really deserved it so congratulations," Nadal, wiping away tears, told the crowd post match. "Sorry to finish this way. I tried very, very hard."
Wawrinka's joy is complete. The 28-year-old kisses the Norman Brookes Challenge Cup as flashbulbs pop all around the Rod Laver Arena.
Wawrinka wins!
Nadal eyes 14th slam title
Wawrinka up a break
Wawrinka in control
Nadal stretched to the limit
Medical timeout
Emotions overflow
Down and out?
At full stretch
Worries for Wawrinka
Mind games
Winning moment
Sporting in defeat
Tearful Nadal
Sealed with a kiss
(CNN) -- Here's a look at what you need to know about the Australian Open, one of four competitions that make up the "Grand Slam" in professional tennis. The other three are Wimbledon, the French Open, and the U.S. Open.
January 19, 2015-February 1, 2015 - The Australian Open will take place at Melbourne Park.
January 13-26, 2014 - The Australian Open takes place at Melbourne Park.
2014 Results: Stanislas Wawrinka of Switzerland defeats Rafael Nadal of Spain in the men's final.
Li Na of China defeats Dominika Cibulkova of Slovakia in the women's final.
Other Facts: Total prize money for 2014 was a record AUD 33 million (about US $30 million), with a top prize of AUD 2.65 million (about US $2.4 million) for both the men's and women's singles champions.
Youngest winners - Men's singles, Ken Rosewall (18) - Women's singles, Martina Hingis (16)
Oldest winners - Men's singles, Ken Rosewall (37) - Women's singles, Thelma Long (35) - Men's doubles, Norman Brookes (46) - Women's doubles, Thelma Long (39)
Most successive singles wins - Roy Emerson (five) 1963-1967 and Margaret Court (seven) 1960-1966.
Most singles titles overall - Roy Emerson (six) and Margaret Court (11).
Timeline: 1905 - The Australasian Championships are played in Melbourne.
1927 - The name is changed to the Australian Championships.
1954 - 35-year-old Thelma Long wins the Women's Singles Championship, becoming the oldest female to do so.
1969 - The name is changed to the Australian Open.
1972 - 37-year old Ken Rosewall wins the Men's Singles Champions, becoming the oldest male player to win the Australian Open. He also holds the record for youngest champion, winning at age 18 in 1953.
2003 - The Australian Open begins billing itself as the "Grand Slam of Asia/Pacific."