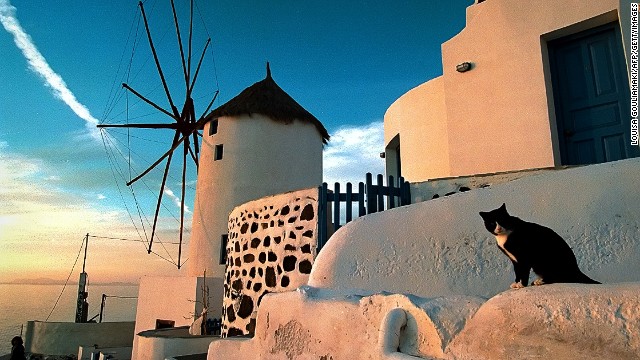 Lower prices, fewer tourist numbers, the same incredible ancients sights that have been there for centuries. The Greek Islands in 2014 offer "remarkable value," says Lonely Planet in its Best in Travel 2014 rankings.
It's going to be an eventful year for Scotland ... Lonely Planet listed the XX Commonwealth Games in Glasgow next summer and the country-wide Year of Homecoming celebrations for Scottish ex-pats returning home to visit as just some of the reasons why Scotland came in third.
Second place actually went to a continent, not a country, for its pristine, unexplored territories and incredible scenes of wildlife. The timely factor? Next year marks the centenary of the start of polar explorer Ernest Shackleton's Antarctic expedition.
This one's a no-brainer -- the 2014 World Cup in arguably the most soccer-obsessed country in the world makes for a remarkable travel experience. "Tack on a recession-dodging economy and boom! Brazil is the belle of the ball," says Lonely Planet on why Brazil tops the list of countries to visit.
From the happiest place in Britain (Harrogate) to the world's first UNESCO City of Film (Bradford), Yorkshire is giving London some fierce, inventive competition as a destination.
Travelers who want to get away from other travelers should look to this seemingly endless, open region, which is also one of world's most sparsely populated areas. The difficulties in getting around ("croc-infested, almost impossible to travel around without a 4WD, and mostly inaccessible during wet season") only adds to its appeal.
It's an intriguing choice. Sikkim tops the list of regions to visit for its "responsible travel" -- it's India's cleanest state, and the government also plans to turn it into a fully organic state in the near future. Couple that with a new airport opening next year, and Sikkim makes it to the top of the regional rankings.
Reasons why Cape Town has been designated the World Design Capital for 2014: sculpture-filled parks, makeovers for former industrial districts and many a design-oriented sustainable project.
The second most must-visit city for 2014 is "a sherbert-tinged, time-trapped" UNESCO World Heritage Site, and the "extraordinarily beautiful result of a 19th-century sugar boom," says Lonely Planet, touching on the city's sad legacy of importing African slaves. A series of celebrations has been planned for next year's 500th anniversary of the city's foundation by Spanish conquistadors.
wasn't at the top of the list.
A new car-free zone from the Musée d'Orsay, new bells in the Notre Dame, beautiful exhibition after beautiful exhibition being planned in mansions and museums all over the City of Light. It would be strange if Paris
Best value destination -- Greek Islands
Top 10 countries to visit in 2014 -- Scotland (3)
Top 10 countries to visit in 2014 -- Antarctica (2)
Top 10 countries to visit in 2014 -- Brazil (1)
Top 10 regions -- Yorkshire, England (3)
Top 10 regions -- The Kimberley, Australia (2)
Top 10 regions -- Sikkim, India (1)
Top 10 cities -- Cape Town (3)
Top 10 cities -- Trinidad (2)
Top 10 cities -- Paris (1)