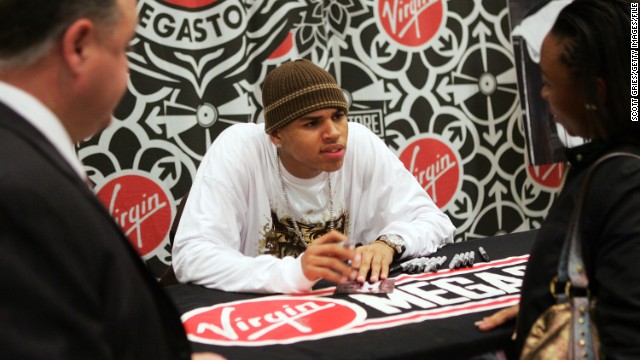 Singer Chris Brown has managed to intrigue -- and infuriate -- the public since he first burst onto the scene in 2005. Here's a look at his life and career.
Brown poses with his award for Best New Artist at the Soul Train Music Awards in March 2006. That year, Brown also won male artist of the year, new artist of the year and artist of the year at the Billboard Music Awards.
Brown, left, appeared with "Scandal" star Columbus Short in the 2007 film "Stomp the Yard."
In April 2009, Brown pleads not guilty to felony charges of assault and making threats related to the Rihanna incident.
Rihanna and attorney Donald Etra appear at a preliminary hearing in June 2009. The hearing was to determine if Brown would stand trial for allegedly attacking Rihanna during an argument in a rented sports car.
As part of a plea deal in June 2009, Brown pleads guilty to one felony count of assault with the intent of doing great bodily injury. Under terms of the agreement, Brown is given five years of probation and ordered to serve 180 days in jail or the equivalent in labor-oriented community service.
Brown and his mother appear on CNN's "Larry King Live" on September 2, 2009. It was his first television interview since his arrest. "I've said countless times how sorry I am to Rihanna, and I just accepted full responsibility," Brown said. "But it's just one of those things I wish I could have relived and just handled totally different."
broke down in tears
during his performance of "Man in the Mirror" at the BET Awards in Los Angeles.
In June 2010, Brown
"Takers," an action drama co-starring Brown, premiered in August 2010.
In 2011, Brown's album "F.A.M.E." debuted at No. 1 on the Billboard 200 chart. Here, he performs that summer on NBC's "Today" show.
In February 2012, Brown's career appeared to be on an upswing following his legal woes. "F.A.M.E." won a Grammy for Best R&B Album.
Brown performs during the Billboard Music Awards in May 2012.
reportedly got into an altercation
at the New York City club W.i.P. in June 2012. Brown was left with a cut on his chin.
Brown and rapper Drake, seen here in 2010,
During a court appearance in July, a judge revoked Brown's probation. The revocation was triggered after Brown allegedly sped away from the scene of a minor traffic crash in May, failing to hand over his driver's license and insurance information to another driver.
dropped a hit-and-run charge
against Brown in August. The singer reached a "civil compromise" with his accuser.
Brown's attorney, Mark Geragos, speaks to the press after a judge
reinstated Brown's probation
in August, signing off on 1,000 hours of "community labor" such as graffiti or beach cleanup. Two months later, Brown and a bodyguard were
arrested and charged
with felony assault after allegedly attacking a man with their fists outside the W Hotel in downtown Washington.
A judge also
reduced to a misdemeanor
and he was released without bail.
Brown, center, departs the H. Carl Moultrie Courthouse in Washington on October 28. The assault charge against the singer was
revoked his probation
because of his October arrest in Washington, but the singer's not going to jail because he's already in a court-ordered residential rehab program. Brown will return for a hearing in February that will decide if he'll serve jail time after his three months in rehab.
Brown appears in a Los Angeles court for a probation violation hearing on Monday, December 16. A judge
The highs and lows of Chris Brown
The highs and lows of Chris Brown
The highs and lows of Chris Brown
The highs and lows of Chris Brown
The highs and lows of Chris Brown
The highs and lows of Chris Brown
The highs and lows of Chris Brown
The highs and lows of Chris Brown
The highs and lows of Chris Brown
The highs and lows of Chris Brown
The highs and lows of Chris Brown
The highs and lows of Chris Brown
The highs and lows of Chris Brown
The highs and lows of Chris Brown
The highs and lows of Chris Brown
The highs and lows of Chris Brown
The highs and lows of Chris Brown
The highs and lows of Chris Brown
The highs and lows of Chris Brown
The highs and lows of Chris Brown
The highs and lows of Chris Brown
The highs and lows of Chris Brown