Will JonBenet Ramsey court documents have any effect?
updated 11:56 AM EDT, Sat October 26, 2013
STORY HIGHLIGHTS
New documents in the JonBenet Ramsey case were released Friday
A former lead investigator says they are important to the history of the case
But the renewed attention does not mean new leads, he says
(CNN) -- The former lead investigator in the JonBenet Ramsey case says that newly released documents may spark renewed interest, but they have little effect on the cold case investigation.
Previously sealed court documents released Friday show that a Colorado grand jury voted in 1999 to indict the parents of the slain 6-year-old JonBenet on charges of child abuse resulting in death and being accessories to a crime.
Court papers: Grand jury in 1999 sought to indict JonBenet Ramsey's parents
The district attorney decided that year, however, not to file charges against John and Patricia Ramsey, saying there was insufficient evidence. In 2008, a new district attorney said new DNA evidence cleared the parents and their son in the death.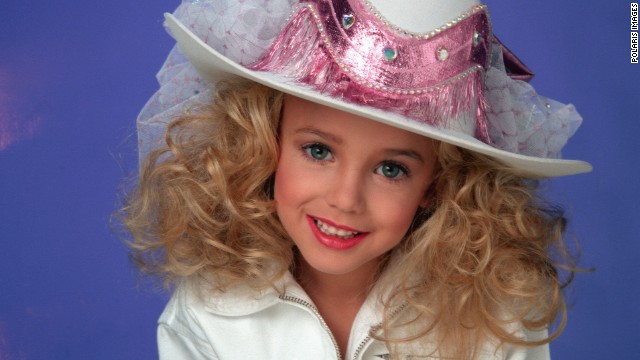 JonBenet Patricia Ramsey, was a 6-year-old beauty queen found murdered in her home in Boulder, Colorado, on December 26, 1996. The question still remains of who killed the little girl who won titles including Little Miss Colorado, Little Miss Charlevoix, Colorado State All-Star Kids Cover Girl, America's Royale Miss and National Tiny Miss Beauty. On Friday, October 25, a judge in Colorado ordered the release of 18 pages that were sealed after a grand jury went home in 1999 without charges being filed in JonBenet's death.
Police tape off the home of John and Patsy Ramsey in Boulder in December 1996. Patsy said she found a ransom note demanding $118,000 for JonBenet's return. Their daughter was found dead in their basement that same day.
The body of JonBenet is carried out of the Peachtree Presbyterian Church in Atlanta on Tuesday, December 31, 1996.
John and Patsy Ramsey promised a reward for information leading to the arrest and conviction of their daughter's murderer during an interview on Thursday, May 1, 1997, in Boulder.
Binders were crammed with investigators' reports in the JonBenet case. Reports revealed that her skull had been fractured and the ransom note came from a notepad from the Ramsey's home.
Candles surround a portrait of JonBenet outside her Boulder home after a candlelight vigil on the one-year anniversary of her murder on December 26, 1997. A year after the murder, Boulder police indicated John and Patsy Ramsey were under "an umbrella of suspicion," and would be questioned again.
Forensics expert Henry Lee leaves a conference on the University of Colorado campus after meeting with Boulder and Colorado law enforcement officials to review the evidence in the Ramsey case in June 1998.
Kenneth Scott, of Denver, protests the outcome of the grand jury investigation in front of the Boulder County Justice Center on October 14, 1999. District Attorney Alex Hunter stated that no indictments would be issued because of a lack of evidence.
Thai police officials escort U.S. teacher John Mark Karr at the Thai Immigration Department in Bangkok on August 17, 2006. Officials announced Karr as a suspect in the case. Karr said he was present when JonBenet died, and that he loved her and her death was an accident. On August 26, 2006, the Boulder County District Attorney decided not to charge Karr in connection with the murder after DNA tests confirmed that he wasn't a match to the evidence found at the crime scene.
Patsy Ramsey died in Roswell, Georgia, at the age of 49 after a 13-year battle with ovarian cancer. Her unmarked grave is pictured in front of the grave site of her daughter on August 16, 2006, at the St. James Episcopal Church Cemetery in Marietta, Georgia.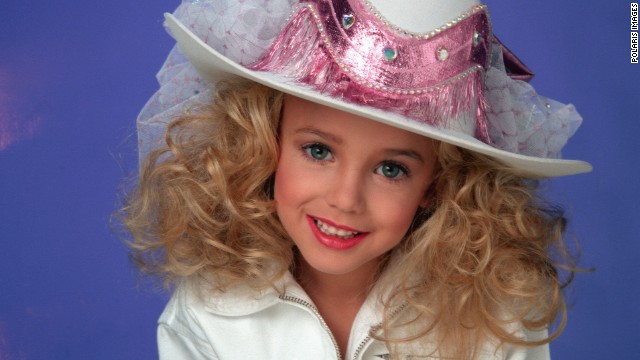 JonBenet Ramsey
The case has never been solved, and the released documents have put the killing back in the spotlight. But attention does not necessarily translate into leads in the case, former lead investigator A. James Kolar told CNN.
"It is unlikely unless there is a confession, or somebody else comes forward that has information that has been shared with them," he said.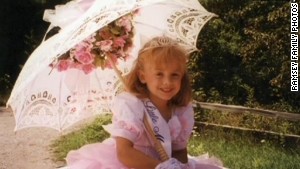 Grand jury sought to indict Ramseys
Kolar wrote a book about JonBenet's killing and said he does not believe that there was an intruder at the Ramsey house that night, implying that the Ramsey family -- the late Patricia Ramsey, her husband John and their son Burke -- know more than they have told.
What exactly was it that kept the district attorney from pursuing the charges?
"That's a very complicated question. I think there are a lot of things that could be considered missing from the D.A.'s perspective to be able to bring them to a threshold of prosecuting beyond a reasonable doubt," Kolar said.
Still, the documents released Friday are an important part of the history of the case.
A Colorado court ordered the release of the previously sealed court documents about the unsolved 1996 death of the girl who won child beauty pageants and whose murder shocked the nation. The pages were sealed in 1999, after the grand jury in the case dispersed without charges being filed.