STORY HIGHLIGHTS
NEW: Boy is alive, mom says
Three weeks of searching have left New York police with little hope of finding him
Search has included sonar, sniffer dogs, video camera scans, search of sewer system
Police have searched all 468 New York City subway stations
New York (CNN) -- The mother of a teen with autism who went missing three weeks ago declared Friday, "My son, he is alive." Her comments followed the police commissioner's assessment that the department was "not hopeful" of finding 14-year-old Avonte Oquendo alive.
"My thoughts are that my son is still out there and I want everyone to continue to help me search for my son. He is not gone," Vanessa Fontaine said Friday at a press conference outside of the school in Long Island City where her son ran away October 4.
Sniffer dogs, video cameras, a search of the sewer system, missing-persons posters and fliers filling the streets, subway alerts and messages in city newspapers, and divers with sonar -- none of it has led officers to Avonte.
"Obviously we have devoted a tremendous amount of resources to the search," Police Commissioner Ray Kelly told CNN affiliate WABC on Thursday. "Unfortunately, we are not hopeful that we're going to find this young man alive, but we are continuing our search."
Fontaine wants police to try new tactics in their search.
"I don't know what the commissioner was thinking of last night by saying that, but my son, he is alive, he is out there ...it's just that we are not looking in the right places," Fontaine told reporters.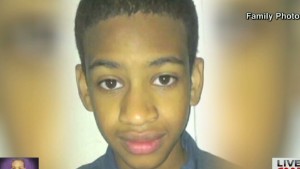 Where is missing boy with autism?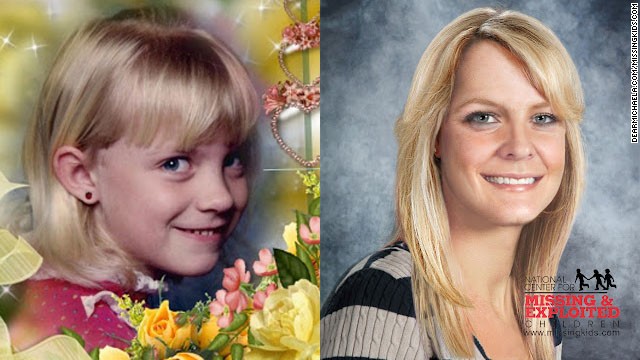 Witnesses saw a man grab 9-year-old Michaela Joy Garecht outside a store near her home near Oakland, California, in November 1988. Here, Michaela is seen in a childhood photo next to an image of what she might look like today. If you have seen Michaela or any of the faces in this gallery, please contact your local FBI office or call 1-800-THE-LOST.
The discovery of the three young women missing for a decade in Cleveland immediately raised hopes for Ashley Summers, who went missing in July 2007 at age 14 within blocks of the other three. Here, she is shown next to an age-progressed rendering of her on the right.
Christina Adkins was last seen in Cleveland in January 1995. She was 18 years old and five months pregnant when she disappeared.
Jessica Heeringa, 25, was abducted in April from an Exxon station in Norton Shores, Michigan, where she was working alone, sometime around 11 p.m., police said. Police have released a sketch of the suspect, described as a white male, about 6 feet tall, between 30 and 40 years old, with wavy hair parted in the middle.
Madeleine McCann was a few days shy of her 4th birthday when she disappeared during a 2007 family vacation in Portugal. Despite a huge police investigation and massive media coverage, she remains missing.
Haleigh Cummings, 5, was reported missing from her family's home in Satsuma, Florida, in February 2009. The National Center for Missing & Exploited Children released the age-progressed photo to show what she might look like at age 8.
Eighteen-month-old Amir Jennings was last seen with his mother in Columbia, South Carolina, in November 2011. Both were reported missing by a family member in early December 2011. Amir's mother was located a few weeks later after she was involved in a car accident. Amir was not in the car. Amir's mother has been convicted of being involved in the toddler's disappearance, but the boy has yet to be found.
Six-year-old Morgan Nick went missing in June 1995 after playing with other children after a Little League game in Alma, Arkansas. Police believe Morgan was abducted by a stranger.
When high school junior Kara Kopetsky didn't come home from school one day in May 2007, her parents filed a missing person report. Police in Belton, Missouri, told them they believed she was a runaway and would return in a few days. Shortly before she vanished, she told her parents her former boyfriend was stalking her.
Seven-year-old Kyron Horman was last seen in June 2010 at his Portland, Oregon, elementary school after attending a science fair. While there has been intense speculation surrounding the boy's stepmother, who told police she dropped him off, no charges have been filed in the case and no one has officially been named a suspect.
Lisa Irwin's father arrived at their Kansas City home from work to find the door unlocked, the lights on and a window tampered with. Lisa's mother said she last saw the 11-month-old the evening before. Dozens of investigators, including police and FBI personnel, have conducted numerous searches for the missing girl but have come up empty.
Six-year-old Isabel Celis's parents reported her missing in April 2012, telling Tucson, Arizona, police that she vanished from her room in the middle of the night. There are no suspects in her disappearance.
Jacob Wetterling was abducted at gunpoint in October 1989 at age 11 near his home in St. Joseph, Minnesota, near St. Cloud. His mother, holding a photo of her son, remains hopeful that he will be found alive.
Christopher Abeyta was only 7 months old when he was taken from his crib in 1986. This year, his family announced a $100,000 reward for help in finding Christopher, who would be 27 today and may look like the image rendering on the right.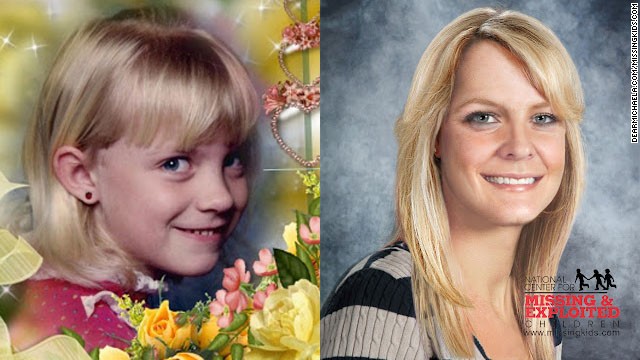 The faces of some of America's missing
Bloodhounds
Avonte was last seen on surveillance video running out of Center Boulevard School. Three hours later, bloodhounds traced his scent to a marsh near his school, but lost the trail, a source close to the investigation said.
An hour later, the bloodhounds picked up his scent again, this time at a nearby subway station, the source said.
Avonte is fascinated by trains, his family has said. The New York Police Department has focused its search on rail yards, train stations, tracks and tunnels.
All 468 New York City subway stations have been searched, and aviation, harbor and canine units have periodically helped, the NYPD said. Announcements have been made in subway stations urging commuters to keep an eye out for the missing boy.
Recording of mother's voice used in search for missing autistic teen
A mother's worries
Fontaine told CNN's "Piers Morgan Live" last week that she believed her son was alive and that someone may have been holding him.
"My message to my son is that I love him, and we're going to find him," she said. "You'll come home to your family. And for anyone who has him, please be kind and to let him go."
A reward of $77,500 has been offered for his safe return.
Police said Avonte was last seen wearing a gray striped shirt, black jeans and black sneakers. He is 5 feet, 3 inches tall and weighs 125 pounds.